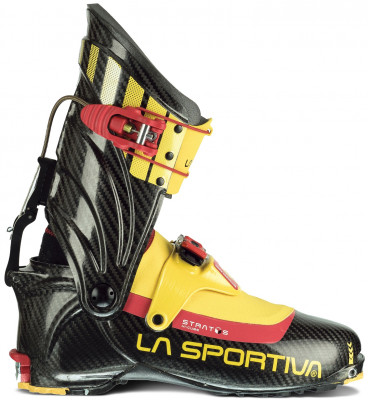 La Sportiva Stratos Hi-Cube Boot
1 review
Short of nailing your feet to your skis, this is as light as you're going to get. The Hi-Cube is the culmination of La Sportiva's years of experience making the Stratos line of skimo racing boots. Everything has been tweaked into a trimmer package, and the price has been lowered to boot (no pun intended). The Hi-Cube has virtually zero walking resistance while being impressively stiff in ski mode. The boot was designed to win races yet be skied by Tom Goth daily. If you've been waiting to jump on the carbon bandwagon, now is the time.
New tapered shape is compact and precise, transmitting power and steering signals.
Reinforcement ribs and anti-breakage inserts reduce vibration and potential problems.
Vibram® Ice Trek rubber soles are hard enough to be used for real ski mountaineering.
Likewise, Spur-Heel Construction™ means you can attach crampons without a hitch.
Forward lean can be adjusted in a wide range to dial in your stance on various skis.
CavoLever ski/walk switch is integrated into the top buckle for fast mode changes.
Lower buckle has been reworked and offers a comfortable hole over your foot.
Schoeller® Stretch Gaiter is integrated into the lower shell for a snug snow block.
Hi-Cube liner is thermo-formable, or will mold to your foot after some skiing.
Specifications
Weight
convert to ounces
570g [27.0]
Weight (pair)
1140g [27.0]
Buckles
2
Boot Sole Length
255.8 [24/24.5]
266.3 [25/25.5]
276.2 [26/26.5]
286.4 [27/27.5]
296.3 [28/28.5]
305.7 [29/29.5]
Binding Compatibility
Tech only
Cuff Rotation
76°
Forward Lean(s)
3 positions from 10° to 19°
Specs Verified
Yes
Design
Materials
Carbon fiber, butterflies
Liner
Hi-Cube
Sole
Vibram Ice Trek
Skimo Co Says
Usage
Skimo racing, touring ridiculously far
Notes
Spur-heel is compatible with all types of crampons
Bottom Line
Crazy light, crazy skiing
Compare to other Race Boots
Questions & Reviews
Any hope of getting these in a 29 this season or did I miss my chance?

Thanks!
Hey Ryan, we have yet to see this year's cache of Stratos V boots come in, and if they are made in the same size run as the Stratos Hi-Cube we should be getting a size 29 -- stay tuned!
Answer this question:


I use the pg race400 in 26,5.
which size is recommended for the hi cube, when the pg fits well in 26,5 ?
thanks in advance
flo
Hi Flo, you'd likely be the same size in the Hi-Cube as the Race 400, potentially pushing a half size bigger in the Sportiva than the Gignoux. The Stratos is a narrower boot than anything produced by Monsieur Pierre.
Answer this question:


I measure 276 mm but have a reasonably wide foot . 102mm . I am looking for a carbon fibre race boot in Aus but can't try any in here I am thinking the 28.5 too accomodate my width in a slipper like this ?
Hey Will! My two cents: never size up or down to get a proper fit in a boot. A few years ago that used to be common just because there weren't very many boots on the market. Now there are so many options that it's not worth doing that. I think the Scarpa Alien 3.0 has a better chance of fitting your forefoot. It's not a wide boot but it's definitely wider than this boot. The new Dynafit Pintech boot may fit you even better though. It has the widest forefoot of any carbon race boot that I've seen and probably closer to what you're looking for in terms of fit than the Hi-Cube.
Answer this question:


I fit well in 27.5 Raceborgs and Sytrons. The 27.5 Stratos has a shorter bsl than the borg/tron shell in that size. Should I move up to 28 in the Stratos?
Hey Joshua, apologies for the 1.75-year-late answer! (In the future, don't hesitate to click "Ask a Question" instead of writing a review with a question, which may slip past us unnoticed!) I would go for the same size Stratos Hi-Cube as any other Sportiva boot that works well for you. The BSL will be shorter on carbon boots since material has been trimmed at both ends and you'll be using a thinner liner, but that doesn't necessarily mean the boot itself is smaller.
Comment on this review:


What is the last width on these? I found the PDG's to be a little wide and voluminous, And since I am in the mood to upgrade, This is pretty much the only boot I can't find width information on.
Aaron- This boot is definitely narrower and lower volume than a pdg. We dont have any specifics either on the boot. Especially narrower through the mid foot. It also has a big power strap over the instep to help hold the foot in place.
Answer this question:


* How does the back-of-heel-to-toe-pin-holes distance compare to the Gignoux race boots? Would the Sportiva boots properly fit bindings that have been mounted for Gignoux in the same size? (26 in particular?)

* Is the ski/walk mode done with the heel lever (yay!) or the cuff lever (boo!)?

* How do these ski compared to the Gignoux boots?

Thanks.
Hi Scott, unfortunately the sole lengths don't match up reliably to the PGs. You have to use the red cuff lever to switch modes. The skiing is pretty phenomenal and compares favorably to some PG boots, though there are several models of those with different characteristics.
Answer this question:


Do the sportiva hi cube shells come a half size larger (e.g. 27.5 is a 28 shell) or small (27.5 is a 27 shell)? Thanks
Hey Brent. They're splitting on the full size (27.0/27.5 are the same).
Answer this question:


What are boot sole lengths on these? If I have a pair of 27.5 syborgs would the hi-cubes be compatible with same set of hagan ZR bindings (no adjustment plate) or would I need a remount? Thanks
Hi Brent, we've posted the spec lengths. The 27.5 Hi-Cube is a good deal shorter than the Syborg. Enough so that you should be able to safely remount the heels.
Answer this question:


Do you know when they will be in stock?

Thanks.
Hi Caroline. We're told to expect these in early December.
Answer this question:


Earn store credit by writing reviews. Learn more.

Model: Stratos Hi-Cube