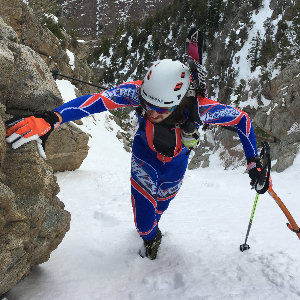 TSB
Gender
Male
Height
6' 3"
Weight
185 lbs
Shoe Size
US 13.00
Skier Type
Type II - Moderate
Ski Frequency:
100+ days / year
My Skiing
Fan of all things light, tight, race-y, and Italian. I love skimo racing, climbing and descending glaciated peaks, long ski-traverse slogs and linkups, consolidated snow, and bushwhacking. East Coaster for life, yearly/spring-ly Rockies/PNW visitor. Frequent user/abuser of 65-90mm skis, race skins, long poles, 1kg boots, small-volume packs, and copious skin wax.
My Gear
Constantly tinkering with setups and options! Here are a few favorites...

For racing, traversing, and speed missions: Ski Trab Gara Aero or Movement Race Pro 71, Plum Race 120, and Scarpa Alien 1.1 boots.

For going up and down peaks: Ski Trab Maestro and/or Maestro.2 with Kreuzspitze SCTT bindings, Scarpa Alien RS boots. Ski Trab Mohair or Pomoca Climb Pro S-Glide skins.

For putting down wiggles in the powder: Movement Alp Tracks 89, Dynafit TLT7, Plum Race 150, Pomoca Free Pro 2.0 skins.

For breaking trail in the Wasatch in January: Voile Hyper V8, Plum Race 170 with high riser option, Scarpa F1 boots, Pomoca Climb Pro Mohair skins.

Non-hardgoods equipment ...

Packs: CAMP Ski Raptor (daily driver), CAMP Rapid Racing/Skin Pack (racing), Black Diamond Cirque 35 (overnights and mountaineering routes).
Poles: A2-16 Batons d'Alain or Ski Trab Maestro (touring), Fischer Alp Attack carbon (racing).
Helmet: Movement 3tech Alpi (winter), Black Diamond Vapor (spring).
Recent Posts
Greg, I think you're spot-on with that assessment! I probably wouldn't take this ski up high on Washington since it's a bit wider than what I like using for more mountaineering-style applications, but for more below-tree line touring in the NE the Hyper Vector BC is dialed. For the "one ski to do it all" in the Northeast with a mountaineering/steeps/big vert focus, I'd nudge you toward something more like a Ski Tran Stelvio or Magico.2, which would be a more confident edging platform and also take the abuse...
Phil, your input is much appreciated but may be unique to yourself and your skiing style. You may find that, for a variety of reasons, your TLT6s provide a stiffer and more hard-driving ski experiences than your TLT7s or TLT8s, but as a general rule the boots have indeed gotten stiffer over the generations on account of advances in materials and a more sophisticated (and stiffer) interface between the cuff pivots. Dynafit does not mess around with their model updates for their flagship touring boot! Also wo...
Maximillian -- sorry to hear you have not gelled immediately with the particularities of the Objective BC. There's definitely some added drag with the fish scales, especially in wetter snow climates, but in all my years of using and recommending the Voile BC skis I've never heard that someone stopped using them due to the drag issues. One thing I have noticed this model year (2020-21) is that Voile's factory base tuning has gotten slightly less well-finished, so you may want to try putting on a couple coats...
Justin, I broke out the F1 LT/Hyper V8 combo the past 48 hours for some trail-breaking duties following an unusually deep and dry snowfall here in the Northeast. It's a great combo for lower-angle terrain where the ski isn't getting pushed too hard -- mostly using it as a flotation tool -- and so it's possible to use the LT's high levels of lateral stiffness to your turning advantage. Compared to an F1, however, there's not *quite* enough progressive flex to drive the ski through the front of the boot durin...
I can be skeptical of venturing beyond my beloved CAMP glove duo -- the G Comp Wind and G Tech Dry -- and trying new hand-wear, but the affection for these gloves among certain members of the SkimoCo staff convinced me to give this Trab offering a shot. Good thing, too, since it turns out they're the perfect "tweener" gloves for higher-intensity tours in cold weather when a lighter glove (G Comp Wind or Race) isn't nearly enough, but the Tech Dry is too warm and/or too clumsy for making quick transitions on...