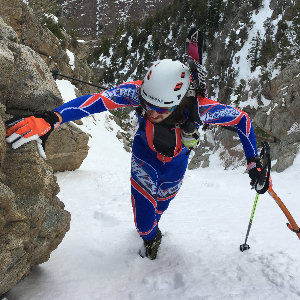 TSB
Gender
Male
Height
6' 3"
Weight
185 lbs
Shoe Size
US 13.00
Skier Type
Type II - Moderate
Ski Frequency:
100+ days / year
My Skiing
Fan of all things light, tight, race-y, and Italian. I love skimo racing, climbing and descending glaciated peaks, long ski-traverse slogs and linkups, consolidated snow, and bushwhacking. East Coaster for life, yearly/spring-ly Rockies/PNW visitor. Frequent user/abuser of 65-90mm skis, race skins, long poles, 1kg boots, small-volume packs, and copious skin wax.
My Gear
Constantly tinkering with setups and options! Here are a few favorites...

For racing, traversing, and speed missions: Ski Trab Gara Aero or Movement Race Pro 71, Plum Race 120, and Scarpa Alien 1.1 boots.

For going up and down peaks: Ski Trab Maestro and/or Maestro.2 with Kreuzspitze SCTT bindings, Scarpa Alien RS boots. Ski Trab Mohair or Pomoca Climb Pro S-Glide skins.

For putting down wiggles in the powder: Movement Alp Tracks 89, Dynafit TLT7, Plum Race 150, Pomoca Free Pro 2.0 skins.

For breaking trail in the Wasatch in January: Voile Hyper V8, Plum Race 170 with high riser option, Scarpa F1 boots, Pomoca Climb Pro Mohair skins.

Non-hardgoods equipment ...

Packs: CAMP Ski Raptor (daily driver), CAMP Rapid Racing/Skin Pack (racing), Black Diamond Cirque 35 (overnights and mountaineering routes).
Poles: A2-16 Batons d'Alain or Ski Trab Maestro (touring), Fischer Alp Attack carbon (racing).
Helmet: Movement 3tech Alpi (winter), Black Diamond Vapor (spring).
Recent Posts
Hey Ben, I can't speak to the new models (2022+) but the older 20-21 models should be sized the same with just a colorway difference. Still a fantastic casque!
Would love to hear some more thoughts on this ski and how it feels on-snow from Dr. Borro or others who have gotten some turns on it thus far. East Coasters are curious!
Juniper, "pin-line" mount for a race ski refers to mounting the toe piece of the binding based on the designated pivot point of the ski. This allows the ski to drop back into kick-turns easier than it would when mounted on boot cetner. The pin-line hould be marked from the manufacturer (either on the top sheet or a little tic mark on the sidewall).
Greg, I think you're spot-on with that assessment! I probably wouldn't take this ski up high on Washington since it's a bit wider than what I like using for more mountaineering-style applications, but for more below-tree line touring in the NE the Hyper Vector BC is dialed. For the "one ski to do it all" in the Northeast with a mountaineering/steeps/big vert focus, I'd nudge you toward something more like a Ski Tran Stelvio or Magico.2, which would be a more confident edging platform and also take the abuse...
Phil, your input is much appreciated but may be unique to yourself and your skiing style. You may find that, for a variety of reasons, your TLT6s provide a stiffer and more hard-driving ski experiences than your TLT7s or TLT8s, but as a general rule the boots have indeed gotten stiffer over the generations on account of advances in materials and a more sophisticated (and stiffer) interface between the cuff pivots. Dynafit does not mess around with their model updates for their flagship touring boot! Also wo...