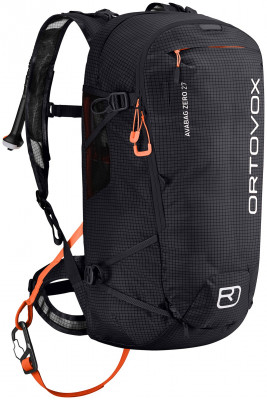 Ortovox Avabag LiTRIC Zero 27 Airbag Pack
0 reviews
Increasingly, many airbag owners are discovering the benefits of a battery-operated system. That is, the ability to travel on an airplane, multiple deployments on a single charge, and forgoing the hassle of needing to refill a canister after a single use. Recognizing this, Ortovox and Arc'teryx collaborated to create the Avabag LiTRIC platform. Taking this platform, Ortovox made the Avabag LiTRIC Zero 27, which is geared at providing a reliable and simple-to-use system with a minimal weight penalty. Starting with the use of an ultracapacitor (we promise this is a very real thing), the LiTRIC Zero 27 can be fully charged in just 25 minutes whilst also providing lighting-fast airbag deployment if the need arises. While batteries traditionally aren't the fondest of cold weather, the LiTRIC Zero 27 reliably works between -22 to 113° Fahrenheit), ensuring protection even in the coldest climates. In the event your airbag gets deployed, you can simply stuff it back into its storage area (instead of tediously folding it as is the case with most airbags). By combing world-famous German engineering with Canadian backcountry know-how, Ortovox and Arc'teryx were able to produce a reliable and lightweight avalanche airbag that is sure to satisfy.
Electric LED Display Airbag System shows you the charge and power status so you can drop into your line with confidence.
Safety leg strap with a certified aluminum carabiner keeps the pack on in the event of an avalanche.
Batteries will refill the supercapacitor so you can get a second deployment on the same outing.
Removable helmet net so you can bring the brain bucket along.
Airbag can simply be stuffed into its compartment.
Ice Axe and Trekking pole loop carry.
Specifications
Weight
convert to ounces
1970g (Litric System and backpack)
Volume
27L
Access
Front
Hydration
Compatible
Ski Carry
Diagonal
Gear Loops
2
Helmet Attachment
Yes
Specs Verified
No
Design
Materials
Polyamide 210D Dyneema
Skimo Co Says
Usage
Steep skiing
Notes
Can activate twice on a single charge (within 60 hours)
Bottom Line
Exceptionally lightweight battery-powered airbag
Compare to other Airbag Packs
Questions & Reviews
Earn store credit by writing reviews. Learn more.

Model: AVABAG LITRIC ZERO 27
MPN: 49221