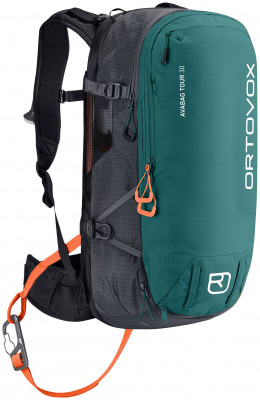 Ortovox Avabag LiTRIC Tour 30
0 reviews
$1299.95
$1039.96
In Stock & Ships Today
The Ortovox LiTRIC Tour 30 bag is perfect for backcountry outings where you need reliability and functionality. With the LiTRIC system, you get both. Utilizing lightweight lithium batteries to drive a supercapacitor, the LiTRIC Tour 30 remains reliable in temperatures down to -22°F and once activated can fill the airbag in 4 seconds. Whether you simply want to practice with your airbag or it is accidentally deployed, the LiTRIC Tour 30 has two deployments per charge and can be charged quickly in 25 minutes using a USB-C connection. Unlike other airbags, the LiTRIC Tour 30 has a locking system that will prevent the airbag pocket from being unintentionally forced open, even when the pack is stuffed full. To the chagrin of individuals who like solving Rubik's Cube, the airbag on the LiTRIC Tour 30 can simply be stuffed back into its pocket after being deployed, nullifying needing to learn intricate folding techniques. The separate safety compartment guarantees quick and easy access to your emergency equipment while the diagonal ski carry system is easy to use. Thanks to the modular nature of the LiTRIC system, you can simply zip on other pack options if you need a more voluminous option for bigger adventures. Whether traveling to far-off destinations in search of powder to venturing out for a day tour in your backyard, the LiTRIC Tour 30 is a smart and convenient choice.
Electric LED airbag display system allows you to view the charge status of your pack, even in direct sunlight.
The airbag can be stuffed back into the airbag pocket with impunity, no need for intricate origami knowledge.
The locking System keeps the airbag pocket neat and tidy even when the backpack is stuffed full.
Diagonal ski-fix for easy and intuitive ski stow and retrieval.
Height adjustable chest strap with a whistle so you can find your comfort zone and be heard.
Ice axe and pole loop attachments for getting sendy.
Safety leg strap helps to keep the pack on in the case of being caught in an avalanche.
Height adjustable deployment handle can easily be secured by turning it 180°.
Removable helmet net so you can stow your helmet on the long walks out.
When switched on, two activations are possible within a 60-hour window.
When switched off, it is ready to be used for approximately 30 days.
Specifications
Weight
convert to ounces
2470g (Litric System and backpack)
Volume
30L
Access
Front
Hydration
Compatible
Ski Carry
Diagonal
Gear Loops
2
Helmet Attachment
Yes
Specs Verified
Yes
Design
Materials
Polyamide 400 D
Skimo Co Says
Usage
Lighter and safer touring
Notes
Removable pack for easy access
Bottom Line
Versatile pack for ski touring adventures
Compare to other Airbag Packs
Questions & Reviews
Earn store credit by writing reviews. Learn more.

Model: Avabag Litric Tour 30