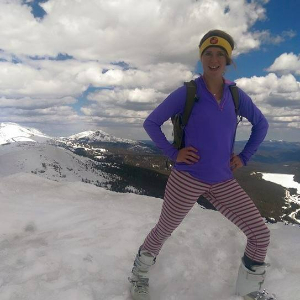 Csnowah
Gender
Female
Height
5' 9"
Weight
155 lbs
Shoe Size
US 10.00
Skier Type
Type III - Aggressive
Ski Frequency:
10 - 24 days / year
My Skiing
Style? Just as with my fashion: whatever the day inspires.
Experience? Sporadic for YEARS - never as many days as I'd like in one season.
Goals? ALL OF THE GOALS. Bigger mountains. Steeper slopes. Confident and educated navigation of backcountry and avalanche terrain.
My Gear
Old: Atomic skis, atomic AT bindings, Atomic boots! So reliable.
New: DPS Pagoda Tour 100mm, Salomon Pure, Atomic HAWX. SO LIGHT!
Recent Posts
Nothing beats the reliability of your go-to products with the added benefit of earth-friendly production. I am very appreciative for products like this that don't force you to lower your standards for a truly superior overall product experience.
Used with the BD WR Expedition poles. Easy to use, functional for the appropriate settings, not meant to replace an ice axe in sustained steep and icy conditions. Lightweight, the attachment does not have the feeling of being in the way when in use, and is easy to remove when no longer needed. Anticipating this being a one-time purchase for years of skiing, hopefully that's the durability it was designed for!
Just purchased - will check in back in to update when well used but initial impressions are positive. Excited for the ease of use with the whippet attachment. Weight feels appropriate, construction and technology appear solid, reliable, and durable. Powder baskets included makes it clear these are truly ready for 4-season adventuring.
First full season in on these suckers. Very happy with the performance, both in-bounds and out. Easy to use, even for someone who had never used pin bindings before! Toe release is not as easy as they may make it seem, but functions as expected. Wish there was a hands-free way to lock in for the hike up, though that could introduce a reliability concern where there currently is not one. Mounted on DPS Pagoda Tour 100.
On my second pair now. As others have said, extremely reliable, extraordinarily sticky. First pair is a bit gloppy now after 7 years, but sticks like heck anyway. Second pair is nearly impossible to rip off without removing skis, but oh so reliable. Happy to have them along for a day in the backcountry knowing I have the tools I need.