Marker Alpinist 12 Binding
4 reviews
Marker had something impressive brewing in their secret lab: introducing the Marker Alpinist binding. The Alpinist brings release characteristics reserved for heavier bindings to the sub-250g category. The heel piece incorporates a spring-loaded track that keeps the heel piece flush with the heel of the boot, eliminating release-value fluctuation when the ski flexes. That, combined with high-tech materials and secure geometry lets you ski with confidence. You can also get more in tune with your skis due to the low ramp-angle enabled by the race-inspired heel piece. The binding is well-featured with BSL and lateral release adjustments, two riser positions, and optional brakes. If you have been on the fence about lightweight tech bindings, we encourage you to try the Marker Alpinist 12.
Dynamic Length Compensation in the heel piece eliminates ski flex from the release value equation.
15mm of boot sole adjustment in the heel so you can use multiple boots.
Adjustable lateral release from 6-12 means you can ski at your chart value.
A "High" U-Spring controls vertical release and is swappable with Low and Medium springs, available separately.
Wide 38mm hole pattern in toe piece means more ski-hold and power transfer.
Rubber stops on the toe piece aid step-in so you can get to skiing faster.
Heel flap rests on U-Spring for fast transitions, but when spun 180° it will offer extra riser height.
Optional brakes come in 90mm, 105mm, and 115mm sizes.
Available Pintech ski crampons fit snugly in the receptors.
Update 2022/23: ISI (Intuitive Step In) toe piece has a rubber bumper and wider platform for easier step-in that requires less force.
Specifications
Weight
convert to ounces
297g
272g [2021/22]
Weight (pair)
594g
544g [2021/22]
Boot Compatibility
Tech
Brakes (mm)
Accessory 90, 105, 115
BSL Adjustment
15mm
Riser Heights
2 + flat
Vertical Release
Fixed
Lateral Release
6-12
Crampon Ready
Included option
Specs Verified
Yes
Design
Materials
Forged aluminum, carbon fiber reinforced polyamide
Skimo Co Says
Usage
Touring
Notes
Crazy light for a "gapless" binding
Bottom Line
Light-weight adjustable touring binding
Compare to other Lean Bindings
Questions & Reviews
Hi, I have Alpinist 12's which I had mounted to accommodate both Tecnica Zero G Tour Pros and the La Sportiva Skorpius. On paper the 15mm adjustment range of the Alpinist should not be able to accommodate both boots, 333mm and 317mm, but when I did a mockup mount on a 2x4 I could just make them both work a turn or two from each end on the adjustment. The shop tried to do this for me when mounting, but ended up with the heel piece 1/2 cm too far back, so the binding easily accommodates the Zero G's with several mm to spare, but I have a 1mm gap with the Skorpius, slightly less when the boot is weighted. How much of a deal is that? I know with the kiss gap you are supposed to have the heel piece just shy of touching .15mm or the thickness of a piece of paper. It looks like there is plenty of pin length inserted in the boot fittings.
Hi Brian! Personally, I would be hesitant to ski with that gap. The release values will certainly be affected. Could you get away with it? Maybe, while skiing very conservatively (no fun). Ultimately I would strongly suggest leaving the Skorpius at home when using this setup.
Answer this question:


I had one heel piece fail on the first day out. The heel position screw is held in place by a tiny metal clip fitting into a groove in the screw. On my binding, the screw punched thru the metal clip, resulting in insta-tele. Marker warrantied the part, but I lost all confidence to ski these fast or in consequential terrain. It's too bad, because they do actually feel better than other lightweight pin bindings.
Comment on this review:


Does the heel base plate on the standard Alpinist have the same hole pattern as the long-track heel plate? Friend of mine is going to give me a pair of skis that were mounted for long-track Alpinists but he is keeping the bindings. We have the same bsl
Hi Tom, yes those heels have the same mounting pattern.
Answer this question:


Has anyone effectively warrantied these for the heel towers coming loose or lifting? You can effectively snug them back down by removing the riser and tightening the small torx bolt underneath but they still have enough slop to be concerning while skiing... I've tried to get in contact with Marker about this but no luck. This is on a pair a few years old with 125+ days. Mainly concerned as I have a few pairs of these.
Hi Will, we have not seen that particular issue but we're happy to play intermediary if you shoot us an order #.
Answer this question:


How does the heel riser compare to the ATK C-raider 12?

I am between these two bindings

thanks!
Hi Pete, if you mean heightwise, we have an article listing all the
riser heights
. They both require a heel turn to access the highest position. I find the Alpinist a bit easier to flip.
Answer this question:


I'm trying to parse the release values on this. I typically set mine around 9, and I see that's right in the middle of range for lateral release for the Alpinist 12. But the vertical release is fixed on these, it seems, so should I be looking at the Alpinist 10 instead?
Hey Patrick,
The 10 should work just fine for you! However, if you do really want to be in the middle of the lateral spring range you can always purchase the 12 and also buy a medium-strength U-spring from the
Marker Binding Parts
page to swap out with the 12 spring.
Answer this question: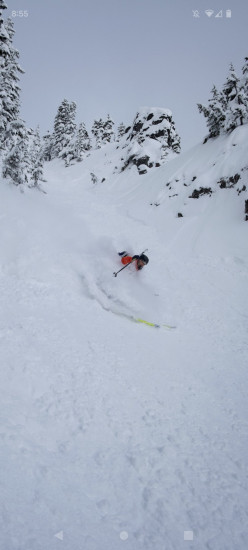 This is the most sleeper binding on the site. I do unspeakable skimo things like skiing 2000g skis inbounds with these. Never had a prerelease. Havent had a breakage. I don't baby kit. They are very damp, like actually noticable, not hype. Trabs feel slightly better than other pins. These feel noticeable better than that. Are they heavier? Not practically compared to a vario 2. And also they are truly gapless unlike atk pseudo not really gapless (you are still grinding directly on pins). You get the only things you need, 1 riser, 15mm of travel (there is a 30mm version) and most importantly, a ramp suitable for human beings. Not built in stiletto 10mm+ atk trash. My fears of a plastic binding were totally unfounded. If you feel like you need more risers, then skin better. If you want a flat mode, get xc skis. These are for up and down, not flat walking. It's called the alpinist, not the flatlander. These are also cheap and often on sale which is even cooler.

Improvements? I still prefer trab reverse step in which is still number one choice for security in sketchy transitions I still mentally prefer more metal even with no real world reason to. I still want it lighter, if it wouldn't break. Don't compromise the dampness, or true gapless, or ramp or single riser tho...

Full disclosure I have many pairs, so I probably only have like 30 days on a single pair. Will update if I make one explode.
Comment on this review:


Why did the weight increase by 50g this year?
Hi Ben, when comparing apples to apples, the weight increased by 25 grams due to the wider platform and ISI bumper. I believe one of our previous measurements did not include the crampon receptor so I just re-weighed both versions.
Answer this question:


Can the 90mm brake option be sufficiently bent to fit a 95mm ski width, or is a better to go with the 105mm brake?
Hey Jim,

Yes, that brake should bend to fit 95mm just fine!
Answer this question:


A trusted friend who has tried everything tells me that the Alpinists are the best skiing light tech binding and make a noticeable difference in feel. I am interested in trying them out, but when I borrowed a pair of skis with alpinists last spring I noticed that when used with my la sportiva skorpius boots, the toe lug on my boot bumped against the toe piece when walking. I could walk with them but with every step the boot would lightly bump against the plastic on the toe piece right above the springs. Has anyone else had this issue, and can you solve it by shaving off a few mm of rubber from the toe lug of the boots?
Ben, the Marker Alpinist is a great bindings! La Sportiva's have an aggressive sole rocker. It is very common to shave soles from boots so that they are clear of rubbing on anything.
Hi Ben, yes, you do have to remove a bit of sole rubber with 2021/22 and prior Alpinist bindings. It's not an unusual procedure since there are many such toe/boot combos that experience rubbing. We check for freedom of motion as part of our mounting process.

For what it's worth, the 2022/23 Alpinist does not have this issue with the Skorpius...the new bumper / trigger plate accommodates that shape no problem.
Thanks for the quick reply! I didn't know this was a common issue. Are there any other changes to the binding for 22/23?
Hi Ben, no it was just that "Intuitive Step In" design change on the toe.
Answer this question:


Are these bindings compatible with Dynafit ski crampons ?
Hi Oliver,
Dynafit ski crampons will work with these bindings, though they can be tricky and fiddly to get in.
Answer this question:


I have the Lange XT Free 130 LV alpine touring boots with both the Alpine Soles (ISO 5355) and the Gripwalk Soles (ISO 9523). Would my boots and these bindings be compatible with both soles, just the gripwalk soles or neither?

I also see the question from BK7 on the necessity of heel pads if installing without brakes, do these come with the bindings or do they need to be purchased separately?

Thanks!
Bobby, you would need to use the Alpine touring soles with the Tech inserts. If you get this one, it comes with the heel pad. They are necessary to mount without a brake.
Answer this question:


Hy . I want to ask you if it is indicated to mount an adjustment plate to these bindings?. And second there is a difference whithout the brakes? Wish you well
Mihai, The Alpinist does come with an integrated adjustment plate. It has 15mm of travel. The optional brakes would go on during mounting. If you need a longer adjustment plate and want the brakes, you can get that here
Alpinst Long Travel
.
Answer this question:


So far a pretty good binding that I've found easy to use. Really low ramp angle; so low, in fact; I've added in heel wedges inside my boots to get a little increased forward lean! I've found the toes fairly easy to step into, about as easy as my Ions, maybe a little less easy than Dynafit Radicals. Stomping in to the U-springs takes a little more effort than pins.

If your DIN/RV is calculated close to a 9, I'd get the Alpinist 9 as the 12 spring is hard to step into. I've found the heel risers are actually pretty easy to deal with - if I'm taking an approach, I rotate it to the flat touring mode then flip up the high(ish) riser, and if I'm doing laps, I keep the pins forward and flip over the first level riser to allow for faster transitions; I don't really like to use super-high risers anyway, even for steep tracks as my balance gets thrown. I've managed to turn the heels 180deg with my pole tip, but this isn't the most quick operation, so I just set it and forget it. Haven't had these in a release situation yet, but they feel solid, and I like the kiss-gap heels with some travel as the ski flexes.

Overall a great weight/performance binding at under 300g, especially with traveling heels; I'll definitely consider these on future ski setups.
Comment on this review:


Hey all.
Considering buying these toute suite.
If mounting without brakes, I see that the heel pads are "necessary". Just wondering if they are needed to support the heel while skiing, or if it's more for the walk/tour. Thanks.
Hello! The heel pad is just to support the heel while skiing, which protects the rest of the heel unit during high downward forces on the U-spring.
Answer this question:


Hi.
I am considering this Alpinist on a new set of skis. Have the later years gotten used to the ramp angle of the Trab Gara Titan Adjustable (7mm delta), and therefor shimmed up my old dynafits to match. But now I see that the Alpinist have a delta of 2 mm. Any experience of shimming up the heel of the alpinists? Sounds wrong to do so, but I am still wondering.
Erik, Nice, set up all your skis to the same ramp angle. We don't have much experience with shimming up the heel since we do not have any shims for the Alpinist Heel.
Answer this question:


I opted to try these out on a new ski recently ordered, Blizzard G85...which are sick by the way! I'm used to a Dynafit binding with really easy to use climbing bars, with a flick of my pole. These new Markers ski great, relatively easy to get in and out of, although it does seem to take me a couple tries to get into the toe piece. The climbing bars are terrible. To adjust the bars to a higher height you would need to turn the heel piece 180 degrees and it's really, really tight and challenging to turn while skiing, something I probably won't do, so essentially I have one climbing height. I also opted to pass on the brakes (having learned that to engage and disengage them is a bit of a hassle) assuming there would be an easy place for a leash, but don't seem to see where it would go. So-so, I'll ski them a handful of more days and if they irritate me, I'll pull them off and put my old Dynafit's on.
I spin the heel before longer climbs so I have easy access to flat and steeper risers. The difference between the middle riser (flap over pins) and high riser (flap with the heel piece spun) is negligible so this seems to work well for me. There is a spot for a leash, same as the Dynafit Superlight
toes
. You'll need a leash with a soft loop such as the marker leash or plum leash.
I'm with Curly. I haven't felt the need to rotate the heel piece for the mid riser setting - and the leash attachment point works well. I really like these bindings. OutdoorGearLab gives them editor's choice in their binding review.
I find the heel quite easy to spin around because I'm an alpinist. Also, cable leashes work just fine, you just have to shape the loop a little with some needle nose pliers.
Oh ok, I'm just used to bindings at any price, especially this price having functionality to support the use, take a lesson from dynafit for example who understands functionality and makes a binding that you wouldn't need to fully spin to change the height, guess I prefer to move faster than most...just not well thought out. I guess if you don't ski much it prob won't bother you. And it is tight as hell by the way, but they're in a box in my garage if you want a good deal on them let me know...
I'd be interested, I'm Nick Meinzer on FB
Hey Princess Paws still got those Alpinists? I got $150 burnin' a hole in m'pocket.
Comment on this review:


How does the toe piece bolt pattern compare to the Salomon MTN? I'm debating between the two for some Wailer 112's.
Your listed weights are a little different than the manufacturer. Is that your scale vs published? Published weight the MTN (no brake) is 100 grms heavier than the Alpinist 12.
Hi Dillon, we weigh most of the gear in our store, look for "Specs Verified" in the Specs tab to see if it's our weight ("yes"). In this case, yes, both bindings were weighed on the same scale. We have all the mounting patterns
here
. The MTN is a touch wider while the Alpinist is longer.
Answer this question:


Do you happen to know if the toe has the same hole pattern as the Kingpin?
Hey Christian! Not sure yet, totally possible though. Once we get them in we'll be able to inspect them a bit closer. Regardless of whether it matches or not though, we'll post the info
here
.
Hi dub_xion, just to confirm now that we received them, the Alpinist toe pattern does match the Kingpin.
Answer this question:


Earn store credit by writing reviews. Learn more.

Model: Alpinist 12
MPN: 7833S1