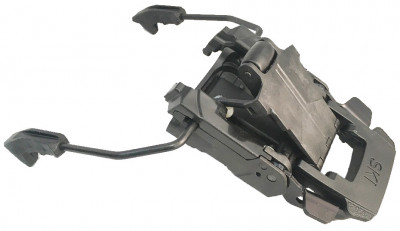 Salomon Shift Brakes
0 reviews
$99.95
In Stock & Ships Today
Everybody loves "new ski day". But sometimes "new ski day" also means "new brake day" in order to get your bindings to fit appropriately on your new skis. Find new Salomon brake assemblies for your shiny new skis below. All brakes are sold in pairs.
Shift 90mm - Narrowest Shift brakes available, these measure a bit over list.
Shift 100mm - Fun fact: 100mm is also 10cm which is 1/10th of a meter.
Shift 110mm - Pretty average ski size for many Shift users.
Shift 120mm - Widest brake size reserved for big powder boards.
Questions & Reviews
Are the 120 brakes too narrow for 125 Line Pescados?
Brent,

You'd likely need to bend them out a little bit, but they should work.
Answer this question:


Are these the same brakes used for the Atomic shifts?
Hi Joel, yes the very same part. Also the same for the Armada Shift.
Answer this question:


Will the 100 mm option work for a pair of Salomon QST 106?
Stig,

That would be a little bit of a stretch. Pun absolutely intended. I'd go with the 110mm to be safe.
Answer this question:


Just ordered 22/23 Black Crows Nocta
They are 122mm underfoot.
where the brakes would be is about 128mm would the 120 brakes fit if I bend them or just try something else?
Want to tour.
Davey, Where the brakes would be should still be close to the narrowest part of the waist. As the widest size, they will fit more than 120mm width without bending. And you can easily bend the brake arms if you need a bit more.
Answer this question:


Hi, I just bought a pair of shifts for my skis but didn't realize they were the wrong size until it was too late! I wound up getting 90mm brakes for my Sego Condor 108's. Is it possible to bend the brakes out or should I just buy new brakes?
Hi Matteo,

Thanks for reaching out. That's probably a bit much to be bending those brakes. I'd recommend getting a pair of the 110mm size and running with those.
Answer this question:


Hello, do the 100 mm shift brakes fit a scott pure 109 ti please ?

Best regards
Hi Ben, the 100mm will be a tad narrow, go with the 110mm.
Answer this question:


Hi, for skis that are 116 underfoot, coult the 110's bend out far enough or do you recommend the 120's?

Thanks
Hi Mike,
You could either direction. With the 120mm brake, you wouldn't have excessive extra width, ~2mm on each side. The 110mms could be bent for a 116mm ski as well. If I were in your shoes, I'd likely lean toward the 110mm brake width. Thanks!
Answer this question:


Which size do you recommend for a Salomon QST that is 92 under foot? Thank you!
Hi Rudy, the 90s will fit fine!
Answer this question:


Is it for one brake or a pair of brakes?
Hi Kevin, these are sold in pairs.
Answer this question:


Hi, I'm downsizing ski from 105mm to 95mm Black Diamond Helio. I wondered do I still can use my 110mm shift binding on 95mm? Or for ideal condition I have to swap the brake to 90mm (or 100mm?)

Thanks!
HI Xing, Brake width is very flexible. You could keep the 110, but they will stick out over the width of the ski in the up position a tiny bit. The 90mm width could be made to work on a 95mm ski.
Answer this question:


Will the shift 100mm brake fit on the Whitedot Altums 104's without stretching or should I go with a 110mm brake?
Hey Jose,

The 100mm brake will be just fine for that ski!
Answer this question:


Will 100mm brake work for blizzard 10 104mm under foot or should I go up to 110mm brakes?
Hi Daniel, the 100s should squeeze on there fine.
Will the 115mm be better? My Concern is if in steep terrain the best as Jed will drag
Hi Daniel, there is no 115mm width in these brakes. In general, you want to err on the skinnier side to avoid chances of drag / snagging.
Answer this question:


I have a pair of CT 3.0s 112mm underfoot, should I go with 110 or 120mm brakes?
Hi Carson,

I would go with the 110mm brakes. Generally, brakes can be stretched a few mm beyond the listed width, which will be a more ideal pairing than the 120mm brakes.
Answer this question:


I recently bought some shifts and didn't realize I got the wrong size of brake, I don't really want to buy a new pair, is there any way you can bend the brakes to make them fit my skis?
Carson,

It depends on which brakes you have and the waist width of the ski. You can often bend a set of brakes to get an extra 5-6mm of clearance, but beyond that, they can start to hang up on the edge of your skis, or just not deploy correctly. If you want to get into the specifics feel free to e-mail us at help@skimo.co!
Answer this question:


Is there a way to use these bindings without the brakes? They're so short they don't actually work well in my experience.
Randy, No, they are very integrated into the binding.
Answer this question:


I have the bent Chetler 100 and eating to put a shift binding on them, will the 100 brakes me ok for those skis?
Hi Unkown,

The 100mm brake would be a great pairing with the Bent Chetler 100!
Answer this question:


I have the 2020 Black Crows Camox Birdie womens with 97 width. I'm reading the 90 can stretch but would 100 be better? I have the 110 and seems a lot wider than normal brakes even tho they squeeze inward
Hi Maggie,

Generally, brakes can be stretched up to 6mm for additional width. In your case, I would probably go with the 100mm brakes.
What size for 117 under foot
Hi Tom,

For skis 117mm underfoot, I would definitely go with the 120mm brakes!
Answer this question:


I have a pair of blizzard rustler 11 and am wondering what size of brake I will need
They are 112 underfoot
Answer this question:


Hi there. I have skis that are 112 underfoot with shift bindings that have a 110 brake. Where the brake actually sits is wider than 112, The brakes get stuck on the top sheet when I unclip from the bindings and I must give them a tap for them to go all the way down. Is there anything I can do to widen the brakes? Or should i consider trying to switch to a 120 brake? Thx
Hey Jacob,
You should try bending the brakes out just a little. You shouldn't have to bend them too far to stop them from getting stuck on your ski.
I've found that it can be useful to shave off a tiny bit of plastic on the inside/downward point of the plastic on the brake - the bit that sits just above the ski when the brake is up, and digs into the snow when it's down.

Whilst the brake was wide enough, it has quite a square profile - and was getting wedged against the edge of the ski.

With a little bit of angle on it, the brake naturally splays outwards as it deploys!
Answer this question:


Which size do you recommend for G3 FINDr 94? 90mm assuming the brakes can be stretched or 100mm?
Hi Alex,

I would recommend going with the 90mm width. They should have no problem getting to 94mm with a small amount of stretching!
Answer this question:


Earn store credit by writing reviews. Learn more.

Model: 1x2 Brake Shift
MPN: L40550800