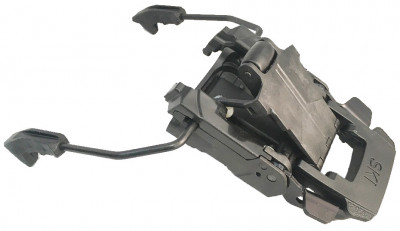 Salomon Shift Brakes
0 reviews
$99.95
In Stock & Ships Today
Everybody loves "new ski day". But sometimes "new ski day" also means "new brake day" in order to get your bindings to fit appropriately on your new skis. Find new Salomon brake assemblies for your shiny new skis below. All brakes are sold in pairs.
Shift 90mm - Narrowest Shift brakes available, these measure a bit over list.
Shift 100mm - Fun fact: 100mm is also 10cm which is 1/10th of a meter.
Shift 110mm - Pretty average ski size for many Shift users.
Shift 120mm - Widest brake size reserved for big powder boards.
Questions & Reviews
Hello, what brake width will match Volkl Mantra M5? Thank you.
Hey Miro, the 100mm brake should work out quite well.
Answer this question:


Would the 90mm work for a 96mm elan ripstick or would the 100mm be a better choice?
Thank you!
Answer this question:


Which size should I choose for my K2 mindbender skis 98 in waist? Is the 100 enough?
Hey Ebba, those should work perfectly for you!
Would the 100's work for the Icelantic Riveter 95 or is 110 a safer bet?
Answer this question:


Here's a follow-up to my previous question:

I would really like to bend the ski brake arms in a bench vise rather than stressing the plastic ski brake assembly. Does the Shift heel assembly need to be removed from the ski in order to separate the ski brake from the rear release? Thanks.
Hi Brian,

The safest way to bend brakes on a binding is to do so with your boot in the binding. This will protect areas like the plastic assembly from harm.

If you would like to isolate the brake mechanism from the rest of the binding in order to bend them with a vice, you will need to screw the binding all the way forward on its BSL adjustment track, slide it off of the heel plate, at which point you will be able to separate the brake mechanism from the heel piece. The Brake arms themselves cannot be removed from their housing. Hopefully, this answers both of your questions!
Answer this question:


I just purchased Salomon Shift MNC 13 bindings with a 90mm brake (has 98mm clearance) and mounted on skis that are also 98mm. I would like to bend another 3-5mm or so for more clearance.

How do I remove the ski brake heel unit to remove the brake arms so I can use a vise for bending? Any video or link would be appreciated. Thanks!
Hi Brian,

I have included my answer to this question in my response to your second question above.
Answer this question:


I have Nordic's enforcers that are 110 underfoot. What size shift brake will work best?
Hi Shaefer,

The Salomon Shift 110 brakes will work well with Nordica Enforcer 110s. If necessary, these brakes could also be stretched a few millimeters wider if necessary!
Answer this question:


Hello, I am looking to put shifts on some moment deathwish skis, they are 112 underfoot, i measured them a little further back to get a little more accurate measurement of where the brake would actually sit and the measure ~113-114 (110mm hits the top sheet,) and 120mm fits with about 1.35mm of clearance on each side. I ordered the 120mm wide ones, should I have gone with 110?
Hey there,

I think you were right to go with the 120mm! If you run into issues, definitely let us know.
Answer this question:


Hi would the Shift 90 mm brake fit a 95mm ski like the Backland 95 or would I need the 100mm brake? thanks.
Hi Will,

Thanks for reaching out! The Shift 90mm brakes can be stretched an additional 5mm to accommodate a 95mm ski, which would be a better fit than the 100mm brakes.
Answer this question:


Hey, I bought a pair of shift bindings with a 110mm brake width and am looking at putting them on a pair of Line Sakana's (105mm waist). Should I switch out the brake to a 100 or 90mm brake width? I've heard that the shift's run super wide. Someone said they wish they put a 90mm brake on the sakana because if the brakes hit each other they can disengage.
Hey Will, thanks for reaching out! You'd have to bend the 90mm brakes quite a bit, so I'd say the 100mm brake will be the best fit for you!
Answer this question:


Hi! I want todo use the binding on a armada bubba 188 which are 132mm width , will the 120mm fit bending them a bit?
Hey Lucas,
You can probably bend them far enough to make them work, but the fit won't be ideal, you'll likely have some scraping and/or bowing out of the brake. Unfortunately they don't currently sell a wider one so that'll be your best option.
Answer this question:


How far can you bend the 120mm brake width? I'd like to get these on a 138 width powder ski. Is that too far?
Hey Terry, that is probably a bridge too far, I'm sorry to say. You may have to call in a favor with Stefan Drake and see what sort of dark magic he can perform to find you a 140mm Shift brake :-)
Answer this question:


Hello, I have the 110 mm brake size. I wanted to buy a pair of black crows anima freebird, which are 115 mm wide.

Do I have to buy new brakes, or can I bend them a little?
Hey Sam-umlaud, I think you should be just fine with the 110mm brake. There's usually a bit of extra width in addition to the claimed brake size, and if not you can use the heat-and-bend method. In the meantime, consider procuring a nice
low-fat ski
as an Animus to match your Anima :-)
Answer this question:


Salomon Shift Brakes 100

I have the Salomon 2020 S/Lab Shift MNC Ski Bindings with a 90 brake. I would like to mount them on the Elan Ripstick 96, so I need a wider brake. Is this the correct one? The 100?

Thanks
Jane, Have you put the brake on your ski yet? The Shift brakes fit wider then the stated width. And a slight bend wouldn't hurt a thing.
Answer this question:


I have a pair of Black Crows Nocta (122 width underfoot). The standard brakes with the Salomon bindings are 130mm and are so wide that the brakes almost hook each other.

Question: Can the 120mm brakes be widened enough (say 5-7mm) to fit?
Hey Bob, I would say that the 120mm brake could be bent slightly to fit your Noctas with a pair of pliers and maybe a little heat to aid the process.
Answer this question:


I would like to know if the 100 mm brake option will work on a Vantage 107 TI. I have read the 110 mmk brake width is capable of +10mm greater. Just want to keep them tucked as tight as possible.
Hey Shawn, as we don't stock the Atomic Vantage line it would be hard for me to give you a definitive answer, but if you're willing to engage in a little brake-arm bending, I would say you have good odds of making the 100mm Shift brake work!
Answer this question:


Are these ski brakes for cross country or downhill skis??
Hello Bruce,
The Salomon Shift brakes only fit the Shift binding, which is an alpine touring binding.
Answer this question:


1X2 means that I will receive one packaging with 2 brakes?
I need to change both My ski stopper...
Thank you
Paolo, sounds confusing but Yes, this is for a Pair of brakes.
Answer this question:


Will a 110 brake stretch enough to work with a Volkl 100Eight? Or do I need to go w 120?
Brian, a Volkl 100eight is 108mm wide so it should fit fine. Also, the Shift brakes fit a few mm wider then the 110 width.
Answer this question:


how hard is to change to a wider brake on the shift bindings , I seem to have trouble with the brake getting hung up on the side of the ski and not engaging ?
Hi Jim, changing the brake on the Shift is not too difficult. If you've exhausted the possibility of stretching your existing brakes, I'd go ahead and order a new set that will fit better.
Answer this question:


Hi,
Any idea when the other brake sizes will be available?
Hey Ulrich! I think we're looking at late November/early December-ish on those brakes at the moment!
Answer this question:


Earn store credit by writing reviews. Learn more.

Model: 1x2 Brake Shift
MPN: L40550800