SCARPA Alien 3.0 Boot
2 reviews
$2499.95
In Stock & Ships Today
A third Alien has landed! And this one is not cheap like the 1.0. That's because SCARPA used 100% carbon fiber in both the upper and lower shell, shedding hundreds of grams in the process. The result is a skimo racing machine, built for serious competitors. And also folks like us who enjoy touring in carbon boots for the amazing walk mode and stiff downhills. In that respect this is the best carbon boot yet, since the integrated gaiter keeps out the snow when you're breaking trail, obviating the need for gaiter accessories or fancy pants (admittedly we'll still wear fancy pants).
SCARPA integrated the BOA system from other Alien boots, providing the most snug forefoot fit in category. They also kept the amazing Vibram UFO soles that have proven durable across so many miles of the Wasatch and beyond. Also notably, the Alien 3.0 is the first all-carbon boot to use Dynafit Quick Step inserts, speeding up those step-in transitions. This is the new boot to lust after or buy and enjoy.
Water-resistant gaiter is integrated into the shell to keep snow off your liner and toes.
UFO 3.0 sole offers 360° of traction with extra sensitivity in the toe for rock moves.
Race 2.0 liner from Intuition incorporates three different thermos-moldable foams.
BOA closure system fits snugly around your foot and stays locked all day long.
Carbon Cuff technology contours to your leg and has removable EVA foam calves.
Pebax® tongue protects the toe from impact, absorbs vibration, and keeps out snow.
A-Light ski/walk mode lever is a quick release system that integrates with the cuff.
Spectra locking cord is finely adjustable for calf-hold and forward flex resistance.
Metal hooks for the locking cord evenly distribute forces while being friction free.
* Please note sizes are Euro.
Update 2019/20: SCARPA swapped out the carbon shin piece in favor of the grilamid version from the 1.1. They also changed cord material, moving away from Amsteel.
Specifications
Weight
convert to ounces
622g [43]
Weight (pair)
1244g [43]
Buckles
Rope plus BOA, single throw latch
Boot Sole Length
242mm [37]
251mm [38]
260mm [39]
268mm [40]
276mm [41]
284mm [42]
292mm [43]
301mm [44]
Binding Compatibility
Tech only
Cuff Rotation
71°
Forward Lean(s)
14°, 18°
Specs Verified
Yes
Design
Materials
Carbon shell and cuff, pebax tongue
Liner
Intuition Race 3.0
Sole
Vibram UFO 3.0
Skimo Co Says
Usage
Racing and winning
Notes
Dynafit Quick Step inserts
Bottom Line
Top-of-the-podium racer, top-of-the-fun tourer
Compare to other Race Boots
Questions & Reviews
The Alien 1.0 in 28.0 fits me perfecto! So, would the 43 be the way to go in the 3.0? Thanks!
Hey Jeffrey, thanks for reaching out. You'd likely be able to get away with a size 43 but would be more comfortable in a size 44, depending on your foot shape, toe length, molding preferences, etc etc. Definitely reach out to help@skimo.co or give us a ring for a more in-depth conversation on all things Alien-ated.
Answer this question:


Is there a boot center mark on these boots?

Thanks!
Hey Patrick, no boot center mark on the Alien 3.0, as most racers prefer to mount their skis based on a pin-line designation rather than a traditional alpine boot center.
Answer this question:


Hi!

I have a size 27 Alien 1.0, 26 wasn't a good fit for me, so I'd likely be like a 26,5.

What size Scarpa Alien 3.0 should I choose on? A 41 or 42?

Atomic Backland Ultimate boots fit well in a 26.5 also!

Thank you.
Hi Pablo, we would recommend choosing between the size 42 and 43 Alien 3.0 given your foot size. The 42 would provide a closer fit while the 43 would be more comfortable overall.
Answer this question:


I've been on Syborgs for the last couple years, considering an upgrade; size 29.5 - 30, wide forefoot. Do they make the Alien 3.0 that big? What are my options in the lighter boots?
Hi Chris,
Unfortunately this boot caps out at a 44 (similar to a 28 Mondo) Have you considered the
Alien 1.1
, which goes up to 30?
Sarah
Answer this question:


Does anyone else get arch pain while skinning with the boa cranked tight? Any ideas for a fix?
Hi Pete. Do you use a custom footbed? Sounds like your arch might be collapsing with the BOA and that is leading to your pain. Try a custom/new footbed, at the very least a new Green SuperFeet. Hope this helps.

Matt
Answer this question:


Hi Nate
THX for your quick answer
Cant seem to find the BSL measurements for 3.0 anywhere
what is the BSL for SZ 44 PLS
THX!!
Hi Milan, Scarpa support materials state 301mm.
Answer this question:


HI There.
I am considering to upgrade from by 2016 Dynafit PDG to Alien 3.0. The question is sizing. I have used Scarpa teli boots and I am 28.5 to be comfy. My PDG from 2016 are 28. If I was to do 6-8 hour day on my current PDGs now I would have to be 28.8, my feat freeze after 4 hours of Vert. However 2HR Skimo Race the current PDG is fine. I need to replace the PDG with Pure race boot and 3.0 seems like the most popular. What size would you recommend? If I was to go PDG2.0 this year I would go with 27.5 for race and 28.5 for touring,(given Dynafit changes their sizing from 2016). Should I be looking at 43 or 44 for the 3.o's THX!!

M
Hi Milan, I would suggest going with the 44 in order to have a little more toe room. Due to this boot being a little lower in volume than the PDG, I believe you will still have a snug fit throughout the rest of your foot in the size 44.
Answer this question:


What's the bsl of the size 39 Alien 3.0?
Hi Lea, Scarpa states that the BSL of the size 39 is 260mm.
Answer this question:


What's the bsl of the 25 Alien 3.0?
Hi Lea, this boot is offered in European sizes. There is no 25!
Answer this question:


Hi Skimo. I'm considering this years alien 3.0. I believe the gaiter on the latest model goes all the way up compared with last years model? Is this correct?
I agree that PG race have a flimsy fit or feel. My sizing with a thin sock is between mondo 26 - 26.5 (measured in store). My alien rs are 27 which is somewhat too large for me. I would like a good fit but not a tight fit with a thick pair of wool socks. Do you think size 42 would work for me?
Any idea how many degrees of ankle flex? My PG's have a superb flex but the alien rs' flex could be better.
Thanks, Geir
Hi Geir, if the Alien RS in a 27 is a little large on you, I would suggest going with a size 41 in the Alien 3.0. I was in the same situation last year and my size 42 Alien 3.0 is a little big. I would prefer the 41. Our specs show there to be 71 degrees of cuff articulation. The Alien 3.0 is on par with your PG in terms of how well it will walk/skin.

I've done some double checking and as far as I can tell, our images and inventory reflect the most up to date gaiter that Scarpa is shipping with these boots.
Answer this question:


A sizing question please- planning to buy some of these boots. I have been skiing for years in Alien 1.0 in a 27 shell but they are cripplingly tight and am very happy in a Scarpa F1 in a 28. I get cold feet and am planning on fitting another F1 liner to Alien 3.0s- I know modification will be needed, but clearly with that liner more volme will be needed. Do you reckon 43 or 44? Thanks!
Hi Jon, I've got some personal experience with putting other liners inside the Alien 3.0. I have to say that I really think you're going to struggle with trying to get an F1 liner in there, even with modification.

If you are dead set on the F1 liner a 44 is probably your best choice. If you want to safeguard against not being able to get the F1 liner in the boot, I'd suggest getting the 43 as it likely will fit you well with the stock liner.
Answer this question:


Can't seem to find bsl info anywhere for the 3.0s, any idea of the bsl on size 41 and 42?
Hey Pete! We don't have a 42 in stock at the moment so I wasn't able to get info on that, but I did just measure our 41 at 273mm!
Answer this question:


The alien 3.0 is by far my favorite of the three current full carbon boots. I've had time on quite the range of full carbon boots in the last couple of years, Stratos Cube, Hi cube, and Evo, PG Race 400, and the Alien 3.0. The 3.0 (and the discontinued Evo) have the highest quality construction. You can tell a tremendous amount of handwork goes into a pair of these boots. The aliens ski the best out of the group, much stiffer than PG, and closely followed by Hi cubes. These things are amazingly stiff I would easily feel comfortable driving 90mm skis. Gignoux boots have a lightweight flimsy feel not shared by the aliens.

The aliens are the most "finished" boot. Smooth actuation of the ski/walk lever, the boa cord provides excellent heel hold, the flexible carbon/kevlar wraparound portion of the cuff is a nice touch not shared by other boots. The short zippered gaiter of the newest version is nicely thought out, great for racing, though sometimes I wish it was full length for mountaineering objectives

Fit is different from other Scarpa boots. Much lower volume top to bottom, but holds the same classic wide Scarpa fit. I fit perfectly in a 27 Alien rs, the 3.0 in a 43 was too large, I believe a 42 would be a good all around fit. Perhaps even the 41 with some liner mods.
Comment on this review:


Hi Nate, couldn't figure out how to comment below my previous question but if I am on an Alien 1.0 with a 279bsl and went with a 41 3.0 with a 276bsl, would I have to remount my current atk's or would I be safe to use the 276bsl on my current mount? If I had to remount, would it be too close to remount just the heel piece or would I have to push the toe and heel up or down some? Thanks!
Hi Jamie, I'm going to assume that you've got a fixed race mount given the boot we are discussing. I'm sorry to say it but I'm almost certain you'll have to remount. The easiest way would be adding an adjustment plate to the heel as it will keep your toes in a good location and avoid adding more holes than necessary to your ski, but it obviously comes at a very minor weight penalty.
Answer this question:


I fit perfectly in a size 27 RS Alien, should I go with a 41.5 or a 42 in the alien 3.0?
Hi Pete, the Alien RS and Alien 3.0 have a bit of a different fit and foot shape, but in terms of length I think you'd be happiest in a 42.
Answer this question:


What is the bsl on the Alien 3.0's in a 40 and 41?
Hi Jamie, 40 is 268mm and 41 is 276mm. Keep in mind that Scarpa uses what they call the "optimized touring point" which can effectively shorten the length depending on the fitting placement on their boots. On the Alien 3.0 it is -5mm from a traditional fitting placement.
Answer this question:


Five Stars for sure given the most amazing combination of an extremely light weight and the extremely stiff skiing performance.

And for sure a boot this pricey had better merit five stars, although fortunately I had a medical reason so it's tax-deductible. Okay, maybe I should consult with an accountant first about such legal matters, but that really is why I bought this boot: on both my Dynafit-rebranded Pierre Gignoux boots and my Alien 1.0 I'd had to shave down all the liner foam in the toe box to squeeze into a 26, and when combined with my toes maybe becoming a mm or so longer over time, plus the crazy Arctic blast we had in New England in December and January this season, I wouldn't regain sensation in my toes until over an hour after skiing, and I'd go to bed at night still in pain.

Fortunately though these boots are so awesome that I'm almost glad that I went through all that! First, just one caveat regarding a claim in the Skimo Co description: "[…] the integrated gaiter keeps out the snow when you're breaking trail, obviating the need for gaiter accessories or fancy pants (admittedly we'll still wear fancy pants)." Even despite how boots this fancy deserve fancy pants – the craftsmanship of the carbon fiber is truly stunning – the 3.0 has been available in two different versions. I'm not sure which version is the "3.1" but my version (unlike the pictured version here) has a relatively low zippered gaiter (which seems quite substantial, in contrast to some other brands that are prone to failure) that definitely does not keep out deep powder while trail breaking though fortunately my tattered 1.0 gaiters work perfectly.

Sizing is confusing given the Euro system, plus I suspect Scarpa translation's is a bit generous: my 42 Alien 3.0 is listed as the equivalent of a 27, but that would be a really tight 27 compared to any other boot from Scarpa, Dynafit, or PG. The interior length is fine for my 26+ foot and the forefoot is surprisingly slim. To tighten up the instep height up a bit and also modify the fit, I added some padding underneath the lightly padded external tongue on the lower shell, but only on the lateral side. Heel fit has been perfect (and very much unlike how I had to modify my size 26 Alien 1.0 shell in the heel cup). The inner bootie is relatively thick for a race boot, so some potential for additional fit adjustments via molding (although didn't seem to do much of anything for my fairly slim foot).

Before use, you have to place the foam on the inside of the upper cuff, which has a bit of a grade school arts & crafts feel (and unfortunately my grade school daughter wasn't available to assist). Three different foam thicknesses are provided, but I highly advise using the thickest of the three. Once you have affixed the foam to the upper cuff, you'll be amazed at how the upper cuff not only goes very far past vertical yet even approaches horizontal! This can be a bit of a drawback as the long mode switch lever might get embedded in yak dung during your month-long expedition to Whereveristan (or more prosaically in ski resort parking lot mud). Speaking of that lever, Scarpa reverted to the excellent 1.0 design after the failed Tronic experiment on the briefly lived 2.0 predecessor.

Before my first outing, I set the cord far looser than I do on my Alien 1.0 boots, and not even as tight as on my Dynafit RC1 carbon boots. At the top I flicked down the lever and …what?!? I was almost locked into place with nearly zero ankle flexion. I then set the cord even more loosely so I have a bit of give before everything is engaged. Yet even with that much give, the 3.0 still skis so well that an old soft 2012 race ski now absolutely rails on firm groomers like its alpine racing cousins. At the other end of the spectrum, the 3.0 isn't even remotely challenged while driving my 97mm 168cm Dynafit Denali. During one training session, the cord seemed to have loosed up too much on my first descent. Inside the lodge, I pulled up my race suit gaiter and … actually, the large loop on my figure-eight-on-a-bit had slipped off the hook entirely. Yes, that's right, the 3.0 still skied okay with the forward closure provided only by my lycra race suit!

The downside is that those awkward backcountry maneuvers while still in ski mode for herringboning, sidestepping, etc., are even more awkward in such a stiff boot. And don't even consider this boot if you're picky about having a "progressive" flex pattern.

Durability is mainly speculative at this point with only ~118,000' vertical, but the identical walk/ski mechanism on my 1.0 is still perfectly fine after nearly 1.1' million vertical. And the 3.0 sole rubber seems just as substantial on the 1.0, which is still almost pristine despite lots of travel over various non-snow surfaces.
Hi Jonathan, thanks for pointing out the gaiter issue. Indeed, the version now shipping has a different, lower gaiter. We've just uploaded all new photos. We recommend wearing fancy pants!
Huh, so I suppose my version is the 3.1!
Also, forgot to mention that for those who are not familiar with them, the Dynafit-supplied "Quick Step-in" toe sockets do provide a bit of an advantage compared to the French and Italian competition for all-carbon boots. I have this style socket on my Alien 1.0 boots but not on my PG boots, and it does make entry a bit easier, as well as reduce the frequency of botched entries with unsteady legs after long race descents.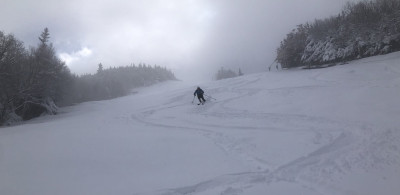 Just in case anyone is wondering how the current version with the Grilamid shin piece compares to the prior version with the fiber-reinforced shin piece, I am now in an excellent position to report on that, as my fiber-reinforced shin pieces cracked back in February.
The shin piece on one boot became completely detached, although is still skied okay even floating about. But I then made it through the remainder of the season by laminating it back on with sheets of plastic, G/Flex epoxy, and -- of course -- duct tape.
The warranty retrofit with the Grilamid shin piece arrived back from Scarpa this past Tuesday. Then yesterday I thoroughly tested the repair by skiing over 10,000 vertical in over a foot of snow (which is just as rare as you would think for New England on October 17). Happy to report that the Grilamid shin piece is as stiff as with the original fiber-reinforced shin piece! (Perhaps b/c the cord wraps around more thoroughly than with the fiber-reinforced shin piece?)
Otherwise, closing in on nearly 900,000 vertical, only wear issues are that the gaiter zipper on one boot has failed (but it doesn't seem to make any difference in keeping out snow, as the plastic tongue with the Boa presses down so securely on the gaiter), the gaiters have developed some small tears (which of course is merely another excuse for more duct tape fun), some wear on the rubber sole near the toes (Plasti Dip to the rescue!), and a wee bit of play seems to have developed in the cuff rivets although imperceptible when skiing (but a contrast with my PG boots at almost 1.4 million vertical.
Comment on this review:


I wear a 28 in the La Sportiva Syborg (they are a little roomy had to add and insole). What size do you think I would be in the Alien 3.0?
Hi Simon, it's hard to say with absolute certainty due to you having a rather vague fit in your Syborg, but it sounds as though you would likely be happy in a size 43 alien which seems to roughly fit about like a 27.5.
Answer this question:


I've been really considering the Alien 3.0's and 1.0's as a new boot this season. As of now, I've only been in the La Sportiva Syborgs in a 25.5 and unfortunately haven't had the opportunity to try any of the Scarpas on but have heard great things. Is there any way to put the fit of the Aliens in comparison to the Syborgs? Current Syborgs fit really snug in the toe box but not unbearable, I like the performance fit and run all my other boots in a 25.5 as well. I also love that I don't have any heel lift in the Syborgs and that is something I am concerned about in the Scarpas.
Hi Ryan, it's an interesting comparison to make since the three boots are so different. I would say that the Alien 3.0 and the Syborg have the most similar fit of the three boots we are discussing.

The Alien 3.0 has a similar heel and volume over the instep, but widens out slightly at the toe box (like the Syborg). I just tried a Syborg on again for reference and I'm of the opinion that the fit is similar to my Alien 3.0.

The Alien 1.0 has a much narrower shape throughout the foot. If your toes are tight in width in the Syborg, you'll likely be even tighter in the Alien 1.0.

For the sake of discussion, I also tried on the La Sportiva Stratos Hi-Cube for comparison and got the opinion of Eric, one of the other bootfitters here. Both of us came to the same conclusion that if you are happy with the fit if the Syborg, that the Alien 3.0 is the most similar of the carbon boots in terms of fit.
Thanks for the quick reply on this. I measure out to 25.5 and have been in a 25.5 in the Syborg. Correct me if I'm wrong but I believe a 25.5 Syborg is a 26 shell 277 bsl. Without having the ability to try these on would I be best in a 40 or 41 Alien 3.0? If I size up to a 41 and find there to be too much room or find heel lift are there any solutions to this? Obviously concerned about dropping that much cash to find out it doesn't fit well or it fits well out of the box and then breaks in after a few sessions and then my feet are swimming in the boot.
Hi Ryan, my suggestion would be to go with the 41. The liner is thin enough that I don't think you'll be swimming in it after a few sessions if you have a snug fit out of the box.

If you receive it and find that the fit just isn't quite there, we can set up a return for you (provided it is kept in new condition and not skied.)
Answer this question:


Earn store credit by writing reviews. Learn more.

Model: Alien 3.0