ATK Candy 5 Binding
1 review
$359.95
$279.95
In Stock & Ships Today
Historically, the lack of backcountry equipment designed for children was a convenient excuse to leave them behind for some much-needed alone time in the backcountry. Unfortunately (fortunately?), ATK is blowing this excuse out of the water with the introduction of the ATK Candy 5. While bindings designed for smaller skiers traditionally have been relatively clunky affairs, the Candy 5 takes all the design features found on "adult" bindings and have applied them to a, shall we say, "sweet" binding dedicated to skiers less than 40kg (88 pounds for you Kingophiles). The result is an easy-to-use, simple, and lightweight binding that will allow your kiddos to fully enjoy their backcountry experience. And with the 50mm of heel adjustment, there is room to accommodate the larger and larger boots that are sure to come. If you are looking to give your kids the same backcountry experience you crave, the ATK Candy 5 won't let you down.
Cam Release System helps with the ease of stepping in and allows for adjustment of the vertical release value.
Easy Entry System features a new toe geometry that makes stepping in easy for beginners.
Release values range from 1.5-5 accommodate your child for the formative years.
Elastic Response System provides 10mm of rear heel travel in case junior bottoms out.
Optional 50mm heel riser available here for when the goin' gets steep.
Lightweight which makes it easy on the legs.
Specifications
Weight
convert to ounces
288g [91mm]
Weight (pair)
576g [91mm]
Boot Compatibility
Tech
Brakes (mm)
75, 86, 91, 97, 102
BSL Adjustment
50mm
Riser Heights
Flat + optional 50mm
Vertical Release
1.5-6
Lateral Release
1.5-5
Crampon Ready
Included option
Specs Verified
Yes
Design
Materials
7075 aluminum, stainless steel, POM, 30% carbon fiber composite
Skimo Co Says
Usage
Everyday touring
Notes
Full featured binding for your munchkins
Bottom Line
Very low release values for very light skiers
Compare to other Full-featured Bindings
Questions & Reviews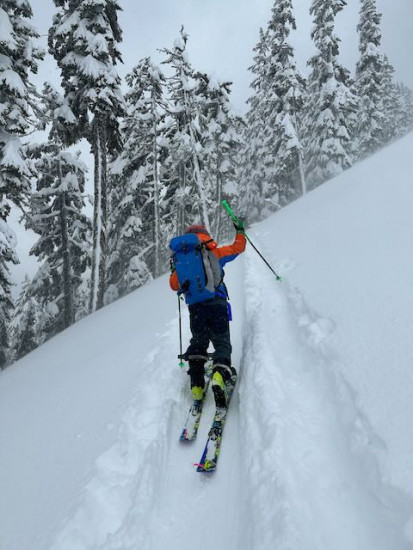 Epicly Legit.....!I have had my 7 year old on these for the last 2 years. They are the real deal as good as DADS bindings super light super easy and as witnessed on hill enough times Safe enough for the correct and timely release you want in any binding. Last year at 6 trained ( a bit) and did the Alpental Vertfest in this set up and Dynafit youngstar boots and loved his set up so much he refused to go back to his alpine skis. he can get in and out himself like a pro. As far as i can tell these are IT when it comes to Grom touring bindings.
Comment on this review:


Earn store credit by writing reviews. Learn more.