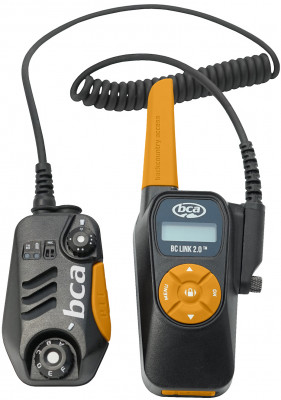 BCA BC Link 2.0
0 reviews
$189.95
$169.95
In Stock & Ships Today
While exploring nature's mighty splendors, it's easy to venture out of shouting distance or lose sight of your partners. Backcountry Access solves the problem with the BC Link 2.0 radio. Compatible with any pack with shoulder straps, the BC Link 2.0 has a six-mile usable range and thanks to the upgraded wattage, this upgraded version will reach up to 40 miles if the need arises. Boasting a plentiful 80-hour battery life and a simple battery percentage display, your BC Link 2.0 should never get to the point of being dead weight. Anybody that makes decisions in the backcountry knows that communication is a crucial component of safety and with the BC Link 2.0, lack of communication is no longer an excuse.
Base and Smart Mic units are connected by a durable cord.
On/off and channel switch buttons are protected to prevent accidental mode changing.
Generous 80 hour battery life with up to 400 hours of use in standby mode.
Revamped battery percentage display is easy to read.
Questions & Reviews
Speaking of dead weight, how much does this set up weigh? I love this idea. Of course, you have to buy two to equip your ski partner unless they're down with the idea. I've grown weary of yelling up couloirs trying to orchestrate the descent.
Mr. Harder -- we're looking at a weight of 314g for one radio set (transmitter unit, cord and microphone together).
Answer this question:


Earn store credit by writing reviews. Learn more.

Model: BC Link 2.0
MPN: C1714003010
UPC: 0886745798637