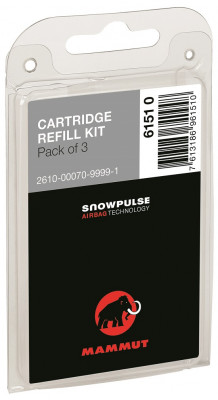 Mammut Cartridge Refill Kit
1 review
These kits enable refill of Mammut compressed air cartridges. Consisting of a gasket and cover plate, the Refill Kits are available in 3 or 20 unit quantities. These are the parts that go boom when a canister is triggered. Attach the cartridge to a compressed air source using an adapter and soon you'll be ready to ski unstable snow (not recommended).
Questions & Reviews
I have Snow Pulse 30L pack. Will these work on this pack?
John, yes, works with all Mammut Snowpulse systems.
Answer this question:


If you like the flexibility to fill airbags almost anywhere, you should always have a pack of these. Many shops don't keep these on hand, especially if they fill more BCA than Mammut, and nothing is worse than waiting on 5 grams for a canister fill. Packaging could be a little more cold-resistant or smaller (so that you can just keep in the bottom of pack) but very glad Mammut has made these available to the public.
Comment on this review:


Hi, When will you have this refill kit in stock as well as the dive bottle fill adaptor ? Can you ship both to New Zealand ? Thanks
Hey Jon, unfortunately we and Mammut are out of stock for both the refill kit and the dive bottle adapter. We will likely have them in late August/early September.
Answer this question:


Earn store credit by writing reviews. Learn more.

Model: Cartridge Refill Kit