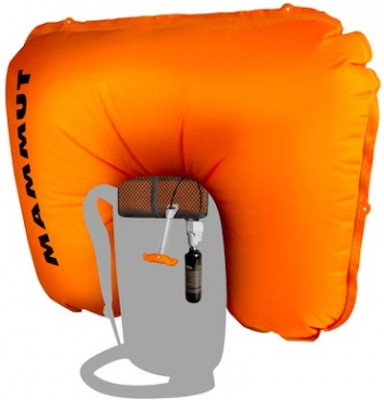 Mammut Removable Airbag System 3.0
0 reviews
With the third design-iteration from Mammut, the removable airbag system is the most reliable yet. It centers around refillable compressed air cartridges that are capable of filling a 150-liter airbag in less than 3 seconds. A large "T" deployment handle is easy to grab and now can be adjusted to the height of a skier. The handle folds down for stowing in the shoulder strap for travel through non-avalanche terrain. The airbag itself is an extremely tear-proof nylon produced with technology from the automotive industry. The Mammut removable airbag system is light, reliable, and flexible in its use with various backpacks.
Airbag 3.0 is 150 liters to help push you to the surface in a flowing avalanche.
Lightest system yet weighs only 700g alone, plus another 700g for a full cartridge.
Tried-and-tested "T" handle can be used with gloves/mittens and is bright orange.
Screwing in the cartridge tensions the spring mechanism, enabling a deployment.
Deployment mechanism and amplifier are integrated into one high strength housing.
Flexible TPU pull shaft mean you can pull in various directions while tumbling.
System is compatible with various packs for lift-served and backcountry skiing.
Cartridges use compressed air and can be refilled with a SCUBA tank or similar.
Available protector reduces the chance of an ice axe puncturing the airbag.
Questions & Reviews
So is the total weight of the device, ready to use, 700 grams or 1400 grams? Thank you.
Hi Mckenna,

Ready to use it's 1400g. Thanks!
Answer this question:


Earn store credit by writing reviews. Learn more.

Model: Removable Airbag System 3.0
UPC: 7613276891017