Pomoca Pomocup
0 reviews
$299.95
$149.95
In Stock & Ships Today
Similar to a power meter on a bicycle's crank arm or a foot pod on a running shoe, the Pomocup lets you measure your skimo effort. Capturing a mind-boggling 1200 data points every second, the Pomocup can be used with or without a smartphone or compatible smartwatch. That means you can choose to geek out during a tour or after. Download the Skilog app or plug it in to your computer after skiing and analyze your stats. Attached with two magnets, the waterproof technique-criticizer is ready to go, just power on and start skinning. Your electronic personal trainer will give you feedback on your skills and effort. The Pomocup helps you follow a training plan or measure your progress throughout the season.
Measurements
| | |
| --- | --- |
| General: | Time, distance, temperature, altitude, slope angle, total ascent/descent, vertical ascent/descent. |
| Transition: | Kick turns, skins on/off, skis on/off backpack, pause. |
| Technique: | Foot cadence, step counter, stride length, grip/glide ratio, power, leg symmetry (requires two Pomocups). |
Specifications
Weight
convert to ounces
24g
Dimensions
68mm x 33mm x 18mm
Battery Life
30h, Rechargeable LiPo w/mini-USB
Waterproof Rating
IP67 (Immersion up to one meter for up to 30 minutes)
Design
Internal Memory
Micro SD Card
Operating Temperature
-20°C to 45°C
Skimo Co Says
Usage
Measuring ski stats, data collection device
Notes
Will work with some watches and your phone
Bottom Line
Know exactly what you're doing on the skin track
Questions & Reviews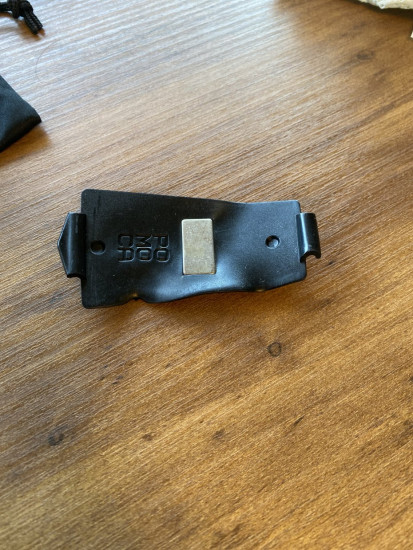 Do you have the magnetic holder/plastic piece to stick on new skis? Looking to buy a new set up from you but worried I can't use my pomoca up on it since I'm out of my two sticky attachment pieces.
Thanks for reaching out, Ian. That part is no longer available, sorry about that!
Answer this question:


Now that these are in stock, do you guys have a demo unit to try before you buy? Just curious. Thx.
Hi Greg, we have tossed the idea of a demo unit around, but we currently do not have one.
Answer this question:


What is the ETA on these?
Hey Greg, thanks for reaching out! Unfortunately we don't have a definitive ETA at this point, but we'll reach out to our contact at Pomoca and I'll follow up once I know more. We also have a new "Notify Me" feature, which will send you an email as soon as we receive them. Let me know if you'd like me to add your name to the list!
Hi Greg, we were just delivered the bad news that the Pomocup experienced some delays and likely won't be available until late January.
Answer this question:


Earn store credit by writing reviews. Learn more.

Model: Pomocup
UPC: 4053865800212