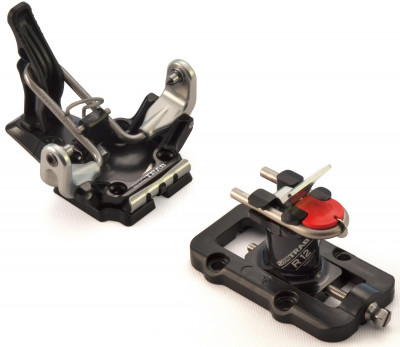 Ski Trab Titan Release Adjustable
0 reviews
$499.95
$399.96
In Stock & Ships Today
The Gara Titan Release Adjustable is, you guessed it, an adjustable version of the Gara Titan Release binding. Adjustability in this case refers to the boot sole length (BSL), since you can slide the heel piece forward and back within a range of 28 millimeters. This will comfortably span 3 full boot sizes using a reliable bolt-positioning design. The heel piece you are moving is the new "release" model with improved elasticity when skiing unlocked. The toes are Trab's patented design that relies on a single metal wire instead of coiled springs that are susceptible to ice build-up underneath. Factor in future-swappable heel springs that adjust forward release, and the GTRA becomes a very featureful binding for the weight. Nice work, Bormio.
Heel towers have a 43° elasticity window to let you ski unlocked.
28mm of fore/aft adjustability lets you use significantly different boots.
Innovative, minimalist toe piece offers locked and unlocked modes.
Included removable crampon attachments accept most ski crampons.
Update 2016/17: There are now three versions available with differing heel-springs: R08, R10, R12. Also the toe lever has been lengthened for easier jaw opening.
Update 2018/18: This binding has been replaced with the Vario Adjustable.
Specifications
Weight
convert to ounces
192g
Weight (pair)
384g
Boot Compatibility
Tech
Brakes
No
BSL Adjustment
28mm
Riser Heights
1 + flat
Vertical Release
Fixed
Lateral Release
Fixed
Crampon Ready
Yes, removable
Specs Verified
Yes
Design
Materials
Ergal, steel, plastic
Skimo Co Says
Usage
Racing, mountaineering, touring
Notes
Improved heel retention
Bottom Line
Nice features per gram
Questions & Reviews
What is the difference between this binding and the Titan Vario?
Hi Owen, good question, the difference (aside from name) is subtle. The Vario adjustment plates have a spring loaded adjustment track, meaning the heel piece will slide backwards if the ski is severely flexed and the heel piece comes into contact with your ski boot. This prevents binding up the lateral release in the rare case there are high twisting and bending forces, at the cost of some extra weight. If you mount them without the adjustment plates, they are identical.
Answer this question:


Does it exists a paper template for this binding? No shops around here does have a jig suitable for doing the mount, so a little hesitation before buying online.
Hi Erik, there is a template included with each Titan binding we sell.
Answer this question:


Me being lazy....what's the final ramp delta for the binding, compared to, say, the Kreuzspitze adjustable?
Never mind. Found it. Not that lazy, I guess. +7
Glad we could help Brian!
Answer this question:


Dear Skimo!
How is the ramp angle on these sweet bindings? Compared to the non-adjustable binding?
Hi Erik, the toe plate offsets the heel rise to some degree, making the delta only 4mm greater than the non-adjustable. Details
here
.
Answer this question:


Earn store credit by writing reviews. Learn more.
Model: Gara Titan Release Adjustable