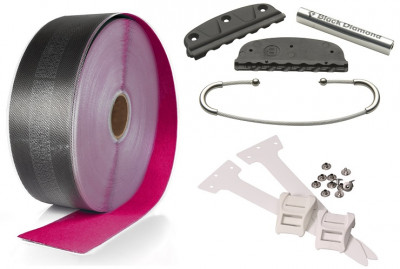 Skin Services
0 reviews
Assembling and trimming skins is messy work. We've invested in tools to make the job easier while producing superior results. Customize your dream skin with a combination of quality material, tips and (optionally) tails.
Edge Trim – As the name implies, trim-to-fit skins need to be trimmed. Preparing for the cut takes time if you want a centered skin. Revealing just the right amount of edge is an art. Doing it all without contaminating the glue takes discipline. We have the right tools for the job.
Tip Assembly – We can place just about any type of tip on your skins to match your skis. Choose from race bungees, square brackets, Z-Clips, or specialized adjustable kits.
Tail Assembly – We have kits to fit most tails out there, from Trab swallow tails to Fischer semi-circles. We can attach adjustable tail kits or fixed metal brackets.
Full Build – We do it all. Select your material, matching tips, and favorite tail clips. We'll put it all together and trim to match the sidecut of your skis.
Ski Notching – Cut a notch in the tip of your skis to use with race-style bungee or rubber tips. Best if done professionally and sealed from the elements. Please note this may void the warranty on your skis.
Questions & Reviews
Earn store credit by writing reviews. Learn more.