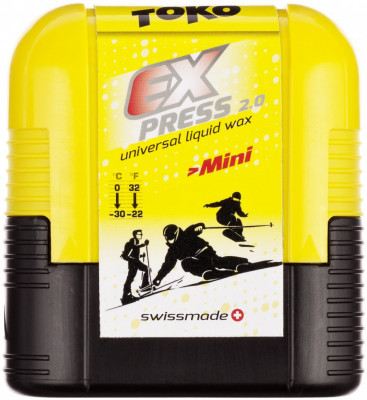 Toko Express Mini 75 ml
0 reviews
What's packable, bright yellow, and improves glide? Well obviously, the Express Liquid Wax from Toko! With its small profile, the Express Mini (75ml) conveniently stows away, ensuring you can have optimal glide, even on a hut trip. The integrated sponge applicator makes application a breeze while the universal formula provides consistent glide across a variety of snow conditions. Being based on natural ingredients, the Express Wax is biodegradable, helping ensure that ski tracks are the only thing you leave behind For fast, easy, and convenient application, the Express 75ml is a must-have.
Universal formula excels across a broad range of snow conditions.
Natural materials help ensure the wax is biodegradable, helping protect groundwater.
Integrated sponge applicator ensures easy and reliable use, even far from the trail head.
Can also be used to protect edges from oxidizing (rusting) at the end of the season.
Questions & Reviews
Earn store credit by writing reviews. Learn more.

Model: Express Mini 75 ml Liquid Wax
UPC: 4250423603036