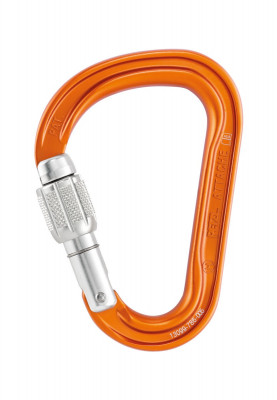 Petzl Attache Carabiner
4 reviews
The Petzl Attache is a pear-shaped carabiner designed for all things related to belaying. Thanks to the compact design and Screw Lock system, this carabiner is perfect for attaching to a belay device or running a Munter hitch. The H box section helps to reduce weight to a svelte 56 grams while the Keylock system reduces snagging. The lock system has a great visual indicator to tell you when the carabiner is locked, which is helpful when your brain and body are fried on a mission. The Petzl Attache is the locking 'biner of choice.
Screw Lock sleeve for good handling and effective locking.
H-shape cross section increases strength and reduces weight.
Designed to allow smoother rope glide with rounded edges.
Keylock entry helps to reduce snagging during use.
Ideal for rappelling and all types of belaying.
Specifications
Weight
convert to ounces
56g
Dimensions
101mm x 70mm
Specs Verified
Yes
Design
Gate Style
Screw Lock
Major Axis Strength
22kN
Minor Axis Strength
7kN
Open Gate Strength
6kN
Materials
Aluminum
Skimo Co Says
Usage
Climbing and Ski Mountaineering
Notes
Nice visual clue when locked
Bottom Line
Lightweight locking biner with smooth operation
Compare to other Carabiners
Questions & Reviews
This is my go-to pear shaped carabiner for multi-pitch climbing and ski-mountaineering applications. Ultra-lightweight and supremely functional, you can't buy enough of these. The red line on the lock system that shows if you haven't fully locked the carabiner is a nice little feature that Petzl put in.
Comment on this review:


The best pear shape biner on the market. Petzl again nailed this out of the park. My favorite feature is the red=dead mark on the carabiner if it isn't closed. Not sure why everyone has jumped on this. Easy to get in and out of bolts that share chains. I have at least three of these with me in any rock mission. I've tried everything on the market at these are my favorite by far.
Comment on this review:


Attache's are the standard now it would seem, however, these are not perfect. If you lock the gate which the biner is weighted then you will be stuck as it won't unscrew. I would steer clear on the biner! It could get you stranded and there are lots of other great options out there now (grivel, or bd vapor lock). Fit and finish is great but the sticky lock is a fatal flaw (pun intended)...
Comment on this review:


Love this little lightweight locker for anchoring. A great spare for holding cordalettes and slings — nice gate opening. Lock threads are smooth and easy to use with gloves.
Comment on this review:


Earn store credit by writing reviews. Learn more.

Model: Attache
UPC: 3342540097711