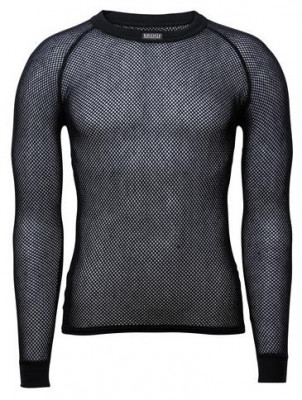 Brynje Super Thermo LS Shirt
1 review
You would think a shirt with holes in it is colder than a shirt without holes, but you would be wrong! Brynje's Super Thermo mesh base layer will keep you warm and dry while being extremely lightweight (holes weigh nothing!). The secret is in the polypropylene yarn which absorbs very little moisture and the mesh design which traps air (the best insulation) yet allows perspiration to pass through the garment in vapor form. Thanks to the thermostatic qualities of the mesh, you can wear this nifty baselayer year-round!
100% Schoeller® Polycolon® synthetic yarn is knitted into a 3/8″ open weave mesh.
The Navy color has solid knit inlays on the shoulders to provide a layer of comfort underneath pack straps (not present on the Black version).
Mesh tops insulate best with a tight-fitting layer over top to trap the air.
Ideal for high intensity activities (in both cold and warm weather).
Specifications
Weight
convert to ounces
144g [M]
Ventilation
Mesh construction
Hood
No
Pockets
None
Waist
Elastic
Cuffs
Elastic
Specs Verified
Yes
Design
Fit
Tight
Materials
100% Schoeller® Polycolon® synthetic yarn
Insulation
Trapped air
Seams
Flat
Lining
N/A
Coating
N/A
Skimo Co Says
Usage
High intensity cold or warm weather activities
Notes
Excellent body temperature regulation
Bottom Line
Mesh design is surprisingly warm and unsurprisingly breathable
Compare to other Men's Layers
Questions & Reviews
I usually wear an XL shirt; but, It's is loosely fitted. Should I order the large so it will fit snugly?
Hey Gill, if XL is your typical size in all layers, it may be worth sticking with an XL. If you wear a size large in more "fitted styles," it may be worth giving the large a chance!
The length is fairly normal for the sleeves, the torso runs quite long, and the circumference of torso and arms is very tight, but quit stretchy, so I would keep your normal size, which ever you need bigger: circumference or length.
Answer this question:


This is when you know you have too many base layers but I have to admit, this thing rules. I have not used it in a race context yet (only intervals in training) but this paired with a race/speed top is pretty ultimate for anything where you are engaging in high output. When you pull it out of the box it does not look like it will be comfortable at all, like at all, and there is this weird nipple thing but just ignore all that crap because this thing delivers when used a prescribed - keeps you warm for the way down and cool for the hard work. Really great base layer.
Comment on this review:


Earn store credit by writing reviews. Learn more.

Model: Super Thermo LS Shirt with Inlay