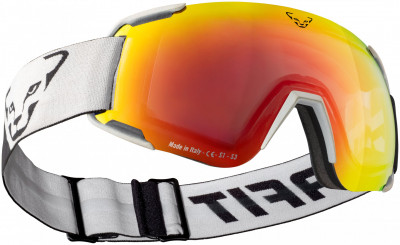 Dynafit TLT Pro Goggles
0 reviews
Traumatic experiences with fogged-up lenses and improper vision shading have steered many a backcountry skier away from goggles while moving fast. Rewrite those shudder-filled memories while still having full coverage for big outings with the Dynafit TLT Pro Goggles. The double lenses on the TLT Pro boast full protection from fogging, so you can rest assured that wiping condensation between laps is a bygone tradition. What's more, they adjust in seconds to varying light conditions, a game-changer for tours that start at dawn or take place in variable weather. Comfortable, lightweight, adaptive, and breathable–the Dynafit TLT Pro Goggles check all the boxes. The only thing we can't recommend is sleeping in them!
Hydrophobic double lens with Clima Cool Vent System sheds moisture.
Photochromic double glass adjusts quickly to changing light conditions, Cat S1-S3 (early morning to direct midday light).
Comes with fabric pouch as well as EVA plastic case.
Questions & Reviews
Will RX inserts fit these? Or are they too small or low profile? Thanks !
Eriic, These do not have anything for inserts. And they are very low profile, as a eyeglass wearer, I would not say no prescription system would work.
Answer this question:


Earn store credit by writing reviews. Learn more.

Model: Dynafit TLT Pro Goggle
MPN: 08-0000049918
UPC: 4046402088068