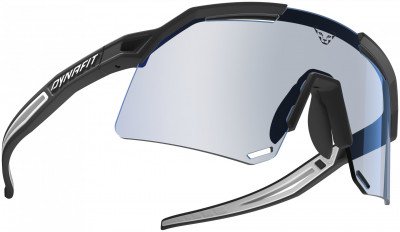 Dynafit Ultra Pro Sunglasses
1 review
$219.95
$164.96
In Stock & Ships Today
In conjunction with a primarily nitrogenous atmosphere, the Earth's distance from the Sun (150 million km) provides the ideal conditions for life as we know it. Even with this cushion, there remains more than enough sun to go around to burn your eyes should you venture out sans protection. If you plan to spend your days biking, running, or skiing with varying levels of solar exposure, try on the Dynafit Ultra Pro. These glasses use a half-frame design with maximal coverage to protect your face from the elements and open up a full panorama of visibility. This panorama is coated by a reactive photochromic lens, which adjusts quickly from the half-light of dawn to the incandescent brilliance of midday sun. The impact-resistant lens also features strategic cutouts for ventilation, as we all know there are few things worse than lens fog. Surrounded by lightweight and flexible grilamid plastic, these sunglasses are performance-tailored for active movement in variable environments. Tackle your outdoor pursuits with confidence using the Dynafit Ultra Pro!
Cat 1-3 reactive photochromic lens adjusts from early half-light to midday sun. Not ideal for nighttime use (Cat 0) or glacier travel (Cat 4).
Lens protects your eyesight with 100% UV-A-, -B-, -C-Protection.
Lens protects itself with hydrophobic polycarbonate plastic and hard-coating finish.
Frame protects the lens with ultra light, flexible grilamid plastic.
No-slip nosepad and mega grip rubber temples mean these glasses stay where you stick 'em.
Frame and lens ventilation invites air through otherwise sweaty areas.
Half-rim frames promise a wide field of view.
Comes with a fabric pouch and EVA case.
Questions & Reviews
I have used these since getting a pair 6 months ago and am quite happy with their versatility. Throughout last winter I used Dynafit Ultra Pro Glasses for early morning Skimo training at the resort as the Grand Traverse through the night. Paired with a Petzl Reactive headlamp I found the CAT1 be light enough to see well while also cutting out any glare (I did have a 2nd light for the descents to increase visibility). Through the summer I have been using these on the mountain bike love the tint//optics for everything from dense forest to high alpine. I have not had any fogging issues or nose slippage either.
Comment on this review:


Earn store credit by writing reviews. Learn more.

Model: Ultra Pro
MPN: 49912
UPC: 4046402087955