Fritschi Brakes
0 reviews
From $64.95
In Stock & Ships Today
Replacement brakes might be necessary if you move your bindings to a ski with a different width. You also might misplace your Vipec brakes since they are easily removable, a handy feature. See below for some various brake options.
Vipec/Tecton Brakes – Also known as Diamir Tech Brakes, these are replacement brakes for the Fritschi Vipec, Vipec EVO, and Tecton bindings. They are available in several widths, starting with 80mm for skinny skis and ending with 120mm for fatties. They are attached with brake plate kits that ship with the bindings or with replacements kits found here. Attachment plate kits are not included, despite the photo showing them.
Xenic Brakes - Add-on stoppers for the cool new Xenic binding. Available in several widths, starting with 85mm and ending with 105mm.
Questions & Reviews
Hi
Will these work with Fritschi Scout bindings?
Thanks for your question, Micah. Unfortunately these are listed to work with the Vipec, Vipec EVO, and Tecton bindings but not the Scout.
Answer this question:


Hi, I'm thinking about purchasing the Evo 12 and was wondering if the 120mm brakes will fit a 124mm ski? I don't think there's a bigger brake size right?
Jack, Yes the 120mm should work fine. They may be wide enough, but if not, only a slight bend should do the trick.
Answer this question:


Will the 100mm brake work on an Atomic Vantage 100?
Robert, it will be the perfect fit skiers want.
Answer this question:


Are these purchased per brake or do they come in a pair?

Thanks!
These brakes are sold as a pair!
Answer this question:


Hey Guys,
I picked up a new pair of tectons in the box with a size 120 brake. I'm wondering if you would ever consider allowing me to swap them for a 90 or 100mm brake? Local, no shipping. Thank you for your consideration.
Brad, sorry, right now we don't have sufficient inventory to make that swap.
Answer this question:


Hi,

I have a vipec binding on my carbon converts (~105 waist). I purchased them in 2017 and I believe they were the previous years model (not the evo). The size from the order was "L." Anyway, the brakes *fit* but they are just slightly too small and typically will not engage without a kick or push. Will the 110mm size be ample for these skis?
Jacob, It is perfectly acceptable to bend the arms out a bit. If that doesn't work, you can order the 110, that will work for sure.
Answer this question:


Hi, Can you mount these bindings on the Fritschi Titanal 3?

Thanks!
Hi Jerry, unfortunately, these brakes will not work with the Titanal 3.
Answer this question:


I mounting a pair of FRITSCHI VIPEC EVO 12s on a 95 ski, and i thought the 100 size brake would be right, but (based on on a prior answer) if that brake fits a 108 ski according to Black Diamond, is it too wide for a 95? Thanks
Hi eric, Fritschi redid their brake sizing last year and the 108 comment no longer applies. I would recommend the 100 for you.
Answer this question:


Got my wife zero g blizzards with an 85mm waist. Would the 100mm be right or the 80mm?
Hey Phil! 80mm might clear, 100mm would likely be too big though. Ideally I'd like to see you on a 90mm brake, though it looks like we don't have that at the moment. Let me know if you'd like me to set you up for an email notification when we get those in!
Answer this question:


Hi there,

Do you think the 100mm brakes would work on 102mm Faction Agents?

Saw your reply to 103 soul owner's post above, but also read your reply to Fedor which points out that the 100mm brakes can work for up to 108mm (according to BD, at least).

Context: Just bought Tectons w/ 110mm brakes from a friend (new, unused), but am concerned the brakes are too wide.

Thanks in advance--stoked to try the new setup in the Wasatch this winter!

A
Hi Alexandra, I think in your case that the 100mm brakes will likely have enough clearance to work.
Answer this question:


Hi!

I'm looking at getting the tecton but can only get them with a 90mm brake do you think it'd be OK bending the brakes to fit a 110mm ski?
Hi Matthew, that's a big stretch. I doubt you could do it without really compromising the function.
Answer this question: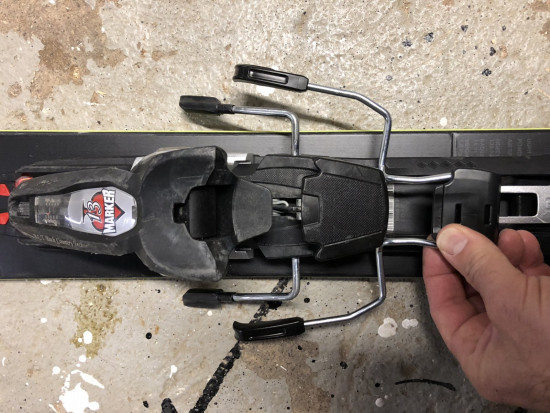 A friend is selling me his Fritche tectron 12 -110 mm bindings un-used. I have Rossignol soul 7s which are about 103mm at the waist. This should mean that the 110mm brakes are right but they seem way too wide - see image attached. Is your 110mm binding 7" wide at the widest point like the one in the photo?
Hi Tim, the arms are held closer together when you install them.
Answer this question:


Are the Vipec and Tecton brakes interchangeable? For a ski with 104 mm waist- which size is correct?
Hey Doug! Yup, they're the same attachment! I'd go with 110mm brake!
Answer this question:


What size brake would you recommend for a Fischer Hannibal with a 94 waist? I have read the 95 is a very tight 95? Thanks
Hey Paul. We just measured the inside of the 95 brake shoulder width (the narrowest point) at 97mm, so if you don't have a sloping sidewall then there's a small chance you'll have to bend it out, but it should clear just fine.
Answer this question:


Hello,

I'm looking for FRITSCHI VIPEC BRAKES size 100 mm for black VIPEC bindings (model 2015-16).

However brakes on the picture on this page are not for Vipec bindings. These brakes are for different FRITSCHI bindings: Eagle and Freeride. Also specification of the brakes sizes is different compare to what Diamir has on their website. They say that brakes for Vipec bindings have the following sizes: 80 / 90 / 100 / 115 mm. But sizes on your site are 95 and 108 mm. Please clarify what kind of Fritschi brakes do you have?

Thank you,
Fedor

Hi Fedor, thanks for pointing out the issue with our photo. It should now correctly show the Vipec brakes. Black Diamond, who distributes Fritschi in North America, lists the maximum ski size the brakes will fit which is larger than the spec sizes that Fritschi uses. The 100 is the same as the 108.
Answer this question:


Earn store credit by writing reviews. Learn more.