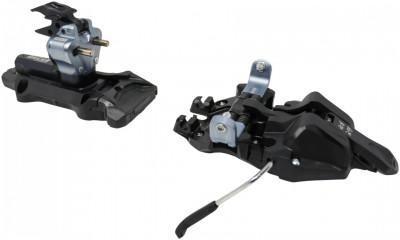 Hagan Boost 12 Binding
0 reviews
$668.95
$499.95
In Stock & Ships Today
"Embrace what makes you different…" We here at Skimo Co are as big a fan of individualism as we are of "feel good" Disney quotes. As it turns out, Hagan shares our sentiment. The Hagan Core 12 kicked things off by featuring a front brake design. While the aesthetic was unique, the functionality of the design won many skiers over with its ability to provide braking while in tour mode. Moving forward, Hagan added the Core Pro that came with a more traditional heel brake, to the dismay of those that had fallen for the original front brake. Never ones to ignore the people, Hagan is bringing the front brake back in an updated and hard-charging package called the Boost. While the toe piece features the same wide mounting pattern as the Core, the integrated toe brake is automatic and becomes active once you engage your toe lever for climbing. Further, the best way to be sure the brakes aren't messing with your heel release is by putting them in the toe. The 12mm of elasticity in the heel is ready to gobble up all the drops you can handle, and the 25mm of BSL adjustment means even the in-law's boots will fit. If you've been dreaming of a binding that combines the brake functionality of the old Core 12, with the impeccable performance of the new Core 12 Pro, then the Hagan Boost 12 is sure to make you rejoice.
Easy Entry System helps make stepping in, well, easy.
Aluminum Alloys, POM, and stainless-steel construction are as durable as they are head-turning.
Toe brake means no Anti-Friction Device under your heel, one less thing to break.
Release values range from 5-12 so you can turn it up past 11 if that's your style.
25mm of BSL adjustment accommodates your boot quiver because we all need more boots.
Five walking modes help you find the right spot for climbing, or just cruising along.
Elastic Response System provides 12mm of rearward heel travel to absorb big hits.
Cam Release System provides adjustable vertical and lateral releases.
Automatic Brake System automatically locks the brake when putting the toe lever into tour mode.
Specifications
Weight
convert to ounces
382g [97mm]
Weight (pair)
764g [97mm]
Boot Compatibility
Tech
Brakes (mm)
86, 91, 97, 102, 108, 120
BSL Adjustment
25mm
Riser Heights
4+ flat
Vertical Release
5-12
Lateral Release
5-12
Crampon Ready
Yes
Specs Verified
Yes
Design
Materials
Stainless steel, aluminum alloy, POM
Skimo Co Says
Usage
Backcountry, free touring
Notes
Front brake does not affect release like heel brakes
Bottom Line
Impeccable performance, superb functionality with a brake that won't affect release
Compare to other Full-featured Bindings
Questions & Reviews
I'm wondering if ATK / Hagan is discontinuing these. If so, perhaps just not enough sales because people find them too unfamiliar. Presumably not because they've had technical problems?
Thanks for reaching out, Eric. This binding remains in the Hagan/ATK lineup for the 22/23 season. It is a great binding and we don't have any durability/technical issues to report.
Good to hear. Thanks you very much for the quick response.
Answer this question:


Are these the same heel assemblies as the Raider 12? Can a freeride spacer be installed? Can I add a heel brake for EXTREME BRAKING POWER?
Thanks for your question, Rick. These are the same heel assemblies as the Raider 12 and as such will accommodate the freeride spacer and brake if you want extra stopping power. Please let us know if you have any other questions!
Please post photos of the EXTREME DOUBLE STOPPER in action!
Answer this question:


Earn store credit by writing reviews. Learn more.

Model: Boost 12