Dynafit Ski Crampons
13 reviews
If you've ever tried to skin up a steep, blank, icy face without ski crampons, you will immediately appreciate the value of the security they provide. By plunging into hard snow ice, the crampon teeth add grip when skins don't make full contact or you're slipping downhill. Whether you are chasing someone up a greasy skin track in the winter or trying to time the corn cycle in the spring, the Dynafit Ski Crampons will have you covered. Sold in pairs.
Machined with grooves that provide strength but keep the weight down (weights listed below).
Available in 80mm, 90mm, 100mm, 110mm, 120mm, and 130mm sizes to fit the width of your ski.
Easily slide into crampon receptors built into most tech bindings on the market.
** Please note that ski crampons work best with low heel riser settings. Since your boot is what drives the teeth into the snow, very high riser positions will result in a shallow purchase for the teeth. This can also be remedied by adding spacers on top of the crampons, which has the obvious drawback of adding weight.
| | |
| --- | --- |
| Size | Weight |
| 80mm | 89g |
| 90mm | 91g |
| 100mm | 100g |
| 110mm | 105g |
| 120mm | 110g |
| 130mm | 117g |
Questions & Reviews
I have 99 mm waist skis with dynafit radical bindings. Would a 100 mm ski crampon be enough space to work with or would I need a 110? Thank you!
Hey Alison, the 100mm crampons should work fine for the 99mm underfoot ski. Thanks
Answer this question:


Hi, I have Dynafit Blacklight 88s with Dynafit ST Rotation 10 bindings. Will these work with the 90mm crampons?
Hi Janine, the 90mm crampon will work with that binding and is exactly the width you want for that ski.
Answer this question:


Thanks for the answers above. One more:

Which size crampon for a Radical ST with 92mm brakes? 90?
nevermind on my last question, assuming that the brake width is independent of the crampon width and that my 86mm waist skis would match a 90mm crampon.

Thanks again for all your help.
Chris, your assumption is sound.
Answer this question: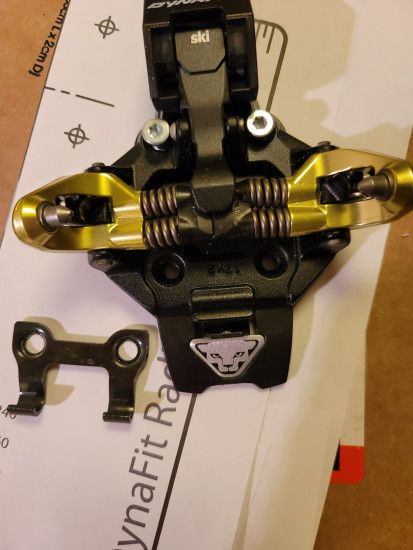 Dynafit Radical ST's (which I just bought from Skimo, thank you very much!) have a separate piece/bracket that gets mounted with the back toe piece screws and looks like it holds the crampons. Why is this separate and is it necessary when not planning to use crampons (like not having any)?

Thanks,

Chris
Hi Chris, yes that is the crampon receptor and it is not strictly necessary so you could save a few grams and not mount it. Be careful to check your screw depth, however, as the screws will end up a mil or so deeper.
Answer this question:


Will the Dynafit 100mm crampon fit Bent Chetler 100 with Atomic Shift bindings?
Hello Mariya, Widthwise, Yes. BUT, you need to use the Shift specific crampon here --
Shift Crampon
They are shaped to work just with the Shift.
Answer this question:


I have Dynafit Rotation 10s on 100mm Pagoda Tour RP. Should I be using the 100mm brakes or the 110mm?
Thanks for the question, Nick. You'll be using the 100mm brake on that particular ski. Also, you'll be using 100mm crampons should you be in the market for those as well.
Answer this question:


I haven't seen it, but is it possible that you could list the dimension from inside to inside walls of the ski crampons?

For instance, what is the space between the inside walls on the 110 mm crampon?

Thank you for your consideration
George, thanks for reaching out. I measured several sizes and there is about 2mm of wiggle room. The 110mm crampon I measured came out to 111mm. Hope that helps.
Answer this question:


I need a dynafit ski crampon for a 112 underfoot ski. Will the 110 work or do I have to go with the 120mm?
Thanks for your question, Julie. The 120 would probably be the best option for your ski as the 110 might rub on your sidewall. Please let us know if you have any other questions!
Answer this question:


Do I need to buy just one set to cover both my skis or two? also will these work on the speed turn 2.0 dynafit bindings?
Jared, they will work with all Dynafit bindings. One set will work for both if you get one for the wider ski.
Answer this question:


I'm 106 underfoot with a radical AT. For some reason, I have a dynafit 120 crampon. Is it ok that I have ample overhang or does that get problematic with ice build up? Doing a Shuksan tour in mid April...
Thanks for your question, Mark. Typically, you want as little overhang as possible. Since we utilize the edge of our skis for grip, too large of an overlap would create an excess of force on the outside of your crampon, which could result in it breaking. As such, the 110 crampons would be the best option for your skis! Please let us know if you have any other questions.
Answer this question:


I have dynamite 100 crampons and dynastie M tour skis. The size is correct but I find the crampons don't grip if I have the risers under my heals. Is there a trick to over come this? As generally we need the crampons when it's steep so need the heal risers as well?
Alexandra, thanks for reaching out. Ski crampons do a great job assisting with edge hold and give the extra bite into hard snow to keep you from blowing an edge. Instead of using the high riser, it may be more appropriate to set a mellow skin track so you can step on the crampon and get the purchase you need on the lower riser. If you feel that you must go the direct route maybe consider transitioning to boot packing with crampons. I hope this helps, if you have any more questions feel free to email us a help@skimo.co.
Answer this question:


Life in the Pacific Northwest means you may need ski crampons in any season, and these are great. 130mm fits most splitboard setups, the rest scale to your quiver accordingly. I like to add a couple thick plastic washers and aluminum hardware to customize the heel strike for riser use, but you can also buy pre-made heel links. There's nothing like starting that volcano ascent, breaking trail on day three of a traverse, or going high after it rains and refreezes to 8000' and hearing the "scheeerk, scheeerk" of ski crampons safely scraping you to your destination. Recommended pairing: BD carbon whippet or Petzl Ride/Gully ice axe strapped to a ski pole.
Comment on this review:


Bought the movement session 98s with hagan pro 12 bindings. Assuming the dynafit 100s are my best bet? Ski crampons are gonna be solid late season when it is corn and BGTs/crampons are overkill? trying to best understand the utility.
Hi Matt,

Billy Goat Tech Ascent Plates are great for midseason, when the snow is soft enough for a post-hole filled slog. Ski crampons are great for spring ski mountaineering season, when the dawn patrol leaves you ascending refrozen snow on the hunt for mid-afternoon corn. If you do need to switch to boot packing, regular crampons will do the trick as the snow will be frozen.

Based on your ski width, the 100mm ski crampon makes the most sense depending on where you are mounted. If you have any further questions, reach out to us at help@skimo.co.
Answer this question:


Two quick questions:
1) Do the Dynafit Ski Crampons fit on/compatible with Market Alpinist bindings?
2) If so, do they fit true to size, i.e. I have Volkl BMT 90mm under foot so I assume the 90mm crampon or size up one to the 100mm?
Thank you in advance for your response!
Hi Brian,
Unfortunately no, the Dynafit crampons are not compatible with the Alpinist binding. You will want the "Marker Pintech Ski Crampon", here is a link:
https://skimo.co/marker-pintech-crampons

They tend to have a few millimeters of space, You should be fine with the 90.
Best of luck out there,
Tim
Answer this question:


Will these crampons work with Plum race 170 bindings?
Answer this question:


Hi, I have 2 questions! I am right on the edge for both of my skis. I'm just not quite sure of the fit for these crampons!

1: I was wondering if a 110mm crampon would fit a 108mm underfoot ski? Or should I get the 120mm crampons?
2: For my 102mm underfoot ski should I get the 110mm crampon or is there a little wiggle room to get a 100mm crampon?

Thanks!
Hey Katie, the 110mm crampon should work just fine with that 108mm underfoot ski. As for the 102mm underfoot ski you would need to go with the 110mm crampon.
Answer this question:


Hi! I have two sets of skis - a 108 and 96 waist, both with ATK bindings (108 and 97mm brakes respectively). I was wondering if it makes sense to buy just one set of crampons? Looking at 110mm wide crampons and have them fit both skis. Would that work
Hey Tony,

You should be all good with the single set of crampons! You'll have a bit of overhang when the 110mm crampon is on the 96mm ski, but it won't affect the performance.
Answer this question:


Are these compatible with Marker Alpinist bindings?
Answer this question:


Can this crampon work well with other brand's binding such as salomon shift MNC13 or not?
Hi Mafee, these crampons work with many bindings, but unfortunately, the Shift is not one of those!
Answer this question:


Earn store credit by writing reviews. Learn more.