Dynafit Ski Crampons
21 reviews
From $79.95
In Stock & Ships Today
If you've ever tried to skin up a steep, blank, icy face without ski crampons, you will immediately appreciate the value of the security they provide. By plunging into hard snow ice, the crampon teeth add grip when skins don't make full contact or you're slipping downhill. Whether you are chasing someone up a greasy skin track in the winter or trying to time the corn cycle in the spring, the Dynafit Ski Crampons will have you covered. Sold in pairs.
Machined with grooves that provide strength but keep the weight down (weights listed below).
Available in 80mm, 90mm, 100mm, 110mm, 120mm, and 130mm sizes to fit the width of your ski.
Easily slide into crampon receptors built into most tech bindings on the market.
** Please note that ski crampons work best with low heel riser settings. Since your boot is what drives the teeth into the snow, very high riser positions will result in a shallow purchase for the teeth. This can also be remedied by adding spacers on top of the crampons, which has the obvious drawback of adding weight.
| | | |
| --- | --- | --- |
| Size | Weight | Measured Width |
| 80mm | 89g | 81mm |
| 90mm | 91g | 91mm |
| 100mm | 100g | 100mm |
| 110mm | 105g | 111mm |
| 120mm | 110g | 120mm |
| 130mm | 117g | 130mm |
Questions & Reviews
Maybe I just lucked out, but I haven't had any problems with the pins that others have been reporting on here. Mine have worked well, nice and simple design, lightweight. When you need 'em, you need 'em, and they work. I have the 90mms paired with my ski trab gara titan bindings and 80mm underfoot skis.
Comment on this review:


Hey! I have a pair of Fischer 96mm underfoot skis and dynafit bindings. What width should my crampons be? 100? 105? Thanks!
Iain, the 100mm orange crampons will fit perfectly on those skis!
Answer this question:


Hi, will this crampon work with a Marker Alpinist 12 binding?
Answer this question:


I have a the atomic backland 100 skis paired with ATK crest 10 bindings. Would the 100 mm Dynafit ski crampón be comparable with this?
Hi Cody, the 100mm Dynafit ski crampons probably don't have enough clearance for a ski with a waist width of 100mm. Please reference my answer to your other question on the
ATK Ski Crampons
page for details.
Answer this question:


I have dynafit super lite 150s bindings and backlight 74 skis - would the 80mm ski crampons fit my skis? I can't seem to find anything small enough.
Thanks for reaching out, Haigh. The 80mm Dynafit ski crampon would fit your ski. The 75mm
ATK
would give you a better, more snug, fit.
Answer this question:


These work really well, bit stiff to get in place on my Dynafit bindings, but they provide nice bite into ice and hard snow! Happy to carry them in my pack when extra confidence and traction is needed
Comment on this review:


Are these compatible with the atomic backland tour bindings?
Ethan,
These will work, but you'll need to use the clip included with the binding to keep them from sliding back and forth. Atomic or Plum ski crampons can be used with the Backland Tour with no clip. You can find a full list of ski crampon compatibility
here
.
Answer this question:


Will the 80 mm version work with my 170 backland ul 78, Vario 2 bindings?
Hi Eric, yes that will be a great fit!
Answer this question:


They work. They will eventually break, especially if you force them into service on ice where you should be walking in crampons. Eventually the pins holding the bar on loosen, or the metal cracks. Still, essential in certain crusty conditions.
Comment on this review:


Hi there,
I got myself Dynafit Blacklights 95 and thinking there is a logic behind crampons colors, ordered 110mm black crampons. Will they perform much worse than 100mm and is it good idea to exchange them, or will the fit be just fine? Thank you!
Hi Kristof, the 100mm will be a better fit as you'll get better downward force on the spikes and the crampons will be less likely to catch on each other while skinning.
Answer this question:


They're ski crampons, so not much to review here, but chiming in to say that my friends and I also experienced the issue with all four rivets on the steel bar protruding enough to not fit in the ski binding.

I had to wear them down with a steel file for them to slide into the Dynafit Bar of the binding, so I suggest you check the fit on these ski crampons before you go out.
Comment on this review:


I have the dynafit superlite 2.0 binding. Will these work with them? From what I understand they would need to somehow unlock and slide in from the side, as the receptor on the biding doesn't have the grove for the notch in the middle. Thanks for pointing me to the right ski crampon to work with the superlite if this isn't it!
Brooks, These work with All Dynafit bindings. Those receptors are designed to hold the notch in place, it is just a bit different than their other bindings.
Answer this question:


I bought a pair of these to use with my ST Rotation 10 bindings. They take a TREMENDOUS amount of force to shove into the slot and it tries to grind plastic or metal out of the slot. In fact, I can only get it to go in when I clamp the ski to a workbench. I'd never get it to go in the slot outside.

I measured the bar with a caliper and it's exactly 6mm. Is the slot in my ST Rotation 10 too small or is the bar on the crampon too big? The bindings are new.
Hi drew. These can be a bear to get in when new. While I don't have a specific fix for you, we have found that repeated use seems to loosen up the slot enough to make it easier to use. Also, you can file down any sharp burrs sticking up from the rivets!
Ah was hoping it would be easier than that. Any recommendations for another crampon that works with the ST Rotation 10?
Answer this question:


I bought the 110 to fit with my 102 Salomon Mtn pure binding. The binding even says that dynafits are compatible. However, the bar seems to be too large to fit into the crampon receptor. Do you know what I should buy for the mtn pure?
Hi Katherine, I myself use this crampon + binding combo without issue. However, pulling one off the wall to check with, I see what you mean. The problem seems to be some variation in the quality of riveting on the crampon bar, so you could consider sanding down the rivets with a steel file. Alternatively, the
Plum ski crampons
are a breeze to use with the Salomon MTN binding!
Answer this question:


Design has not changed in years. Light, durable and effective. When I'm on a steep icy skin track and I will skin in flat mode for maximal crampon engagement. Use these much more frequently than boot crampons.
Comment on this review: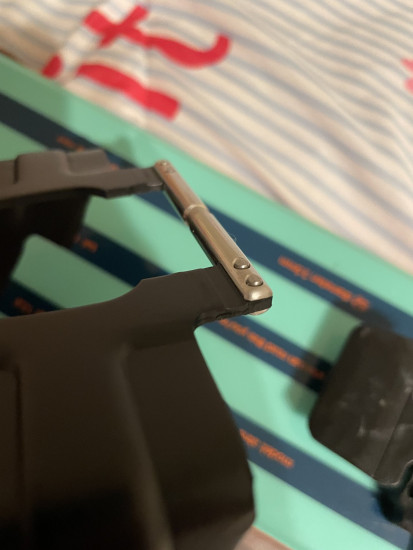 Poor QA/QC. Pins with an interference fit are used to secure the crampon to the shaft. The pins were not flush and protruded from the 6mm shaft enough to prevent smooth installation and removal - or at least without galling the aluminum on the binding mount. Other manufacturers use countersunk screws. I would not recommend these unless you are buying them in a ski shop and can check the fit. If ordering online, prepare to carry a mallet to install them or plan on grinding the pins down.
Comment on this review:


I have owned 5 pairs of these crampons, still have 3 pairs for my current quiver. They work well. I always keep a set in my touring bag because they're light and small enough to carry "just in case". I recommend them to ski partners.

That said, there is an inherent weak point in the design. They neck down to a tiny piece of metal at the rotation pin. I have broken one crampon at that point, during normal use. Dynafit warrantied them, but I was without crampons for a few weeks.

I have not tried the ATK ski crampons yet. They look like they don't suffer from the same weak point.
Comment on this review:


20g-40g heavier than the ATK/Helio crampons (depending on the size) with the exact same functionality and $5-10 cheaper. I upgraded last year and appreciate the weight savings. If you're buying new I don't see the reason not to go with ATK other than the small price difference.
Comment on this review:


I have 99 mm waist skis with dynafit radical bindings. Would a 100 mm ski crampon be enough space to work with or would I need a 110? Thank you!
Hey Alison, the 100mm crampons should work fine for the 99mm underfoot ski. Thanks
Answer this question:


Hi, I have Dynafit Blacklight 88s with Dynafit ST Rotation 10 bindings. Will these work with the 90mm crampons?
Hi Janine, the 90mm crampon will work with that binding and is exactly the width you want for that ski.
Answer this question:


Earn store credit by writing reviews. Learn more.