Dynafit Binding Screws
1 review
Where did that screw go? Lose a screw behind the workbench or on your last run? We have more here. All hardware is sold individually.
Titanium Screw - Ultralight and strong screw for mounting Low Tech Race and Speed Superlite bindings.
12.5mm Torx Screw - For mounting Low Tech Race & Speed Superlite bindings, plus Speed Radical toe pieces.
15.5mm Torx Screw - The ST Rotation/Radical 2.0 mounting screws, toe and heel. Also used for Radical and Vertical rental heels.
19mm Torx Screw - For mounting Radical ST/FT 1.0 & Vertical ST/FT toe pieces. Also used for shimming Speed Rads & Turns.
Pan-head Torx Screw - For mounting all Radical 1.0 & Vertical heel pieces, except the Speed Radical from 2014/15 on.
16.5mm Pan-head Screw - Torx pan-heads for Speed Rads with the anti-rotation peg, which started shipping in 2014/15 and is 1mm higher.
Questions & Reviews
I ordered the Dynafit Speed Radical bindings for a ski touring trip and I also need six spare binding screws as a backup. Which screws should I purchase?
Phoebe-You will need the 12.5mm Torx screws for a speed radical toe.
Answer this question:


Trying to see what screws do I need for the dynafit ST rotation10.

Thanks,
Hi Tin,
The Rotation shares the same platform as the Radical 2.0, so you'll want 15.5mm torx screws for both the toes and heels.
Answer this question:


Hi, filling out repair kit - what screws do I need for Speed Turn 2.0? Thanks!
John- You need a 12.5mm torx for the toe and the Pan head torx for the heel.
Answer this question: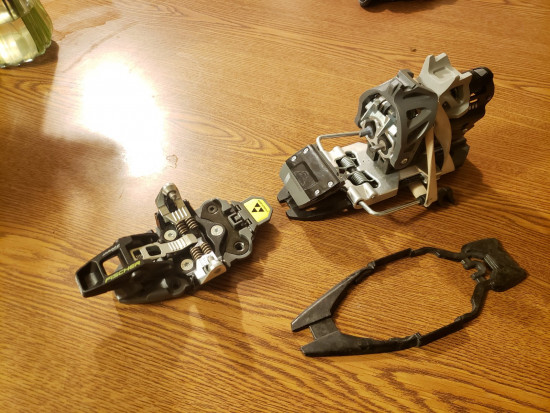 What screws do I need for the Dynafit/Fischer Freeride 14s?
Hey Logan, thanks for reaching out! I don't have that binding on hand to measure, but I can give you what information we do have. It looks like the toe would be the same as a Rotation. A Rotation uses 15.5mm Torx screw for both toes and heels. We aren't certain what heel screws are used for the Beast 14, but we think they might be 15.5mm Torx as well.

You'll want to put the screw into the binding to double-check before drilling, and you're looking for between 8mm and 8.5mm of screw length protruding beneath the binding.
Answer this question:


Hi! Can you send small parts to Norway?
Hey Kim, yes we can. Once you get to the checkout page it should give you some shipping cost estimates.
Answer this question:


What kind of replacement screws will I need for the 1) Dynafit Superlite 2.0 binding and 2) heel adjustment plate 3) screws to attach binding onto said replacement plate? Thanks
Dave,

The Dynafit plates are the same thickness as the binding itself so you use the original screws that came with the bindings. Hope this helps!

Patrick // Skimo Co
Answer this question:


I have a pair of dynafit tri-step bindings and am missing the screws that sit on the top of the heel plate. There are two pairs of two and I am missing two. Do you know which screws I would need for those?
Hey Mel, send us a picture of your bindings at help@skimo.co and we will figure out what you need!
Answer this question:


I am purchasing one each of a Dynafit Speed Radical toe and heel. Seems like the heel will come with everything I need. For the toe, should I just purchase 4 12.5 Torx screws?
Hello LDO, that is correct!
Answer this question:


TLT Radical ST 2...seeking assortment of spare screws to have in an emergency repair kit. What are all of the sizes for toe and heel?
Dale, they use the 15.5 Torx, toe and heel.
Answer this question:


Hello, I'm looking for screws for my speed light 1.0 bindings. At least that's what I think they are? Red toe pieces and red heel risers and black towers. They are mounted on adjustable plates. I need the screws to mount binding to the plate. 4mm hex screws I believe, not the torx screws for the plate to ski mount. Thanks!
Preston, can you please send us a photo of the binding to help@skimo.co so we can more accurately help you.
Answer this question:


What screws should I use for mounting Dynafit Beast 16s? I removed the bindings from a pair of skis with Quiver Killers and I don't have the original torx screws anymore. Thanks
Fei, For the heel you will need the 15.5mm screws. For the Toe you will need 2 each of the 12.5 and 19.
Answer this question:


An awesome resource for the ski touring community from skimo co to get spare screws, springs, etc ... often easier to get than direct from Dynafit, and have pix available.
Comment on this review:


Which screws for radical st 2?
Hey Eric. Which screws for the Radical ST 2 are you looking for? Toe mounting screws, heel mounting screws, or the machine screws that install the toe unit to the rotating baseplate?
Answer this question:


Would you happen to carry binding screws for Dynafit Radical ST ? Will likely be mounting on my Helio 95s that I just ordered from Skimo and wanted to use new screws.

Tony
Hey Tony! Absolutely! Do you need toe or heel screws? Also, is this the first gen Radical ST or is it the 2.0 Radical ST?
Answer this question:


Do you have a set of mounting screws for a pair of TLT Speed Superlite 2.0 (green) toes?
Hey Patrick! The 12.5mm Torx screws will do the trick! You need 4 per toe piece.
Answer this question:


Hi. I cant find the screw to adjust the radical FT boot size? The long steel screw on the rear / bottom.
Hi Magnus, the adjustment screw in the Radical FT baseplate is unavailable as a separate part. It is integrated into the brake/baseplate unit. You can purchase those
here
.
Answer this question:


Hi I am looking at ordering a radical ST Toe piece, toe plate and crampon receptor. I was wondering about what length of screws I need to mount these. Thank you
Hi Stefan, you will need the 19mm Torx screws for that setup.
Answer this question:


I need an adjustment screw for my radical st (1st gen) bindings (The ones that makes it possible to adjust binding sizes- located under the heel piece). Which of these parts do i need. Also- is it a hassle to change this? The old one is almost without any patterns.
Hi Lars, do you mean adjust for different boot sizes? You'll need a whole new baseplate. We have a couple in a our
used
section.
Answer this question:


Hey I'm looking for mounting screws for my speed turns. Which ones should I get? Thanks. And I think it's awesome that you sell individual parts like this.
Hi Jeremy, for the Turns you need 8 or 10 12.5mm Torx screws (depending on 1.0 or 2.0 version), and 8 Pan-head Torx screws.
Answer this question:


hello, i live in Greece and i ve got an older version of the low tech heel piece(grey -black) mounted on an adjustment plate and i am looking for the torch screws and nuts that are screwed on the adj.plate and the screws that would be used if the heel piece is mounted dirrectly on the ski.is there any hope?
if yes i would like to order a set for both heel pieces.
thank you
Hi Dimitris, unfortunately those are a rare commodity and we don't have any at the moment.
Answer this question:


Earn store credit by writing reviews. Learn more.

» Browse other
Dynafit Binding Parts