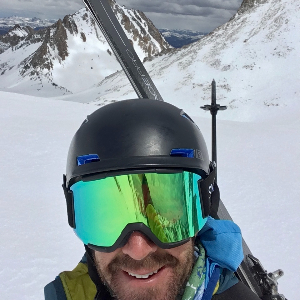 Neil B
Gender
Male
Height
5' 7"
Weight
136 lbs
Shoe Size
US 9.00
Skier Type
Type III - Aggressive
Ski Frequency:
50 - 99 days / year
My Skiing
Coming from an Ultra-Running/Sky Racing background I decided I wanted to pick up Skimo for training in the winter months. This is my fourth season of uphill skiing and I want to add to my quiver some fatter skis so that I can navigate powder better.
My Gear
Voile WSP, Scarpa Alien Boots, Dynafit Low Tech Race 2.0
Movement RP 85's, Dynafit Low Tech Race 105
Recent Posts
Great backcountry pants that have it all. Breathability, stretchability, and relatively lightweight. I tend to run a bit hot and most days these do not get hot because the side vents allow ample airflow. The inner gaiter covers my boots keeping snow out of boots, and the outer shell covers my boot nicely while still allowing easy access to change from climb to ski mode. Pockets are placed appropriately and the leg pocket is perfect for a phone or beacon. Overall, I really enjoy the pant and encourage anyone...
I bought these to pair with my Movement RP 85's, as the skins that come with those skis do not hold up very long when breaking trail and multiple laps. Therefore, I wanted something with tail clips to help keep them secure on the ski during such days. Glad I picked these up, they have held up during all sorta conditions and climb really well. I recommend grabbing a pair!
Working hard on the ups keeps our feet hot leading to bad smells in our liners from the accumulation of bacteria over the long haul. Additionally the wear and tear on the liners was amazing (See Photo) Therefore, I picked up an extra pair to replace the liners from my Aliens that had ~100 days on them. Glad I did because the smell in my garage has finally gone away. Glad there is an option to replace, I recommend it.
This shovel is light and stout perfect to always have in a pack in move snow quickly with. I like the simple design and was surprised at how much snow can be moved with such a lightweight and small blade.
This probe is awesome, quick to lock into place securely and light in my pack! During ECT it has performed well and seems to be fairly durable even though it is extremely light.
Wish List