SCARPA Liners
1 review
Racing and touring is hard on liners. Sweat builds up; articulation causes chafing. Replace your SCARPA boot liners with a fresh pair, listed below by model.
4-Pro Flex XT - The Intuition liner for the 4 Quattro XT and 4 Quattro XT Women's boots.
Alien - Updated Intuition liner that comes with the newer Alien boots (since 2019/20). Also known as the Cross Fit Tour Lite liner.
Alien 0.0 (original) - The original Intuition liner designed specifically for the 0.0 version. Fully heat moldable and has a tongue for easy entry. Velcro closure at the top keeps it tight.
Alien 1.0 (original) - Intuition Light liner is as snug as a sock. In fact, you have to put it on before putting on the shell. Moldable, but thin so you won't get too much extra room.
Alien 1.1 - Intuition Crossfit BT Liner for the 2nd version of the Alien 1.0 that we all refer to as the "1.1" edition here at Skimo Co. Big tongue but nothing in the back.
Cross Fit Tour - Direct replacement for the Alien RS stock liner. Like all SCARPA liners, these are made with high-quality Intuition foam.
Pro Flex Evo - Replacement liner for your F1 boots. Also a great liner for other boots if you want a thinner Intuition liner (as compared to the Pro Tour). Women's version also available for your F1 women's boot!
Pro Flex Performance - Wonderfully warm and massively moldable, this is the replacement liner for the Maestrale RS 2.0 and 3.0 boot, blue highlights and all. Women's version is for the Gea RS 2.0.
Tour LT - And also Tour LT Women. These are the liners found in the SCARPA F1 LT and F1 LT Women's boots. Typical Intuition foam that also works great in other boots.
Questions & Reviews
Hi, I just got a pair of new 2023 Maestrale RS boots and need help heat molding. They are 295 size and I am going to use 4 lbs of rice. I think they are the Intuition pro performance liners. How long should I heat the rice to heat mold each liner.
Chris, Shouldn't matter a lot on how long you heat the rice. But here are the detailed directions from Intuition.
Home fitting
Answer this question:


Do you think I could fit a pro flex performance in a scarpa f1 lt? Hoping to replace liners and add a bit of warmth.
Hi Taylor! The Pro Flex Performance liner would take up too much volume in F1 LT. For what you are looking to do, I'd suggest checking out the
Palau Tour Lite Pro Evo Liners
Answer this question:


I want to replace the liner in my S/lab MTN Summit boots with an intuition/Scarpa liner. Which of these liners would be best?
Daniel, For the Summit boot, the Pro Flex Evo (F1) liner would probably be best if you want to take up more space. If you want a liner a bit closer to the stock liner, the Tour LT would be it. Note Scarpa shell and liner sizing is different. Check with help@skimo.co for more assistance.
Answer this question:


Hi Folks --

I have some Scarpa T2X shells with the original 10512 PlusFit liners. These liners are played out. I'm curious whether the Pro Flex Evo liners would be a good match for the shells. What would you recommend?

Thx
Mark- The Pro flex evo liner would be a little thin in the foot. The Pro Flex performance would be a better choice or just going to a straight Intuition liner.
Answer this question:


Looking for new liners for my Scarpa F1s (2018/2019 version). I want the Proflex Evo in size 27.5/28.0, but I haven't seen them in stock for a while. Are there any other liners I could consider. I tried Palau Power LTs and they have too much volume.
Hi Dustin,
Sorry, getting Scarpa liners is tough. The Power LT would be good, if your boots were a bit big. The next one down would be the
Pro Lite
. They are thinner at the foot, and cuff.
Answer this question: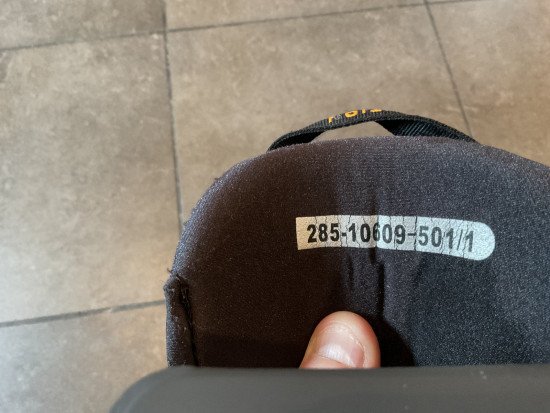 Hi there - your advice looks very good! I have a pair of Scarpa Maestrale (not sure which version), and I need new liners.

I can see earlier advice being that the pro flex performance would be best however the tour LT look more alike to the liner currently in the boot.

Would be really appreciative of any advice. Thanks, Charlie
Charlie,

The Pro Flex Performance will be the closest to the stock liner! You could also possibly try an Intuition Pro Tour, Medium Volume. The Tour LT is much thinner.
Answer this question:


What liner is best to replace the stock liner of a Scarpa T1? My original liners are shot and need to upgrade.
Chris, The Pro Flex Performance (Maestrale) would be the closest. If you need a bit thicker liner, the Intuition Pro Tour could work too.
Answer this question:


Is the Alien liner similar to the Tour LT or is it a bit thinner?
Ben,

The Alien is a good bit thinner through the calf, a bit thinner in the ankle, and pretty similar in the toe box.
Answer this question:


I have a Scarpa TX Comp with liners 250-10605/2 that must be replaced. What should I choose?
Buster, Please email help@skimo.co for assistance in choosing a liner. Please tell us about how well they fit new, and what you hope to get in a new liner.
Answer this question:


I need to replace the liners in my maestrale rs at 28.5. What would you recommend?
Hi,

You'll want a Pro Flex Performance. That's going to be the closest to the factory liner.
Answer this question:


I have Scarpa T2 Eco 290 and original Scarpa Intuition liner 290-10608-501/2. Now packed out. Would like as close to same. What would you recommend?
Jim,

You'll want the Pro Flex Evo. Bear in mind that it will come out of the cuff further than the stock liners because the T2s are a shorter-cuffed tele boot.
Answer this question: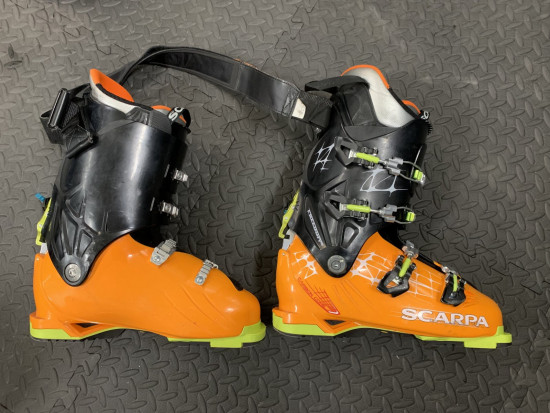 I have the Scarpa Freedom RS boots and my feet feel fine, but my chicken leg ankles are swimming in the boots. I've got the buckles maxed out but my heels and ankles still feel loose.

What liners should I replace them with?
Hi Geoff, sadly I don't think any of these stock liners will fix that particular problem, sorry!
I have the same issue will all touring boots. I use the ezee fit booties to add volume to my ankles. They have 2mm or 3mm thick neoprene. The 3mm makes my f1lt work better in the ankle since I had lots of room. You can find them on ebay or amazon.
Answer this question:


Is the Pro Flex touring a thicker liner (more cushion) than the Pro Flex Performance?
Hi Jason, The body of the liners should be pretty much the same. Comparing pictures, the Performance (Maestrale RS) has more and stiffer bracing on the outside.
Answer this question:


Hey crew,
I'm looking for an Alien 1.1 liner in 29, any idea on when those might be in? I'm good for now am going to need a replacement before next winter.
Joe,

Unfortunately, SCARPA is out of that liner for the season. Shoot us an e-mail at help@skimo.co and we can set you up for a notification for when we get restocked next fall!
Answer this question:


Hi, I'm starting to look for replacement liners for my scarpa 1.1 size 27. Is there any chance you will have them in stock this year - I'm not in hurry as I will need them only for next season.
Alternatively, is there any other liner model that would fit nicely with aliens 1.1?
Thanks
Hi Kacper, it's such a unique liner nothing will exactly replace it. For what it's worth, I put the Alien "0" liners in mine and like how it skis.
Thanks for super quick reply. Yeah, I'm aware it's super unique. By '0' you refer to regular Alien?
I might give it a try, it might also solve minor issue with calf rubbing with the original liner that I currently must mitigate by using some duct tape on my legs
Also, do you think Palau Ultralight Race might be a potential alternative as well? I saw in the comments that these were recommended for Alien 1.0 (but I guess it was in regards to the old Alien 1.0 model)
Hi Kacper, yes on all counts.
Answer this question:


Looking for a replacement to the liner on the 25.5 21' model year backland carbons. Looking for something a bit thicker and more substantial then what originally came it that boot. Looking at the performance Scarpa liner but am curious what you would recommend
Hi Brennan,
If you're looking for something thicker than the stock liner I would suggest checking out the
Palau Tour Lite Pro Evo
for your boot. Thanks!
Answer this question:


I have a pair of Scarpa T3 light weight touring telemark boots.
What liner do you suggest?

Thanks,

-Aaron
Hello Aaron, These are full size ski boot liners. I have tested in a T2 boot and they stick up about 4" over the top on those, the T3 are even shorter boots.
Not a good match. If that is OK with that, the Pro Flex Evo would be the one.
Answer this question:


Hey guys,
I'm trying to order a replacement tour lt liner for some F1 LTs. Any chance you'll get more in soon or anything else you think would work?
Hi Ben, send us an email with your size and we may be able to help, noting stock is limited for the season.
Answer this question:


What kind of replacement liner would you recommend in an alien RS if my size is out of stock (27.0) ?
Hey Brad, we've found that the
Palau Tour Lite Pro
can work really well as a replacement Alien RS liner!
Answer this question:


Earn store credit by writing reviews. Learn more.

Model: Scarpa Liners