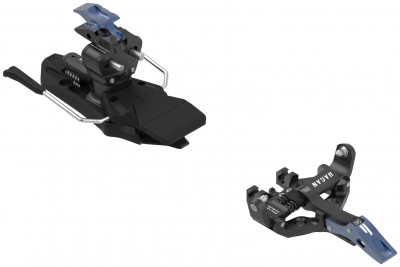 Hagan Pin Up Evo Binding
0 reviews
Like the pin-up girls from the 1940s, we think the Pin-Up EVO bindings from Hagan are very, very sexy. To start, these bindings are teasingly dressed up in metal and POM, providing an exceptionally stout construction at a very reasonable weight. Complementing this hard-working construction is the Elastic Response System, which gives the heel room to move fore and aft, keeping your release values consistent through variable terrain. Speaking of the heel, the Pin-Up Evo bindings now utilize an Auto Locking Skibrake System. This innovative system allows the ski brake to be automatically engaged simply by switching from ascent to descent mode, which will surely reduce the time spent transitioning. With release options ranging from 3-8 or 5-10, these bindings are meant to adorn the walls or skis of almost everyone. As Hagan themselves attest, "the Pin-Up binding is a binding that leaves no desire unfulfilled."
Auto-Lock Skibrake System automatically engages or disengages the brake when put into ascend or descend modes.
Elastic Response System helps keep release values working through tumultuous terrain.
Integrated crampon mounts are integrated, because why not?
Specifications
Weight
convert to ounces
295g [91mm]
Weight (pair)
590g [91mm]
Boot Compatibility
Tech
Brakes
75mm, 86mm, 91mm, 97mm, 102mm, 108mm,
120 mm
BSL Adjustment
20mm
Riser Heights
4 + flat
Vertical Release
3-8 [ Pin Up Evo 8]
5-10 [Pin Up Evo 10]
Lateral Release
3-8 [Pin Up Evo 8]
5-10 [Pin Up Evo 10]
Crampon Ready
Yes
Specs Verified
No
Design
Materials
Aluminum alloy, POM, stainless steel
Skimo Co Says
Usage
Ski touring
Notes
Innovative auto-locking brake
Bottom Line
Elegant and lightweight touring binding
Questions & Reviews
Earn store credit by writing reviews. Learn more.

Model: Pin Up Evo