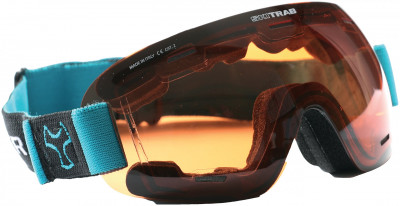 Ski Trab Aero 2 Goggles
0 reviews
The Ski Trab Aero 2 replaces the Maximo goggles and continues to fill a niche in the ski-eyewear market. Sunglasses don't offer enough protection from face shots or sideways snow. Alpine goggles don't have venting so the anti-fog treatments get overwhelmed in a touring or racing setting. The Aero 2 is a low-profile goggle that lets hot and moist air flow out while letting cold and dry air flow in, perfect after those up-to-down transitions. For the longer uphill portions of your day, you can put the goggle on the brow of your helmet. The spherical lens matches your cornea, making it easier to focus in on oncoming terrain. Ski Trabs patented Fog Stop is applied to the inner lens so objects stay clear lap after lap. The outer surface has a hardening treatment to prevent scratching when you bushwhack. The Ski Trab Aero 2 goggles are a lightweight touring and racing option at an affordable price.
Multiple lens options are available to help you dial-in your preferred vision.
Spherical double lens with hardening treatment on outer surface for durability.
Fog Stop technology on inner lens helps prevent a case of the blurs.
Multiple vents in front in addition to ample side venting keep the air moving.
Wide-angle vision with 100% UV protection from all sides.
4-layer foam for maximum comfort and sweat-management.
Made in Italy.
Questions & Reviews
Are the lenses polarized? (Hoping they are not.)
While these goggles do have UV protection, they are not polarized lenses.
Answer this question:


Do these fit over glasses?
Hi Ted! It would depend a little on what glasses you wear--your glasses frames would likely fit inside the goggles but there would be a lot of pressure on the bridge of your nose. All in all it would not be the most comfortable eyewear system.
Answer this question:


Do these come with the optional helmet attachment strap to work with the Attivo helmet as the Maximo goggles did?
Hey Karl, unfortunately, the Aero 2 goggles do not come with those optional attachments. Give us a shout if you have any more questions.
Answer this question:


Earn store credit by writing reviews. Learn more.

Model: Glass Aero 2