Voile Hyper Manti Ski - Women
1 review
$794.95
$694.95
In Stock & Ships Today
If we had to use just one word to describe the Hyper Manti W, it would have to be "exceptionally well-rounded." You may now be wondering why we in fact used three words instead of the self-imposed one-word limit and to be honest, it's because one simply wasn't enough. With the shedding of an impressive amount of weight from the non-hyper Manti W, the Hyper Manti W will grant you access to far-out powder fields while the rockered tip and tail will float like a water ski once you get there. The supportive (e.g., stiffer) tail will be a welcome addition for those who like to arc big turns down the apron while the full perimeter steel edges and sintered base help withstand unwanted meetings with high-density objects. Whether acting as the soft snow specialist in your current quiver or an all-around ski as a quiver of one, the Voile Hyper Manti W is a compelling choice.
Anti-Ice Topsheet keeps the snow at bay.
Reinforced Binding Mounting area helps with binding retention.
Hyper Construction keeps things exceptionally light.
Laminated Wood Core is laminated, duh.
Rubber foil helps keep things damp.
Full perimeter steel edges and sintered base lends themselves to durability.
Specifications
Lengths (cm)
158, 165
Weight
convert to ounces
1090g [158]
1210g [165]
Weight (pair)
2180g [158]
2420g [165]
Dimensions
130-100-118 [158]
132-101-120 [165]
Turn Radius
16m [158]
17m [165]
Skin Fix
Rounded tip and tail
Specs Verified
Yes
Design
Profile
Early-rise tip, camber underfoot, gentle rockered tail
Shape
Rounded tip and tail, gradual taper
Construction
Cap
Core
Paulownia and double carbon
Skimo Co Says
Usage
Powder and corn hunting and anything else you might find
Notes
Can make quick turns in firm conditions with confidence
Bottom Line
A true powder surfer and crud buster
Compare to other Women's Skis
Questions & Reviews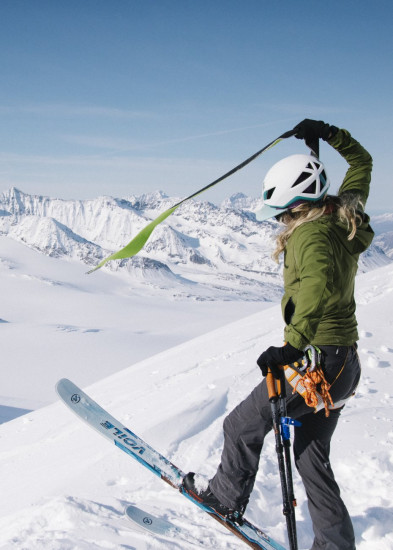 I'm quite happy with the Hyper Manti for an all-around ski when the snow isn't ultra deep, but still requires some floatation (during early to mid winter, I'll still reach for my Hyper V8s, and in the spring I'll ride an 85 waist ski). The Hyper Manti holds its own and stays afloat in powder, but is also a great alternative for crusty or variable conditions. Holds an edge better than the V8, but easier to turn than a flat-tailed ski. Of course, light and easy on the uphills, too. I think the sweet spot for me would be a slightly longer ski (168cm), but the 164 is the best option Voile offers for my size and skiing style.
Comment on this review:


Earn store credit by writing reviews. Learn more.

Model: Hyper Manti Women