Atomic Hawx Ultra XTD 115 Boot - Women
1 review
$749.95
From $549.95
In Stock & Ships Today
With the walking capabilities of two-buckle boots and the skiing chops of a full-blown alpine boot, the Atomic Hawx Ultra XTD 115 W is somewhat of a contradiction. Taking cues from both the streamlined Backland and Atomic's alpine racing boots, the Hawx is a quiver of one for freeride touring. Combining Progressive Shell tech and the beefy Free/Lock 2.0 spine, the Hawx shines when it comes time to rip skins and head straight down. Skywalk Gripwalk Soles allow you to scramble on rock, step into a light tech binding, and step into a Gripwalk binding. If you like skiing big skis at high speeds, skiing skinny skis like a racer, or just want a performance and low-drama boot, the Atomic Hawx XTD Women's boot has you covered.
6000-Series Alu Buckles are light, burly, and ready for more.
Investment Cast Tech Tech Inserts ensure seamless tech-binding integration.
Skywalk Gripwalk sole allows unmatched freedom and versatility.
Free/Lock 2.0 Lever is simple, light, reliable, and powerful.
Fully customizable Memory Fit Shell fits all feet from pretty to problem.
Frictionless Pivot means less effort on the way up.
Update 2019/20: The Women's Hawx was re-rated as a 115 flex versus a 110.
Update 2020/21: Atomic switched to a Mimic liner for the Atomic Hawx XTD 115, adding ski performance and about 100 grams.
Update 2021/22: This year Atomic widened the Quick Release Cam Strap to 40mm.
Update 2022/23: Atomic changed the cuff material to PA and also updated the paint job.
Specifications
Weight
convert to ounces
1468g [25/25.5]
Weight (pair)
2936g [25/25.5]
Buckles
Four + Power Strap
Boot Sole Length
262mm [22/22.5]
272mm [23/23.5]
282mm [24/24.5]
292mm [25/25.5]
302mm [26/26.5]
312mm [27/27.5]
Binding Compatibility
Tech, Hybrid, ISO 9523
Cuff Rotation
54°
Forward Lean(s)
15°, 17°
Specs Verified
Yes
Design
Materials
PA cuff & shell
Liner
Mimic Platinum Liner
Sole
Skywalk GripWalk Sole (ISO 23223)
Skimo Co Says
Usage
Going big
Notes
Memory Fit Shell and Mimic Liner offer amazing custom molding capabilities
Bottom Line
Ultra custom, ultra simple, ultra awesome
Compare to other Womens Boots
Questions & Reviews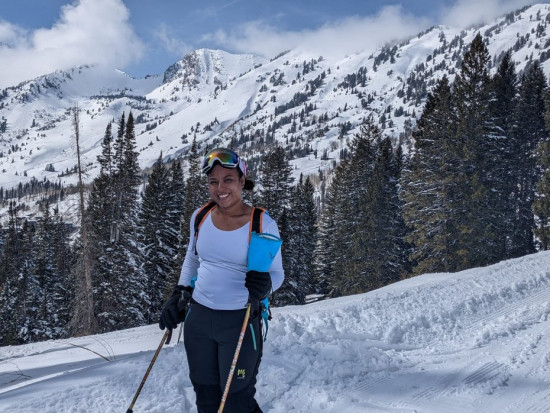 I bought these for my wife. She's used them three touring days and three resort days. She had never skied before. We visited skimo in SLC to choose them. Skimo helped us find a boot that fit her well. This was tricky as she has no history with ski boots. But after her third day things started to click and she's improved each time coming down since. Thank you guys so much for your help. she paired these with the seven summits binding/ski. can't second guess progress. Thanks
Comment on this review:


Where on these boots would you attach a leash? Need to install a D-ring?
Thanks
Thanks for reaching out, Tom. With this boot, attaching the leash to a buckle would be the best option!
Answer this question:


Earn store credit by writing reviews. Learn more.

Model: Hawx Ultra XTD 115W