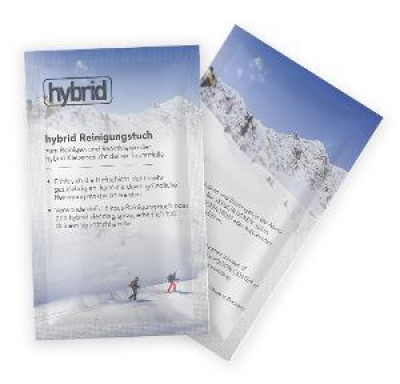 Contour Hybrid Cleaning Wipe
0 reviews
$7.95
In Stock & Ships Today
After a seasons' worth of long days in the backcountry traversing high peaks covered in mostly snow, but also dotted by dirt, pine needles, moose scat, tree bark, and any manner of organic (or otherwise) refuse, your skins are tired. Let's face it, your skins have been very kind to you, and you've literally dragged them through all kinds of not-snow contaminants. It's no wonder they're flopping along behind you in the spring slush, unclipped and no longer stuck to your skis where they're supposed to be. Show your Contour Hybrid skins some love and try the Cleaning Wipe. With a quick wipe (or a rigorous scrub, depending on your past level of complacency and disregard for the wellbeing of your skins), you can breathe new life into them, and get the glue as fresh as they day they came out of the box (or just better than it was before, which is good enough). Show your skins some love, because unlike your ex-girlfriend, they want to give you a second chance. Take it.
Special formula for in-field cleaning of Contour's Hybrid glue skins.
Wipes come in a pack of two, which means one wipe for each skin.
In the case that you've been extremely mean to your skins, maybe double up.
Made in Germany.
Questions & Reviews
Would these wipes work for the Atomic Hybrid skins?
Jeffry, yes they will since those are the Contour Hybrid skins.
Answer this question:


Earn store credit by writing reviews. Learn more.

Model: Hybrid Cleaning Wipe
UPC: 9005528424902