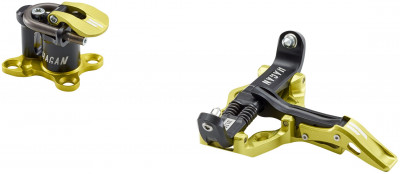 Hagan Ultra World Cup Binding
3 reviews
$574.95
$499.95
In Stock & Ships Today
When it comes to binding design, it's hard to outsmart the folks at Hagan. Never a company to avoid a challenge, Hagan tried to outsmart themselves when designing the Ultra World Cup (WC) binding, and it isn't hard to see how well they succeeded. The Ultra WC binding is an evolved form of the Hagan Ultra, with the same precisely machined toepiece with Monolink Technology (this means that there are only springs on one arm of the toepiece - this improves consistency and lowers weight by making the binding less mechanically complex). Fans of the Hagan Ultra will be pleased to see that the simple, ultralight heel hasn't changed, with one very notable exception. The Ultra WC introduces the ingenious "Rolling In System" U-spring which looks like a typical U-spring except for the rolling bushings on the end of the pins. These rollers deliver a litany of improvements, from drastically easier step in, significantly better longevity than traditional U-springs, and more consistent release over time as the steel bushings are resistant to notches that develop on titanium forks with use. Despite the increased cost of making the Rolling In System, Hagan has decided to price the Ultra WC no higher than it's forebearer, the Ultra, meaning that you get better performance and better bang for your buck.
Rolling In System U-spring promises easier use, better consistency, and improved longevity compared to traditional U-springs.
Monolink Technology toepiece is mechanically simpler, and therefore more effective than typical symmetrical toepieces.
Made with ultralight aluminum and titanium forks (protected by the steel rollers) for an impressively light race binding.
Traditional race-flap and attachment points for crampon adapters.
Specifications
Weight
convert to ounces
113g
Weight (pair)
226g
Boot Compatibility
Tech
Brakes (mm)
None
BSL Adjustment
Accessory plates
Riser Heights
1+flat
Vertical Release
Fixed
Lateral Release
Fixed
Crampon Ready
Removable Accessory
Specs Verified
Yes
Design
Materials
Aluminum Alloy, and Titanium
Skimo Co Says
Usage
Racing, fast and light touring
Notes
Rolling U-Springs improve step-in, durability, and release-consistency
Bottom Line
Titanium-weight race binding with steel durability
Compare to other Race Bindings
Questions & Reviews
These are great bindings. Now that the original Trab Vario bindings are no longer available, they are probably the best on the market. I LOVE the rolling-in-system, it is a fantastic way to save weight and I believe it provides more consistent vertical release compared to other U-spring bindings. The heel is difficult to rotate. Flat mode is kind of a challenge - when set up at factory recommended settings, your boot will drag on the heelpiece. Some people will mount the heel 1mm back from factory recommended to avoid this. I just choose not to use flat mode, which is not an issue in the Wasatch. Also, the finish on the toe lever will get scratched if you press it with your pole tip, just like all ATK bindings (these are the same as the ATK SL World Cup).
Comment on this review:


Hey, I was just wondering how these might compare to the ski trap gara titan? Which of the two would you guys recommend for a racing/light ski mountaineering setup?
Thanks for reaching out, Zach. The main difference between the two will lie in the toe piece and u-spring. The Gara Titan uses a reverse spring design, which means you have to manually spread the toe wings apart to get into the binding. While this can be trickier to learn at first, this design excels in its better toe retention. Alternatively, the Ultra World Cup uses a more traditional toe piece, which has worked well for many. Additionally, the Ultra World Cup uses a u-spring that has rollers on the ends, which makes stepping in a bit easier and also reduces premature wear on the spring itself. Overall, both are great bindings and would work well! Please let us know if you have any other questions!
Hi Zach, for a specific recommendation that matches you as well as the setup, please visit our
binding finder
.
Answer this question:


What can I say? These bindings are a testament to the power of simplicity. Ultralight and few moving pieces means that there's relatively little that can go wrong.

I don't race, but I use these on a light ski mountaineering (not skimo) ski paired with Alien RSs. It's a great combo, with the only drawback being that people expect you to move fast when they see these things!

I got the heel adjustment plate and crampon mounts, which brings the weight up a bit but they're still substantially lighter than fully featured touring bindings.

I initially pictured myself using flat mode with these, but after speaking to Mike at Hagan, he mentioned that it really only works if you mount the binding with ~1.5mm extra heel gap. If you don't do this, it'll catch on the back of your boot as your ski flexes while you skin. I decided that it wasn't worth it (I can only assume that this would affect the release characteristics) but found having only one riser height to be a non-issue with the ROM of the Alien RSs.

One thing to note is that Hagan calls the lateral release ~8 and the vertical release ~9. You can get a lighter heel spring to make the vertical release ~6, but you can't change the lateral release. This isn't a problem for me since I usually ski with a release setting around 8-9, but if you're far off from these numbers you might want to consider a different binding.
Comment on this review:


I'm on my fourth season with a pair of the Ultra bindings, now upgraded with the new U springs. My only complaint about the binding previously has been that like with all Ti springs, they eventually notch and need to be replaced. But these new springs are brilliant: they weigh essentially the same, but the sections contacted by your boot heel inserts when skiing are steel, not Ti. And the miniaturization of the roll-in feature with the Torx fastener insert is impressive. Overall, yet another manifestation of how ATK-rebranded bindings might not look all that different from predecessor models from a decade or so ago, but the refinement of the same fundamental design over time yields consistently better models without any missteps.
Although speaking of Torx screws, be sure to periodically check the tightness of the fastener that controls the tension of the heel flap, so that it's not too loose (else the flap might, well, flap around, and be hit by your boot heel while it's up the air).
Comment on this review:


Earn store credit by writing reviews. Learn more.

Model: Ultra World Cup
UPC: 9008739980748