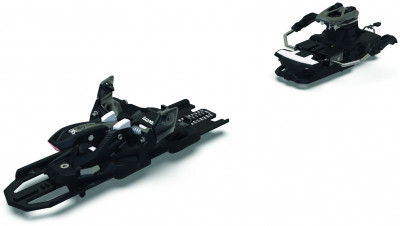 Marker Alpinist Demo Binding
0 reviews
From $479.95
In Stock & Ships Today
The Alpinist Demo Binding is the Alpinist with an adjustable toe piece and an extra-long heel track. This can be handy when sharing skis with someone or playing with your mounting location on a ski to get it dialed. When skiing, you can enjoy Marker's zero-gap design with a spring-loaded track that makes the ski feel alive and keeps the release more consistent. Choose from multiple release values and brakes. Marker's Demo binding might be designed for a rental fleet, but can be useful for other folks as well.
Dynamic Length Compensation keeps the heel flush with the boot.
Two risers plus a flat mode let you adapt to the terrain while skinning.
Toe is on a quick-adjust slider to let you play with your position on the ski.
Demo-length heel track means you can fit a wide size range of boots.
Lateral release value adjustment from 3-8 or 4-10 depending on the version.
Vertical release value is fixed with swappable U-Springs.
Brakes are swappable if you change ski widths.
Specifications
Weight
convert to ounces
555g [90mm]
Weight (pair)
1110g [90mm]
Boot Compatibility
Tech
Brakes
90mm, 105mm
BSL Adjustment
100mm
Riser Heights
2 + flat
Vertical Release
Fixed
Lateral Release
3-8 [R8]
4-10 [R10]
Crampon Ready
Kingpin and Alpinist crampons only
Design
Materials
Forged aluminium, carbon fiber-reinforced polyamide
Skimo Co Says
Usage
Touring
Notes
Anti-ice pads prevent icing of toe and heel
Bottom Line
Lightweight adjustable touring binding
Questions & Reviews
Earn store credit by writing reviews. Learn more.

Model: Alpinist Demo