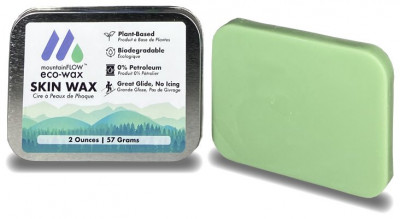 MountainFLOW Rub On Skin Wax
0 reviews
$13.95
In Stock & Ships Today
To truly embrace the truth and solace of the Fast 'n Light ideology we hold here at Skimo Co (we're not a cult), you can not be caught with snow and other sludge sticking to your skins, weighing you down. Therefore we believe that skin wax is a necessity on any snow adventure, no matter the temperature or conditions. MountainFLOW's plant-based ingredients are eco-friendly, with no petroleum-based products, and ensure that you will glide all day even in varying snow and temperature conditions. The MountainFLOW Rub On Skin Wax is easy to apply, great for all weather conditions, and for all types of skiers. Backcountry enthusiasts can feel good about their skins, and about their environmentally conscious purchase using MountainFLOW's Rub On Skin Wax.
Questions & Reviews
Any experience with this product? Best to rub on or iron in? Do you prefer the spray on or bar versions of skin wax? Thanks!
Hey Jeremy, I use one of them pretty regularly and they wouldn't be my first choice to hotwax my skins as it is more for a rub-on application to prevent snow and ice from sticking to the plush than for improving speed and glide. It only improves the glide a pretty marginal amount, though it's great for preventing glomping. The spray-on version works quite well and is an easy way to speed up your skins (another wax I use myself quite often).
Answer this question:


Earn store credit by writing reviews. Learn more.

Model: Rub On Skin Wax
UPC: 0864095000488