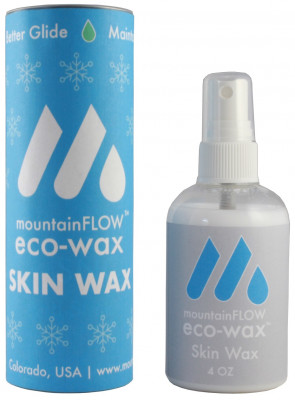 mountainFLOW Eco Skin Wax
0 reviews
Get younger skin(s)! mountainFLOW developed their Eco Skin Wax with natural ingredients to give your skin the supple feel and performance it deserves. Delicately spritz a layer of this onto your climbing skins each morning before your cardio routine to refresh and revitalize them. This Eco Wax is a spray-on solution to prevent moisture from seeping into the pores and ruining your day. Keep up with the young guns with mountainFLOW's newest in-the-field, skin-care routine.
Seriously. Nobody likes climbing skins that are slow, slippery, or snow-collecting machines. Made with plant-based ingredients, MountainFLOW's eco-friendly skin wax is designed as an at-home or in-the-field fix to the problems that plague climbing skins due to ever-changing snow conditions. Contrary to Derek Zoolander's famous quote, wetness is not the essence of beauty and your climbing skins do not need any more moisture. MountainFLOW is here to help your climbing skins stay dry and fast. Enjoy!
Questions & Reviews
Could this be used on the ski topsheets as well?
Hey Adam, Mountian Flow has made a top sheet anti-snow spray in the past but discontinued that product. The Eco Skin wax spray will not hurt your top sheets but may leave a film that will likely keep the snow off but may feel greasy on your hands and gloves.
Answer this question:


Earn store credit by writing reviews. Learn more.

Model: Eco-Wax Skin Wax
UPC: 0864095000426