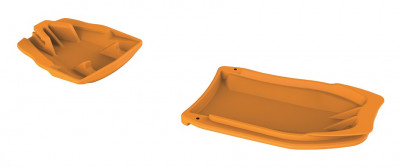 Petzl Crampon Antisnow Plates
0 reviews
Flexible polymer anti-bott plates that attach to the crampon and eliminate the build-up of snow underfoot. The Petzl plates fit under models such as the Leopard and the all-steel Irvis(non-hybrid). The plates snap onto the crampons and secure with screws. Anti-bott plates like these are cheap insurance against dangerous balling.
The Leopard plates/screws weigh 76g per pair, the Irvis plates/screws weigh 77g per pair.
Questions & Reviews
Earn store credit by writing reviews. Learn more.

» Browse other
Petzl Crampon Parts