Petzl Altitude Harness
2 reviews
Using what they call "wireframe technology," Petzl has created a feature-rich but impossibly light harness for high-altitude climbing and ski mountaineering. The Altitude is light enough for racing but robust and feature-packed for all your ski mountaineering needs. The harness is very slim and packable yet doesn't bite into you while hanging. The Petzl Altitude is the new standard for day-to-day skimo.
Harness is about the size of a small canned energy drink when packed in its bag.
Designed to allow donning and removal without taking off skis/crampons.
Buckles are durable and can be operated with gloves on.
Two gear loops are easy to access with a backpack.
Siliconized ice-screw keeper on each leg loop keeps the pointy things outside your skin.
Update 2019/20: A new gear loop design makes for one large horizontal loop on each side instead of the previous 2 small vertical loops per side. New leg loop buckle mechansim is slightly larger for easier gloved operation. Black accents give a nice Halloween theme; it's spooky safe!
| Size | S/M | M/L | L/XL |
| --- | --- | --- | --- |
| Waist Belt | 64-86 cm / 25-34 in. | 74-96 cm / 29-38 in. | 84-108 cm / 33-42 in. |
| Leg Loops | 55-67 cm / 21-26 in. | 60-73 cm / 23-29 in. | 66-79 cm / 26-31 in. |
Specifications
Weight
convert to ounces
162g [S/M]
Gear Loops
2
Drop Seat
No
Skis-On Don
Yes
Specs Verified
Yes
Design
Materials
Nylon monofilament, polyester, high-modulus polyethylene, aluminum
Skimo Co Says
Usage
Ski mountaineering, alpinism, general mountaineering
Notes
Killian wears it.
Bottom Line
Can do it all.
Compare to other Harnesses
Questions & Reviews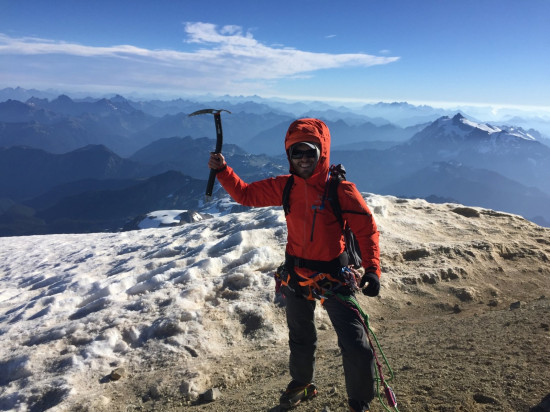 Climbed Mt. Baker and Sahale Peak in this harness. I love the ice screw holders. You might not think it's necessary but up after hours and hours of climbing having one less thing bouncing on your harness is amazing. Super light too. Agree with the other reviewer that you wouldn't want to hang in this thing for a long amount of time.
Comment on this review:


I decided not to bring two light harnesses to Cham for the season so left behind my CAMP alp95 and just brought the Altitude. It's awesome for glacier travel and even really easy climbing though I wouldn't want to hang in it for too long. Even short raps are a bit uncomfortable. Doing a ten minute zipline style river crossing in it was unpleasant. For racing it's nice, not much heavier than the ALP95 but because it was sized better for me, a little more comfortable to ski in. If the leg loops get folded over or rub wrong they are actually a bit sharp but that's easily fixed. Major plus is to be able to put it on with boots on easily. Nothing worse than having to go to the bathroom when you've put a non-adjustable harness over your skin suit... Only complaint is that it takes three hands to put the waist belt through the belay loop but that's pretty minor...
Comment on this review:


Earn store credit by writing reviews. Learn more.

Model: Altitude