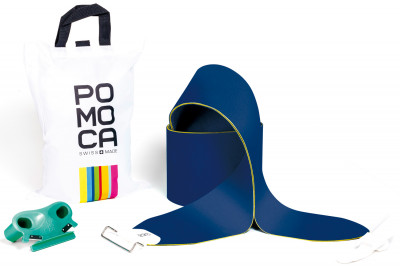 Pomoca S-Glide Tipon Skins
5 reviews
The S-Glide skins have very little room to improve. Pomoca is trying to one-up themselves anyway. The Tipon formula has a thinner backing material and an innovative "non-glue" adhesive. The result is a skin that is lighter, much more packable, and easy to manage on/off your skis. The adhesive won't ball up and is easy to wash with soap and water if it gets dirty. Pomoca Tipon skins will peel from a ski base without effort, making it the ideal skin material for powder boards with large surface areas to cover with glue. The Tipon backing material is nearly 10% lighter per meter than the comparably sized skin, but packs a significant 40% smaller. The S-Glide nap is arguably the best in terms of grip-and-glide balance; thanks to Tipon, now it's even faster and easier to use.
Ever Dry treatment is Pomoca's premier anti-glopping treatment that is built into the skin for lasting performance.
Tipon is almost 10% lighter than the traditional backing, packs much smaller, and is 100% waterproof.
Glide treatment is built into the material which reduces friction while you're striding.
ClickLock system allows easy tip bracket swaps, to ensure a proper fit on your skis.
Comes with a fancy trimmer that makes trimming skins a breeze.
Included storage bag for travel and long-term storage.
Specifications
Weight per skin (with backing)
334g [120mm x 165-180]
Questions & Reviews
I tour regularly on the 175cm BD Helio 105, and have a 168cm Helio 88 for big vert days/mountaineering objectives. I have a set of BD Nylon ascensionist skins for both, and would like to pick up a set of Climb Pro S-Glide for each one. First question is which version (Tipon or Regular) would suit each ski (haven't seen any more updates on Tipon experiences), and which size would you steer me towards for each? Thanks a bunch, you guys are always very helpful.
Hi Christof, the S-Glides are the "safe" bet, being a well-tested formula. Funnily enough, I'd recommend the same size skin for both skis: the 120mm x 165-180cm. Both will get you full coverage in the tail where it's most important, and won't leave lots of overhanging skin up front. You could go up to 140mm on the 105s if you want full coverage for the max grip.
Thanks, I came in and chatted with Eric and we also settled on the "tried and true" standard S-Glide as you recommended. Sounds like the Tipon is a neat option, but like it's been mentioned now a few times it requires a bit more attention and not quite a "set it and forget it" product. He convinced me to go with the 100mm for the Helio 88s as I'd only lose a bit of coverage on the last bit of the tip and tail where it shouldn't affect the grip and only help the glide. We'll see if my skinning technique supports that claim! Thanks again for all the guidance.
Answer this question:


I'm curious to hear how they perform. I was on the front end of the Gekko skins years ago. Nice idea. Troublesome in execution. They separated from themselves nicely but required Herculean strength to pull from the skis. I pulled so hard one time I sheared the home made bungee right through the tip loop I'd sewn. The skin plopped into the snow and became irretrievably contaminated for the rest of the cold day. The snow crystals seem to fuse with the surface and needed a full melt to work again. Scraping on the ski edge only served to separate the material from the backing. Never went back.
Hi Brian, yeah there were some not-so-good stories about those skins. Lots of other folks have been experimenting in the interim. We have high hopes the Tipons will fare much better. So far so good.
Answer this question:


Earn store credit by writing reviews. Learn more.

Model: Climb Pro S-Glide Tipon