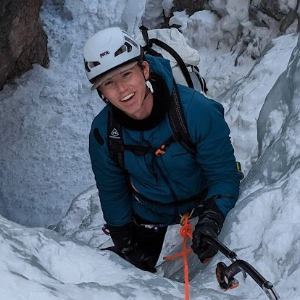 Fisher
Gender
Male
Height
5' 8"
Weight
155 lbs
Shoe Size
US 8.75
Skier Type
Type II - Moderate
Ski Frequency:
25 - 50 days / year
My Skiing
Have been skiing full seasons & touring since 2019, avg of 20-40 touring days a winter. Avy2 Rec, Wilderness First Responder through NOLS since 2014, leading trad 5.7 in Little Cottonwood / North Cascades / Eldorado Canyon & WI3-4

Comfortable in Dawson's D7-8 range, D9 if conditions are favorable. Notable lines include Silver Couloir on Buffalo Peak (CO), Emperor Face of Torreys Peak, Haiyaha Couloir in the Emerald Lake Drainage of RMNP. I prefer higher speeds in open terrain over tight trees, and snow with a base over bottomless pow. Corn > bottomless, 4in on a base > bottomless.

Skiing Goals include: Fuhrer Finger on Rainier, the Coleman-Deming on Baker, summit ski of Longs Peak via Keplinger's, the Skillet on Mount Moran, a variety of self-supported 2-4 day traverses in Colorado, putting together a Yellowstone backcountry basecamp week, and learning to enjoy that blind-ish, tight tree skiing on zero base that is our reality in CO for 70% of the winter
My Gear
Spring / Hard Snow: Black Crows Camox Freebird (172 cm, 2022 version), BD Helio 350, Scarpa F1 LT in 25.0 - this is currently my favorite setup, I'll even bring it out inbounds every once in awhile

Boots for all other skis are: Scarpa Maestrale RS 2.0 (white / green version) in 25.5 w/ thicker liner to size down slightly

Daily Drivers: Black Crows Atris 105 (178cm), Hagan Core

Powder: Black Crows Nocta (185cm), Marker Alpinist

Inbounds: Black Crows Camox, Black Crows Atris 108
Recent Posts
Do you all carry replacement fast buckle (main, orange + numbered) straps for the F1LT? Looking for a fallback in case this warranty claim with Scarpa looks like it will take all spring, would be happy to pay if you carry them!
Any measurements on the Hagan Core Evo & BD Helio 350?
What is the ramp angle of this binding? I've checked your lists and no luck unfortunately Trying to decide between it and the original Core Pro, as well as which toe shim to grab - the ATK branded one or one of the 6mm B&D ones
I have a pair of BD Helio 350 bindings - now discontinued as Black Diamond carrys them with the original ATK Raider branding These Helio 350s certainly seem to have the exact same heel as the Raiders, will the Raider Freeride spacers work with them? Would love to be able to test using them back and forth without drilling!
Looking for a way to reduce the forward lean on a pair of Maestrale RS 2.0 (white/green) further than the current 14 degree minimum - seems it would fit my leg + skiing style a little cleaner & would align closer to the lean on the F1 LT, which I get along really well with Is it possible to swap a shorter walk lever in from another boot (ex F1?) to accomplish this? If I can access the lengths of each lever, I'm happy to work out the math on my own!
Wish List