ATK Replacement Brakes
0 reviews
From $12.95
In Stock & Ships Today
Here lies a collection of various brakes made for ATK ski bindings. Most often available in 75mm, 86mm, 91mm, 97mm, 102mm, 108mm, 120mm widths. These are the replacement brakes for ATK's touring line. If you're looking to add brakes to a race binding, check out our separate listing for ATK Race brakes.
Crest / Raider - These are spare brakes for full-featured bindings from ATK that ship with heel brakes, including the Raider 10 & 12, C-Raider, and Freeraider 14 & 16. The brakes will let you mount your bindings onto a new pair of skis with a differing width. These also work with Hagan Pure & Core Pro bindings, BD Helio 350s, and DPS R10 & R14 bindings. Includes two brake units, but does not include buttons, springs, or screws used to attach the brakes to the binding (see Rear Brake Hardware for those).
Kuluar - An interesting binding design that is race-inspired with bonus features. One such feature is the ability to add ski brakes. Find those brakes here, if in stock. Includes buttons, springs, and screws for mounting to brakeless ATK bindings. Sold in pairs.
Front / Raider 2.0 - You are unlikely to confuse the ATK Front ski brakes with other models. That's because they ride on the toe pieces instead of the heels like other bindings. It's a neat system that causes less interference with lateral release mechanisms, and anti-friction devices are made obsolete. The Front brakes are lightweight like the binding but still seem to do the job. These also work with Hagan Core & Ride bindings and the older ATK Raider 2.0s.
Rear Brake Hardware - Includes buttons, springs, and screws for mounting brakes to ATK bindings just in case any small parts are broken or lost to the powdery white abyss.
Questions & Reviews
Hey - which brakes are the most recommended/fit the ATK 8?
Ski size is 105 mm.

Thanks!
Hi Marianni, do you mean the
ATK Crest 8
? If so, you're looking for the "Crest / Raider" option on this page, the 102mm will fit a 105mm ski well.
Thanks Gabriel.

Not the crest, it's for a pair of ATK RT 8 bindings.
Hi Marianni, thanks for clarifying. The ATK RT bindings use the same heel as the Crest with a slightly different toe piece, so the brake option I mentioned above will work.
Great - thank you again!!
Answer this question:


Hi, I have the ATK Kuluar 12 Brake edition in 97mm width and I am thinking about buying a 102mm waisted ski to mount it on. The Kuluar is listed in the drop down menu, so is this brake compatible with the Kuluar 12 Brake version? Alternatively, should my Kuluar 12 Brake in 97mm be able to fit right on the 102 mm waisted ski with a little bending? Thanks!
Johnston,

This is the brake for the Kuluar, but we're out of the wider sizes at the moment. With a bit of bending you should be able to get these to work.
Answer this question:


I'm looking for brakes for the latest EVO bindings, any chance you're going to sell EVO brakes too?
Hi Jimmy, we should have those when that binding is available in the US.
Answer this question: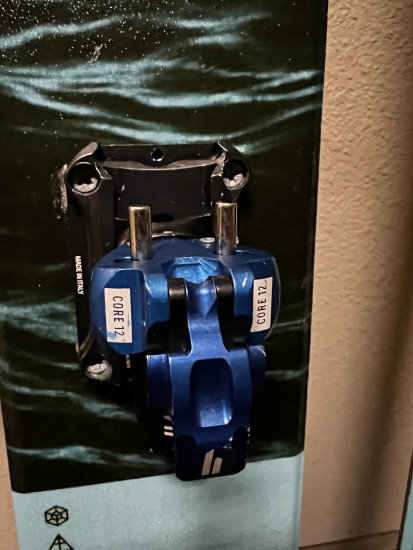 I have the older Hagan Core that came with the toe brakes. The toe brakes broke. I'm running them without brakes right now.

Will the Crest/Raider REAR brakes work with these heels? I didn't think so but wanted to be sure.
Hi Michael, no these do not have the attachment points necessary for the rear brakes. The front brakes listed above will work.
Answer this question:


Hi,

Will the rear break hardware (the button) work with ATK crest?

best,
Marcus
Hey Marcus, it will definitely work!
Answer this question:


Can these brakes be mounted with Dynafit Speed Turn 2.0 bindings?
Answer this question:


Hi there, will the Crest / Raider brake work on the RT 10? I had my RT 10s mounted without brakes, but I'd like to add them; does this require removing the binding?

Thanks in advance!
Hi Kevin, yes those will work on older RT bindings, but not the Evo. They can be added without unmounting the heels.
Answer this question:


Wondering if it makes more sense to get 102 brakes or 108 brakes for a 105mm ski
Hi Ben,

Either will work. I would recommend the 102mm brake. The 102mm brakes should work with a 105mm underfoot ski no problem! You may need to do a small amount of bending, but that is pretty normal.
Answer this question:


Trying to size brakes for katana v-werks at 112

Would it be best to get 108 and bend them out a bit or got for 120 and worry about brake locking/knocking together.
Mackenzie-Go with the 108mm and stretch them a touch. The 120's will get caught and stepped on.
Answer this question:


Any chance of ordering or finding a pair of 120 mm front brakes for the previous Hagan Core 12 with front brakes? One of mine broke. Thanks.
Hi Michael,

Go ahead and send an email to help@skimo.co, and we will see what we can do!
Answer this question:


Hi, I have a Hagan Core 12 Pro with no brakes and planning to mount it to Dynastar M-Tour 99. If I want to use Freeride Spacer AL09, do I need to get brakes for the bindings first? If yes, should I get a 102mm or 108mm? Thanks
Hey Justin, no brakes are needed to install the Freeride spacer. If you did want to do brakes at some point, the 102mm would be the best option.
Answer this question:


Can you also put me on the notification list for the 102mm brakes when you get them in stock? I've snapped one of mine and need a spare!
Hey Rowan, we just put you on the list for 102mm brakes!
Answer this question:


Hi,

Are you goung to have in stok these brakes in 102 mm size?
Hi Fedor! I don't believe we have ordered any more for this season, but if you'd like me to, I can put you on the email notification list.
Answer this question:


Hi, do you think the 86 mm brake would fit on an 88mm ski or are the tolerances exact? Thanks!
Hey Marty! You might have to bend them out a bit, but yeah, you could likely get them to work. It depends a little bit on the shape of the sidewall of the ski, but really you're only looking for an extra millimeter of clearance on either side of the ski so I think it's probably fine.
Hi Trace, thanks for the reply. Are these sold as a pair or do I have to order quantity (2) in the cart to get a pair? Thanks.
Hey Marty! They're sold as a pair!
Answer this question:


Can these brakes be mounted on th ATK SLR release bindings?
Charles.
Hi Charles, unfortunately not. They only work on the ATK Raider and RT 2.0 bindings, along with the Hagan Core and Ride.
Answer this question:


Earn store credit by writing reviews. Learn more.