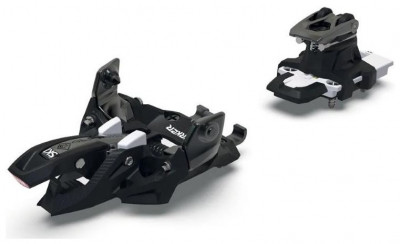 Marker Alpinist Long Travel Binding
1 review
Solving one of the shortcomings of the Alpinist 12, the Alpinist Long Travel is the same binding with a longer heel track. Doubling the track length to 30mm, you can get three full boot sizes of adjustment out of the binding. The rest of the features are the same great Marker Alpinist, albeit without the latest "ISI" step-in tweaks on the toe. This version also cannot be used with brakes.
Gapless heel means the binding rides on a spring, popping you out of turns.
Lateral release range is adjustable from 6-12 with the turn of a screw.
Simple heel flap over the pins is the quickest way to transition.
Additional riser height can be deployed by rotating the heel 180 degrees.
Forward release is fixed based on a U-spring, which can be swapped.
Wider hole pattern than classic Dynafit helps with stability and power transfer.
Brakeless design saves you weight and transition time.
Ski crampons are available and slide in from the side.
Specifications
Weight
convert to ounces
281g
Weight (pair)
562g
Boot Compatibility
Tech
Brakes (mm)
Optional leashes
BSL Adjustment
30mm
Riser Heights
2 + flat
Vertical Release
Fixed
Lateral Release
6-12
Crampon Ready
Included option
Specs Verified
Yes
Design
Materials
Forged aluminium, carbon fiber-reinforced polyamide
Skimo Co Says
Usage
Touring
Notes
Gapless design adds some pop
Bottom Line
All the nice Alpinist features with more BSL range
Compare to other Lean Bindings
Questions & Reviews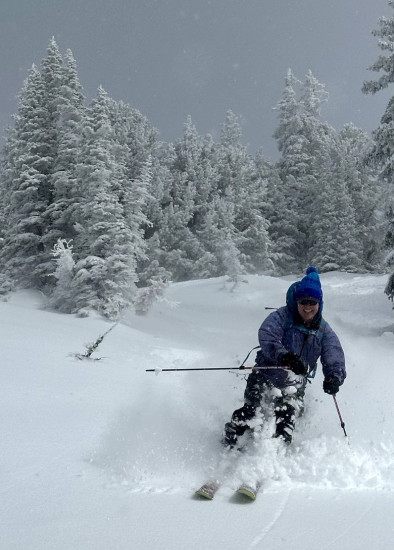 For lean scaled down AT bindings without breaks, they are little heavier than most of the competition. But that is more than compensated by a more solid spring and a feel of flex. The downhill performance of these bindings is superior to any other stripped down tech binding, and it isn't even close. When you pull up the tab one position, you feel bomber. Say you are going on long trip for ski mountaineering in another country. The sturdiness brings confidence. Maybe balance the slightly heavier weight by using a super lightweight pair of skins. The breaks are a waste of time and weight.
Comment on this review:


Earn store credit by writing reviews. Learn more.

Model: Alpinist Long Travel
UPC: 883295402519