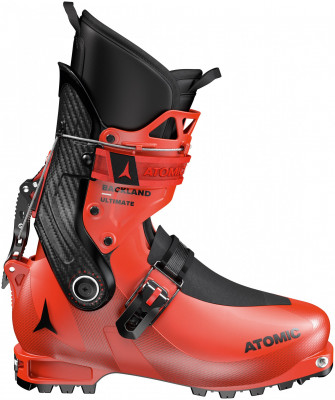 Atomic Backland Ultimate Boot
0 reviews
Equally at home rallying a Tuesday night skimo race as it is doing a 12,000-foot day of climbing in the backcountry, the Atomic Backland Ultimate boot is a versatile tool for those looking to cover ground with speed and efficiency. The stiffened lower encourages straight lining to the finish line while the frictionless pivot won't hold you back when you're redlining up that climb. Once at the top, the boot is tensioned and placed in ski mode by a single lever making for quick and easy transitions. The narrower-than-average fit works best for those who have a low-volume foot or who desire the control that can only be achieved by a fit akin to a bouldering shoe. In addition, the memory-fit plastic can be thermoformed, meaning that even the most bunioned feet can be accommodated. The Atomic Backland Ultimates are aptly named because they are the ultimate companion for skiers who epitomize the "light and fast" ethos.
Frictionless pivot keeps the cuff rotation moving smoothly.
Made with a magical mixture of Grilamid and Carbon Fiber for durability and lightness.
Prolite Construction eliminates any unnecessary heft.
Regular cuff lends itself to nice skiability.
Carbon spine helps keep things stiff without excess weight.
Free/Lock 3.0 is better than the Free/Lock 2.0.
Specifications
Weight
convert to ounces
782g [26.5]
Weight (pair)
1564g [27.5]
Buckles
1 w/ Free/Lock 3.0
Boot Sole Length
248mm [23.5]
258mm [24.5]
268mm [25.5]
278mm [26.5]
288mm [27.5]
298mm [28.5]
308mm [29.5]
Binding Compatibility
Tech only
Cuff Rotation
80°
Forward Lean(s)
13°, 15°
Specs Verified
No
Design
Materials
Grilamid shell, carbon fiber cuff
Liner
Platinum Speed
Sole
Skywalk full rubber
Skimo Co Says
Usage
Racing, touring speedily
Notes
Heat moldable shell
Bottom Line
Versatile race boot
Compare to other Race Boots
Questions & Reviews
Earn store credit by writing reviews. Learn more.

Model: Backland Ultimate