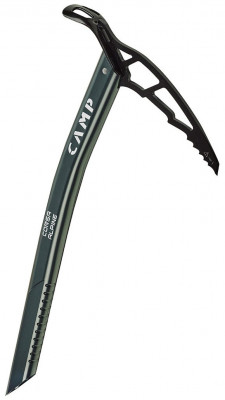 CAMP Corsa Alpine Ice Axe
0 reviews
$119.95
In Stock & Ships Today
The Corsa Alpine Axe is what we would call a necessity when it comes to lightweight mountaineering. This axe is designed with technical mountain travel in mind; the Corsa Alpine is almost like holding a feather. Well, a very durable feather that's made of steel and aluminum. This lightweight axe features a machined grip for easy handling. It's sleek design helps keep extra clearance while walking or plunging your way up your favorite couloir. To keep out that pesky ice and snow, there is a nylon plug on the end of the slightly curved shaft. The Corsa Alpine axe features an all-steel head with a sharply tapered 3mm pick to help combat difficult ice and provide ease of use in more challenging terrain. The Corsa Alpine axe is a lightweight friend to any technically savvy alpinist or mountaineer, as well as to any beginner eager to try some new gear in some new terrain.
Lightweight aluminum shaft comes in three lengths to accommodate mountaineers of all sizes.
Nylon plug for the bottom of the shaft keeps out ice and other condensation.
Small head slot is compatible with the Corsa leash.
Tapered 3 mm pick for increased durability and grip, also combats hard snow and ice.
Indented machined grip for easy handling.
Lightweight and durable, designed for glacier terrain, general alpinism, and ski-mountaineering.
Specifications
Lengths (cm)
45, 55, 65
Weight
convert to ounces
240g [45]
253g [55]
264g [65]
Design
Materials
Steel head and 1.3 mm 7075 Aluminum shaft
Skimo Co Says
Usage
Ski mountaineering, general mountaineering
Notes
Nylon spike plug keeps snow out of the shaft
Bottom Line
A lightweight axe with a steel head for technical terrain
Compare to other Ice Axes
Questions & Reviews
Earn store credit by writing reviews. Learn more.

Model: Corsa Alpine