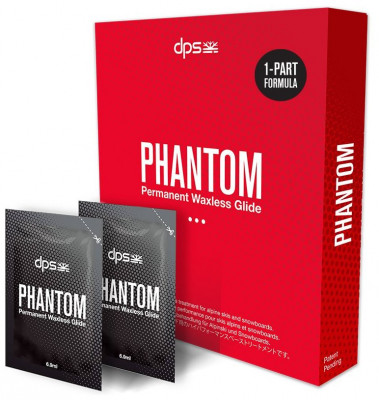 DPS Phantom One Part Formula
0 reviews
One small step for a skier, one giant leap for skier-kind! DPS has improved upon the impressive Phantom "waxless" base treatment by chopping the process down to one single step. That makes it twice as easy to apply which is exactly half as much work. Even those of us that are too lazy to wax can make it happen! If you're looking for good glide and more consistent performance from your bases, then adding a permanent Phantom treatment is a step you shouldn't skip. Labeled as "DIY" you can also have the pros at Skimo put your bases through the paces of the Phantom installation to guarantee the end product is as amazing as the hype suggests. No doubt you will appreciate the extra glide and free movement underfoot in that steep couloir or open meadow as you slay powder and crush corn. For a better all-around winter experience, take the time to put the DPS Phantom Permanent Waxless Glide on your skis or board.
Single-step process makes the Phantom Treatment installation even easier than before.
Waxless glide treatment means better, more consistent glide with every run, without waxing!
Polymer technology will give great performance in a broad range of snow conditions and temperatures.
Permanent treatment will not wear off so you can crush as many k's as you want to without slowing down.
Phantom application is refreshed/re-exposed with a stone grind and does not require re-application.
Environmentally friendly since DPS does not use toxins that could end up in our beautiful backcountry landscapes.
Questions & Reviews
Earn store credit by writing reviews. Learn more.

Model: Phantom Glide DIY Kit
MPN: PH-GLDIY-1
UPC: 0812276026345