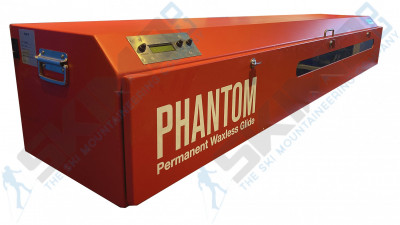 DPS Phantom Install
0 reviews
The Phantom Installation, when done carefully and correctly, will penetrate the entire depth of your bases, evenly from tip to tail, creating a permanently bonded union between your beloved skis or snowboard and this sweet sweet elixir from the snow Gods. Permanently bonded is no joke either. Once installed, it is there for the life of your base! Tune after tune, grind after grind, it will always be there. One and done.
So, how does the installation work?
To create the best treatment conditions we strip a brand new ski or snowboard of any and all factory wax. For used gear, if possible, we ask that you have your bases stone ground to remove all dirt, oil, wax, or carpet fibers left over from your mid-summer "daydream skiing" in your living room with the AC cranked up and POV footage of Portillo playing on YouTube.
Once the bases are prepped we apply a measured amount of the Phantom goo and allow it to seep into the base material for a set amount of time. We then nestle your soon to be improved beauties into our pre-warmed DPS Phantom Cure Station for a nice long nap. The DPS Phantom Cure Station is where the real magic happens. After countless hours of development, DPS has focused in on a very specific wavelength of UV light necessary for the curing as well as have honed in on the perfect intensity, distance from the surface, and temperature to achieve the absolute best cure. A very cool little red hot box. Once out of the Cure Station, we give a final "hand tune" to the base This knocks down any fine hairs on your base that would have normally been coated with wax and ensures that they do not give you any issues when navigating around at slower speeds.
Yes, you can also do this at home, however, a few things to keep in mind: the quality and intensity of the direct sunlight as well as the ambient temperature can have a direct effect on the quality of your application. In addition, the further north you are, especially outside of summer months, it can be hard to get enough of the correct wavelengths of UV light needed for a complete cure. If you were to equate differing qualities of a Phantom treatment installation to that of the quality of a snow storm, then a poorly applied Phantom treatment would be like dust-on-crust where a treatment applied with experience and care would be a 3 foot dump of Champagne Pow.
Questions & Reviews
Earn store credit by writing reviews. Learn more.

Related Products