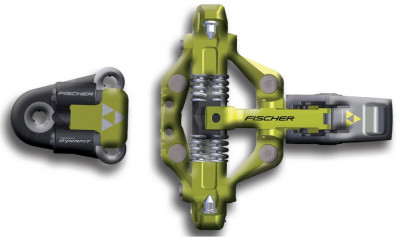 Fischer Tour Race 3.0 Binding
1 review
Fischer doesn't call this the 3.0, but rather the Tour Race Lite. However, after three entirely different versions of the Tour Race Lite, we are here to help you differentiate. The "3.0" is essentially the Dynafit Low Tech Race 2.0, but with a manual locking lever and a lower price. This means the binding is fully ISMF and wallet compliant. The heel piece is Pierre Gignoux's brain-child, whose natural habitat is at the top of a podium somewhere. It works great with carbon boots and has both lateral and forward release mechanisms. If you are looking to drop weight, cost, and retain functionality, the Tour Race 3.0 performs admirably.
An advanced mix of aerospace grade aluminum, titanium, and high-strength plastic make the binding strong and seriously light.
The only thing faster than EPO is the heel flap, the quickest way to transition from hiking to skiing.
Cutting grooves on the toe pins help to keep your boots ice-free and seated properly.
Lateral and forward release mechanisms provide a modicum of injury prevention.
Covered by Fischer's 4-year binding warranty.
Still looking for a new product photographer that specializes in Fischer bindings.
Specifications
Weight
convert to ounces
110g
Weight (pair)
220g
Boot Compatibility
Tech
Brakes
None
BSL Adjustment
None
Riser Heights
1
Vertical Release
Fixed
Lateral Release
Fixed
Crampon Ready
Yes, removable
Specs Verified
Yes
Design
Materials
Aluminum, titanium, plastic
Skimo Co Says
Usage
Racing
Notes
Manual toe lock
Bottom Line
ISMF and wallet compliant
Compare to other Race Bindings
Questions & Reviews
Are these compatible with the dynafit super lite breaks?
Hi Pete,
These are not compatible with the superlite brakes. You'll want the LTR brakes listed on
this page.
Answer this question:


Do the heel pieces rotate or are they fixed? Thanks
Hi Dave, they spin out laterally for the release mechanism but aren't really meant to be turned otherwise.
Answer this question:


I just bought a used pair of Scarpa Matrix boots.. Will these bindings work with them? Having a tough time figuring out if I can use regular bindings or have to get specific bindings for the boots.. Thanks
Thanks for reaching out, Bob. The Matrix should work with most tech bindings (including these). Please let us know if you have any other questions!
Answer this question:


Hi
I am planning on putting these on a pair of dynafit 7 summits and using dynafit pdg2 boots. Is this a good choice for binding for long lightweight ski touring and ski mountaineering?
Thanks
Hi Matt, we generally recommend this one for racing only. It's not the most confidence-inspiring heel piece for ski mountaineering.
Answer this question:


Hy. I have these bindings and i had fischer alpattack carbon but unfortunately they broke ,the maximum weight skis for this binding should be? Wish you good luck
Hi Marian, there is not max weight specific, but in general it's best suited for race skis only.
Answer this question:


Excellent race binding so far. Cannot tell the difference between these and my normal low tech race 2.0 bindings, so must be from the same factory :) If you want to make the most unique setups, this is a good option to get different colors to mix and match with the Low Tech Race 2.0 bindings.
The heel pins can wear after a season or two of hard use, but luckily the units can be replaced fairly easily.
Comment on this review:


I'm making a new setup this year with Salomon QST Pro 120 boots and La Sportiva Hi5 skis. Now just need a binding and these are an option I'm considering. Want to get deeper into touring and racing possibly but I also do a fair amount of resort days. Would these be able to hold up or should I go heavier?
Hey Ryan! As much as we are proponents of the super light bindings, I definitely wouldn't pair a binding like this with between a ski or boot like you have. We try to match the usage intent and weight category of each ski, boot, and binding so that they are all working as one, rather than being over or under-powered by one another. It's tough to make an exact recommendation without getting more info, but seeing as you have some pretty burly boots and a relatively beefy touring ski, a binding like
this
would likely make the most sense. Like I said though, that's just one example and there are tons of options. If you're serious about getting some bindings, fill out our
online binding finder
and we'll take the time to get back to you with binding suggestions.
Answer this question:


Is there an adjustment plate that works with this binding?
Answer this question:


Earn store credit by writing reviews. Learn more.

Model: Tour Race Lite
UPC: 9002972144141