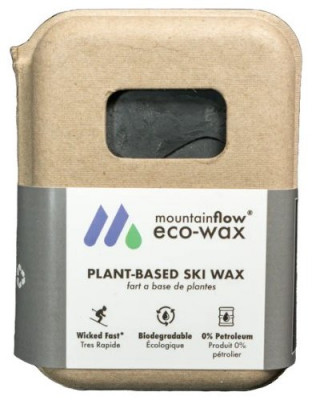 mountainFLOW Moly Wax
0 reviews
While the longer days, bird calls, and cessation of Seasonal Affective Disorder are signs that Spring has finally sprung, unfortunately so is dirty snow. In Salt Lake City, we are fortunate to live by the Great Salt Lake, which is becoming less great mostly due to the diversion of water to other high-priority things, such as watering lawns, etc... With the receding lake levels, more lake bed is exposed, allowing dust to be blown into the air where it eventually settles on the snow. Dirty snow is notoriously hard on skis, as it easily wiggles through typical wax and begins grinding on your ski base structure. Having a more uniform distribution of nanoparticles, the Moly wax resists this noxious dirty snow, protecting your skis and providing much better glide than traditional hot waxes in this snow type. If your Spring snowpack is equal parts white and brown, the Moly wax from mountainFLOW is an excellent choice.
Uniform distribution of nanoparticles resists dirt, protecting your base structure while providing better glide.
Plant-based biodegradable formula is kind to you and the environment.
Also works to dissipate static buildup in cold, dry snow.
The best defense against the dirty snow of Spring.
Questions & Reviews
Earn store credit by writing reviews. Learn more.

UPC: 860003856475