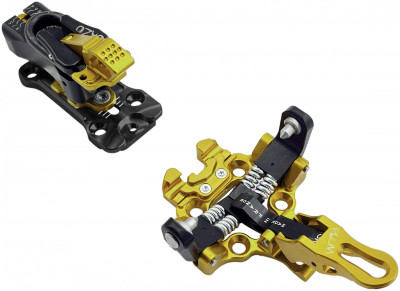 Plum Oazo 4 Binding
0 reviews
Sometimes, a binding is so well made and popular that the manufacturer has no choice but to make it again. Such was the origin of the Oazo 6 when skiers demanded that they be able to ski the Oazo safely with a lower release value, and now popular demand has squeezed yet another iteration of the Oazo family out of Plum. Introducing the Oazo 4; a slightly less Oazoy Oazo than previous Oazos, but not lacking any of the Oazoness that makes an Oazo an Oazo. The Oazo 4 shares the same design with its stiffer spring-bearing siblings, sporting the same two riser heights (including a flat on ski mode), adjustable lateral release, and included crampon clips that support the effortless Plum ski crampons. The elongated heel piece is easy to rotate to the flat-touring position, though one of the risers also works as a race flap for extra speedy transitions. The fixed vertical release is tuned to around 4 so that lighter skiers can ski with confidence knowing that their binding will release when it needs to. Machined from a block of aluminum, the toe piece is equipped with Plum's "Too Facile" technology that makes entering the binding a breeze and the toe lever locks in and out with a satisfying click. If you are looking for a low release value binding that is packed full of functionality at a competitive weight, the Plum Oazo 4 is one of the better options available.
[2022/23 only] Optional brakes can be screwed onto the heel baseplate.
[2021/22 only] Includes Plum Leashes so you don't have to wait until spring to find your skis after ejection.
Machined aluminum construction is backed by a 3-year warranty from Plum.
Included crampon receptors (+9g) quickly accepts Plum ski crampons.
Vertical release value of around 4, lateral release is adjustable from 5-10.
The heel is adjustable fore/aft for multiple boots.
A binding so nice they made it thrice.
100% Made in France.
Update 2022/2023: The Oazo 4 has a new baseplate has a longer 25mm of adjustment vs 20mm. And now has an optional brake that be added and removed with a single screw. The binding no longer comes with leashes.
Specifications
Weight
convert to ounces
217g
206g [2021/22]
Weight (pair)
434g
412g [2021/22]
Boot Compatibility
Tech
Brakes (mm)
Optional 80, 90, 100, 110 [2022/23]
Leashes included [2021/22]
BSL Adjustment
25mm [2022/23]
20mm [2021/22]
Riser Heights
2 + Flat
Vertical Release
Fixed
Lateral Release
4-10
Crampon Ready
Yes, Removable
Specs Verified
Yes
Design
Materials
7075 Aluminum, POM
Skimo Co Says
Usage
Backcountry skiing, ski mountaineering, recreational racing
Notes
Lower vertical release value than the Oazo 6
Bottom Line
Lightweight, efficient binding for lighter skiers
Compare to other Lean Bindings
Questions & Reviews
Earn store credit by writing reviews. Learn more.

Model: Oazo 4
MPN: P-2500