ATK Haute Route Binding
0 reviews
Long and hard traverses are long and hard. To make your travels less hard (though not less long), appropriate equipment selection is critical to shave grams where possible without jeopardizing durability as you traverse large swathes of wilderness. ATK has been at the forefront of creating wickedly light bindings that withstand the Haute Route traverse. While tipping the scales at a weight that would make race bindings of yesteryear envious, this feature-rich binding exhibits a mainly-metal construction that lends itself to lasting. With the use of the patented Cam Release System, the Haute Route binding gives you full control to set release values to your personal preferences. The Haute Route 10 works for most skiers while ATK offers the Haute Route 8 for lighter folk. The 30mm adjustment plate can accommodate several sizes of boots. If durable, adjustable, and light are words commonly used when you describe your ideal binding, then you may have found the one in the ATK Haute Route.
Cam Release System helps with reliable and consistent releases.
30mm of BSL adjustment for the other boots in your quiver.
Easy Entry System makes stepping in……..easy.
Magneto Heel Flaps resist flapping when they should not be flapping.
Flat mode plus two riser options for that Wasatch skinner.
Alu 7075, Stainless Steel, POM construction saves weight and adds strength.
Includes a pair of Kevlar leashes for the sketchy parts of the traverse.
Haute Route 10 offers a release range of 5-10, vertically and laterally.
Haute Route 8 is for lighter skiers with an adjustable range from 3 to 8.
Specifications
Weight
convert to ounces
209g
Weight (pair)
418g
Boot Compatibility
Tech
Brakes (mm)
Leashes
BSL Adjustment
30mm
Riser Heights
2 + Flat
Vertical Release
3-8 [8]
5-10 [10]
Lateral Release
3-8 [8]
5-10 [10]
Crampon Ready
Yes, Removable
Specs Verified
Yes
Design
Materials
7075 aluminum, stainless steel, POM
Skimo Co Says
Usage
Light and speedy touring, traverses
Notes
Magnetic risers are satisfying to activate
Bottom Line
The features you need and none you don't
Compare to other Lean Bindings
Questions & Reviews
I just got a pair of these and the leashes are pre mounted at the toe lever. Before I get destructive, is there an easy way to remove them?
Hi Brian. There is! The end of the leash is attached to a "puck". If you put the toe lever in the lock position, you should be able to slip a flathead screwdriver under the toe lever and pop that puck and the end of the leash out. Then simply remove the puck and pull the end of the leash out from the toe piece. I hope this helps.
Answer this question:


Is the delta of this binding +6.5mm with the adjustment track?
Answer this question:


Do ATK Haute Route or Crest toe pieces have a loop or hole to attach an "old school" leash?
Hi Rando, the toe levers have machined cutouts on either side that you may use to girth hitch a leash directly. Or, put a loop of wire, cord, or zip tie through it and attach the leash to that.
Answer this question:


I'm buying Moment Sierra Tours as a midwinter daily driver and occasionally longer spring tour. I'll be skiing everything from low angle to steeps but no cliff drops. Would the haute route be a good binding choice or should I get something burlier like the FR 14?
Cara,
The Haute Route would be a great choice! If you want brakes, the Freeraider 14 or Raider 12 are great options. Keep in mind you'll want to avoid running the binding at or very near its minimum (or maximum) release value, as they can be inconsistent at the extremes of their ranges. If you'd like, fill out a
binding finder
and we can get you some more accurate recommendations!
Answer this question:


For a rider with a DIN of 7, what would be the benefit of using the HR 8 instead of the HR 10; assuming the DIN was set to 7 regardless?
Hi Alanna, being purple is a benefit for Northwestern alumni. Other than that, as long as you're comfortably in the release range you should be fine.
Answer this question:


Can this binding be mounted without the adjustment plate?
Hi Vinton, it's possible but difficult (doesn't work with the ATK jig). Check out the
BD Helio LT
instead.
So I have the Helio 200 LT and the Haute Route 10 in my hands right now. The mounting pattern is identical. I believe these can be mounted with the ATK jig no problem. If you look closely at the Helio 200 (regular), it's a different heel piece than this one. I suspect this is what's happening
Hi Brian, yes the mounting pattern is the same; the problem lies in the distance between the screw holes and the ends of the pins. Fair warning, you will not be psyched with your heel gap if you blindly fix-mount a Haute Route/Helio 200 with the jig.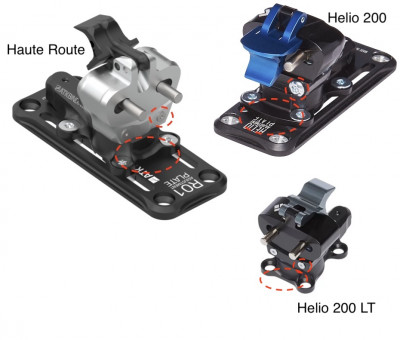 So I don't have a perfect way to measure the dimensions. But the pin, length, setback, height, anything that I can measure Is all identical to the Helio 200 LTs ( (or at least within .25 mm). I am including an image that highlights that the Haute Route 10 does have a different heel design than the helio 200. But is similar to the 200 LTs
But I'm bringing them to a local Seattle shop that has the jig tomorrow. I'll bring them a coffee for troubling them with a challenging mount haha. And I'll report back when they say :)
Brian B, please just mount your Haute Route bindings on the R01/Helio Heel Adjustment plate. They only weigh 30g and in the future you will be grateful for the options they give you! If you are concerned about the steeper ramp angle the heel plate gives you, you can use a B&D classic shim which are sold on this site, or if you want something with a sleeker look for a very reasonable cost, Jon at The Piste Office in Nottinghamshire, England will make you custom toe shims to your specs and ship them affordably and promptly. Death to fixed mounts!!
Answer this question:


Is this binding ok for a 200lbs rider for some steep skiing if locked and/or turned up to 10?
Hey Ant, thanks for reaching out. Depending on a number of things you could be fine at 10 but I would check the
binding release calculator
and as long as you are at or below a 10 on that you will be fine.
Answer this question:


Is this the same toe and heel (w/o brakes obv) as the ATK Crest / Hagan Pure just a different heel mounting?
Hey Celia, you are correct. The toes are exactly the same but the heel is on a friction plate which will be a different mounting pattern.
Answer this question:


Is the ATK Haute Route all metal? What does POM refer to in the materials?
Hi Gary, it's nearly all metal. There are a few bits of Polyoxymethylene (POM) aka acetal thermoplastic, e.g. the toe wing coupler.
Answer this question:


Hi Folks - do you have any comparisons for riser heights... say compared to the Salomon MTNs? And how about the toe with that cam design - powerful? (I'm considering these for a 185 DPS 124) and does it have a solid/positive toe lock?
Thank you!
Hi Tristan, we will methodically analyze when they arrive per usual. In the interim, you can reference the Helio 200 in our list of
riser heights
.
As far as the toe clamping power, we coincidentally measured the lateral toe retention of all our bindings over the summer. It's not published but give us a ring for some insight.
Thank you jbo, thats helpful!
Answer this question:


Question regarding weight - is this binding actually lighter than the BD Helio 200 (210gr) and 200 LT (179gr)?
Hi Dan,

The current listed weight is specified by the manufacturer. We have yet to get our hands on a pair for some in house verification!
Hi Dan, the manufacturer weight likely does not include the adjustment plate and possibly the crampon receptor. It should be the same as the 200, will verify when they land.
Answer this question:


Earn store credit by writing reviews. Learn more.

Model: Haute Route