Brent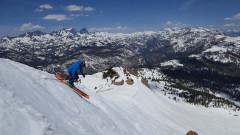 | | |
| --- | --- |
| Gender: | Male |
| Height: | 6' 0" |
| Weight: | 165 lbs |
| Shoe Size: | US 10.00 |
| Skier Type: | Type III - Aggressive |
| Ski Frequency: | 25 - 50 days / year |
My Skiing
My "home mountain" is Mammoth, and I ski the Sierra backcountry quite a bit. I travel to CO, UT, the PNW, and this spring I want to ski the rest of the CA 14ers and some classic steep lines. I also love to ski the Cascades in late spring. I like big days with long approaches, and some multi-day trips in any season. My style is fluid and playful, more precise than brutal. I don't tend to need super high DINs (8-9 is fine) and I take very good care of my gear. I also climb and trail run, and I want to do a lot more ski mountaineering. I do my own shop work, tuning, mounts, base repair, etc. I like bindings with low to no ramp angle, like Look Pivot 18s (but I run them at a 9).
My Gear
Tecnica Cochise Pro 130 26.5
Dynafit Vulcan 27.5
Scarpa Alien RS 28
Look Pivot 18 bindings
Plum Guide bindings with B&D toe plate to cut down the ramp angle
DPS Wailer 112 Pure 184cm
DPS Wailer 99 Pure 184cm
DPS Wailer 112RPC Powderworks/Alchemist 192cm
DPS Cassiar 95 Alchemist 178cm (new addition this month for firm days)
Blizzard Cochise (original build) 185cm
Blizzard Kabookie 180cm
Ski Trab Stelvio XL 178cm

All skis dual mounted using Binding Freedom inserts for Look Pivots and Plum Guides. I absolutely love how the Wailers ski for my style, but sometimes the tails seem a little washy in true steeps if there's a little pause between turns. If I stay forward and keep the rhythm, no problem. Sometimes you just gotta pause though. Some days I like to milk a lot of turns, some days I like to charge ahead, hence the DPS vs. Blizzard collection. Looking for the true ski mountaineering / spring steeps lightweight weapon of choice.
Recent Posts
I'm glad that G3 is addressing the heel issues in the current model year, but I haven't tried the new design yet. When I use the heel risers, the heel unit springs back and my boot snaps down to flat. The riser usually jams up with the boot at that point, and I'm stuck. The forward pressure springs are too weak, and the risers have a ramp angle to them that facilitates this problem. Also, I have a lot of horizontal play in the heels before the rotational spring kicks in. This is very noticeable on firmer sn...
I noticed as I was installing my inserts that the core of the Alp Tracks is pretty soft, like a lot of lightweight skis, so count your rotations with your tap and when screwing in the insert. The tap and insert unit will just keep right on going into the core and end up too deep if you don't stop at 5 rotations. That's a good practice anyway, but skis with a more dense core will give you more resistance when you hit the bottom of the hole.
I just got some 185cm Alp Tracks 106s a few days ago, mounted them with Plum Guide toes, Kreuzspitze GT heels, left the factory tune alone, and took them to Mammoth Mountain to test them in the 2+ feet of spring snow they just received. I'm skiing them with Alien RS boots. These are just initial impressions and I'll try to post more after I get some more days on these things in their element. I wasn't sure for a minute if I wanted the size 185 or 177 at 6'0'' 175 lbs, for use as dedicated backcountry long-r...
Took them for a tour this morning, then a few hours on the hill at mammoth. Great pants! Comfy and the mobility is excellent. Warm enough without being too hot, and the vents work well. The fit is working out fine. Thanks!
Thanks, that's good to know. It wouldn't take much relaxation to fix the fit for me. I'll give the Mercury pants a real shot. Should I wear them into the hot springs to speed up the process to 1 season? Surfing? Hot yoga? Never tried heat molding pants. What could possibly go wrong? Just kidding.